Another of our holiday treat recipes for you today! This recipe for Santa Snowman Rice Krispy treats will yield 12 rounds (using a Wilton round cookie cutter) from a 9 x 13 pan. You can adjust the size depending how large or small your round cookie cutter is. (This recipe makes 12 regular sized squares). The recipe for the bars comes off a box of Rice Krispies cereal.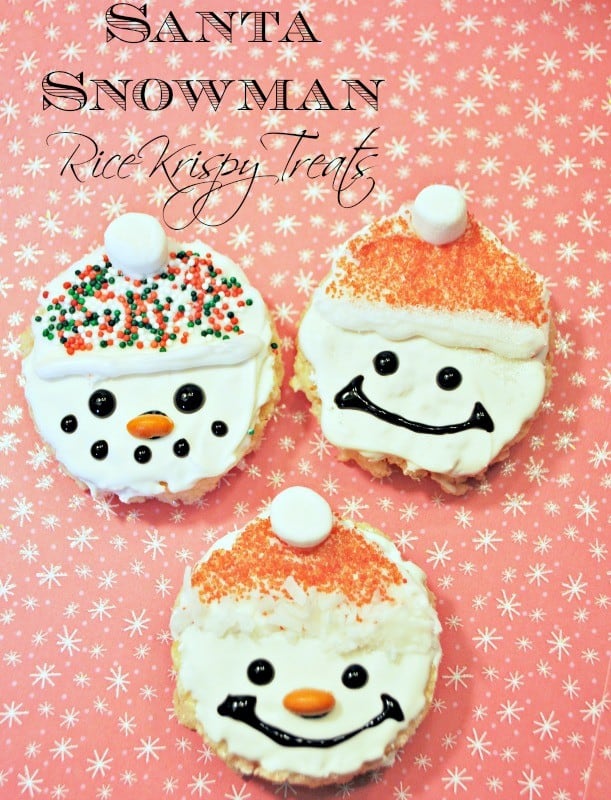 RICE KRISPIES INGREDIENTS
¼ cup butter or margarine (I use butter)
1 ten ounce bag regular-sized marshmallows
½ teaspoon pure vanilla extract (this is optional but it makes them taste SO much better!)
6 cups Rice Krispies cereal
RICE KRISPIES DIRECTIONS
In a large saucepan, melt butter over low heat.

Add the marshmallows and stir until completely melted. Remove from heat.

Stir in the vanilla.

Gradually add the Rice Krispies cereal, stirring until well coated.

Press into a buttered 9 x 13 pan ( I recommend using a buttered spatula)

Cool for at least one hour.

Using a round cookie cutter, cut the Rice Krispies into 12 round shapes. Set aside.
SANTA SNOWMEN RICE KRISPIES SUPPLIES
12 Rice Krispies round treats  (already made)
¾ cup white candy melts (I used Wilton but Walmart sells a bag for $2.50)
White icing (I used Wilton in a tube)
Black gel icing (I used Wilton in a tube)
Orange M&M's (for the nose)
Multi-colored nonpareils
Red and white colored sugar
Shredded coconut
Mini marshmallows
SANTA SNOWMEN RICE KRISPIES ASSEMBLY
Microwave the white candy melts in 15 second increments until smooth and creamy.

Dip the Rice Krispies rounds into the melted candy mixture, evenly covering the entire front side of each round.

Lay the candy-dipped rounds on a wire rack to cool and set for at least 5 minutes. (I placed mine in the fridge to hurry the process along).

Squeeze white icing onto the top of the round (spreading evenly along the top) and sprinkle with nonpareils or red colored sugar for the hats.

Take your white tube of icing and pipe a big white line at the bottom of the colored hat (this will be the fur at the bottom of the hat). Sprinkle shredded coconut or white sugar crystals on top of the icing. Let set for a few minutes.

Apply a small amount of icing to the back of mini marshmallows and affix to the top of each hat. Let set for a few minutes.

Use the black icing gel to pipe the eyes and smiles on each santa face.

Break an orange M&M in half and apply icing to each half and affix to each face for the Santa Snowman nose.  Let set at least 5 minutes.

Optional: You could insert lollipop sticks into each round and make pops out of them. Or, you could place each Rice Krispie round in a cellophane bag with ribbon and give out as treats. These are so cute….ENJOY!