Easter is coming and around here- it also means bake sales, especially at church. I don't know about you but I like fun and fancier items for baking and buying at bake sales, and these little hiding bunny cupcakes are simple to make but have a big wow factor with the surprise inside.
We're making them again this weekend for the bake sale, but I'll be fully honest and tell you we are also making a double batch so we can enjoy the fruits of our labor here at the house.  I love pink and green together, too. Spring-like and fun and full of sweet! Not into super sweet goodies?  Check our Carrot Crescent appetizers- you can fill those with sweet or savory!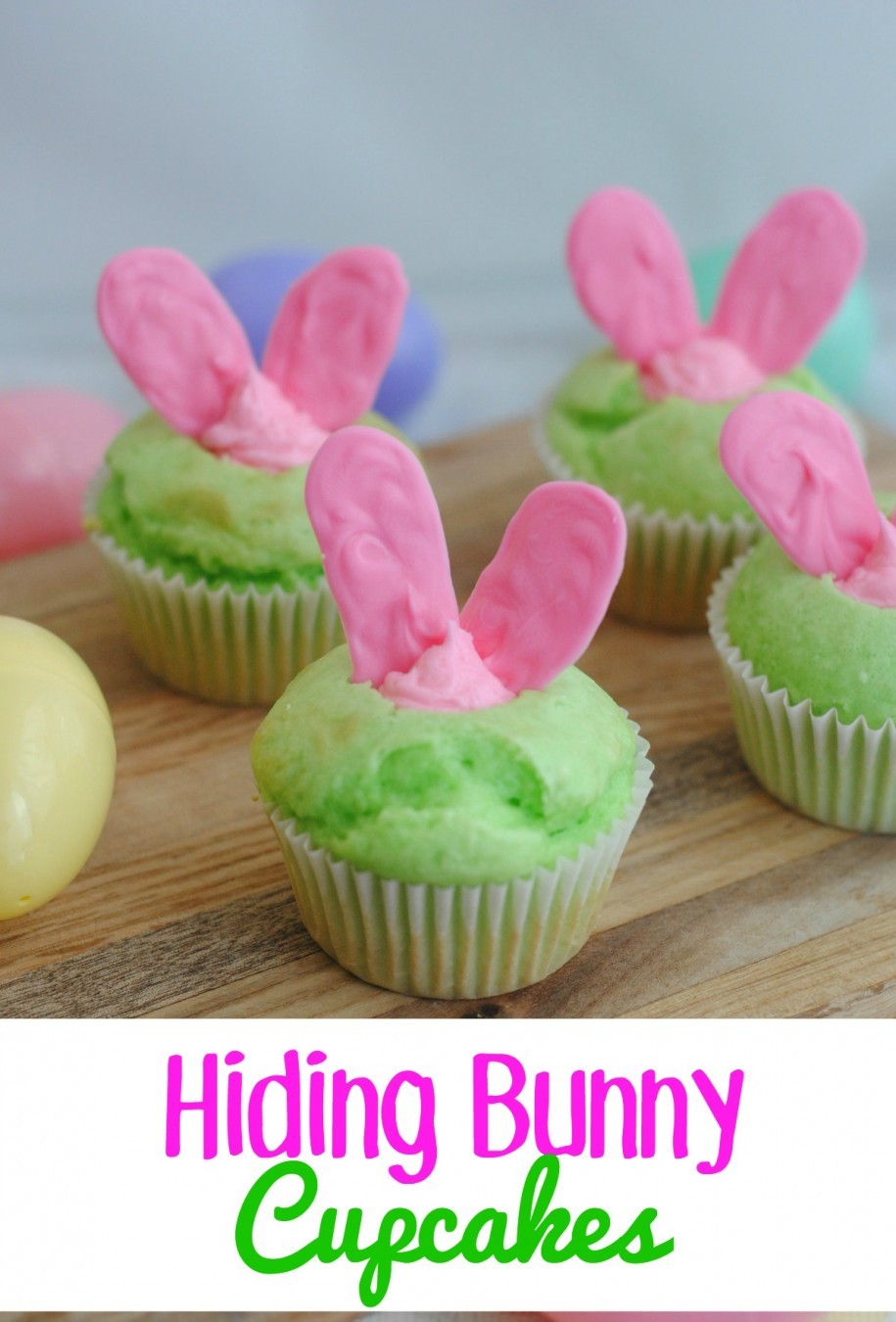 Green & Pink Hiding Bunny Cupcakes
Ingredients – 
1 2/3 C. flour
1 C. sugar
1/2 tsp. baking soda
1 tsp. baking powder
3/4 C. butter, softened to room temperature
3 egg whites
1 tsp. vanilla extract
1/2 sour cream
1/2 C. milk
green gel food coloring
cupcake liners
small teaspoon to scoop the cupcake out
larger frosting tip to help make the cupcake hole (optional)
Frosting/Filling Ingredients – 
1/2 C. butter, softened to room temperature
1/2 C. butter flavored shortening
4 C. powdered sugar
4-5 tbs milk
pink gel food coloring
Pink Bunny Ears – 
Wilton Bright Pink candy melts
wax paper
toothpicks
kitchen scissors
Directions – 
Preheat the oven to 350 degrees and place 12 cupcake liners in your cupcake tin.
Combine the eggs whites, vanilla, sour cream, sugar and butter, mixing well. Slowly add in the dry ingredients.
Pour the cupcake batter into the liners, filling 3/4 of the way. Bake for 20-22 minutes on 350 degrees. Insert a toothpick around 20 minutes, if it comes out clean they are done.
Allow the cupcakes to cool completely for several hours, before filling.
To make the frosting, combine the powdered sugar, butter, and shortening. Slowly add in the milk 1 tablespoon at a time as needed until the frosting has reached your desired consistency. Add in 1-2 drops of pink gel food coloring at a time and mix into the frosting until you've reached your desired pink.
Once the cupcakes are cooled, gently make a hole in the center. This is what I used the large frosting tip for, but you could also just use a small teaspoon to gently scoop the inside of the cupcake out and discard.
Scoop the Pink frosting into the large sandwich bag and snip the corner with the kitchen scissors.
Gently squeeze the pink frosting into the cupcake until it reaches the top (see photo).
Pour the bright pink candy melts into a microwave safe dish. Heat in the microwave in 30 second increments until melted. Allow it to cool a few minutes before transferring to the sandwich baggy.
Scoop the melted pink chocolate into the sandwich baggy and snip the corner with the kitchen scissors.
Line a baking sheet with wax paper and gently squeeze the melted pink chocolate out of the sandwich baggy and onto the wax paper making the outline of a pair of bunny ears and then filling them in – use the toothpick to smooth out the chocolate (see photo).
Repeat until you have 24 sets of bunny ears. Allow them to set for 30 minutes. Once they have set, gently lift from the wax paper and place upright into the cupcake frosting giving your bunny a set of ears.
*Makes approximately 24 cupcakes.
Who or What will you make these hiding bunny cupcakes for? 
[mpprecipe-recipe:2114]