I've done a fun popcorn recipe for so many holidays this year, starting back with Cupid's Crunch, that I had to do something for Christmas.  These are just so fun to make, so EASY to do, and always a crowd pleaser.  This time, we packaged most of it up into treat bags to share with the kids' friends.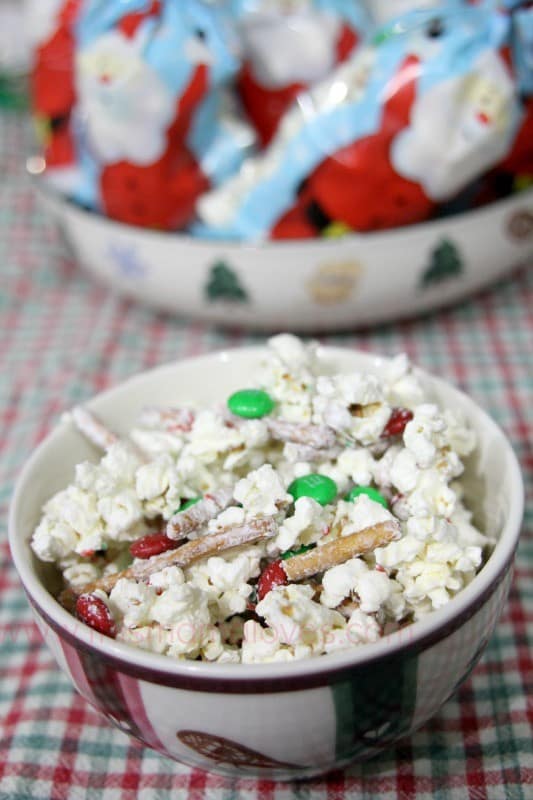 Christmas Crunch Recipe
What you need:
2 bags WHITE/natural microwave popcorn or 1/2- 2/3 cup popcorn kernels, popped
12 oz bag white  Wilton candy melts
2 cups pretzels- broken into pieces
1 – 11/2 cups M&Ms
Sprinkles, Nonpareils, Holiday shaped candies for decoration
How to make it– pop popcorn, set aside.  Be sure to pick any unpopped kernels out- they aren't fun to bite into when you don't expect them
Melt the candy melts at 30 second intervals in the microwave if you want this done quickly.  Otherwise, you can always do a double boiler method (it'll take longer), stirring frequently.
Toss broken pretzels and M&Ms into the bowl with popcorn.  Then pour 1/2 the melted candy over the top and combine with a rubber spatula.  (I actually found that using 2 rubber spatulas worked a lot better for me and I didn't get covered in a sweet, delicious mess!)
Spread mixture out on a sheet of parchment paper- drizzle remaining melted candy over the top.
Sprinkle the nonpareils, candy bits or sprinkles (I call them shots)
After the chocolate dries/firms up again, break into bits and either store in an airtight container (for about a week) or package it up into treat bags to share with friends, classmates and neighbors!  If you try to do it before the chocolate is ready, you're going to have a big mess on your hands.  Of course, you can always lick your fingers. But really, it's better to wait. I promise.
The fun part of this recipe?  Thanks to the candy makers all finding holidays fun for products, you can make this mix for every holiday and for no reason at all!
Want to make this a NUT FREE recipe?  Use the Vermont Nut-Free Chocolate's "Skippers" as an M&M alternative.  Be sure your pretzels are nut-free as well, and voila! Nut free treat!
I have spent hours online trying to find the original source for this recipe.  I can't find it.  I've modified it, and I'm sure you will too!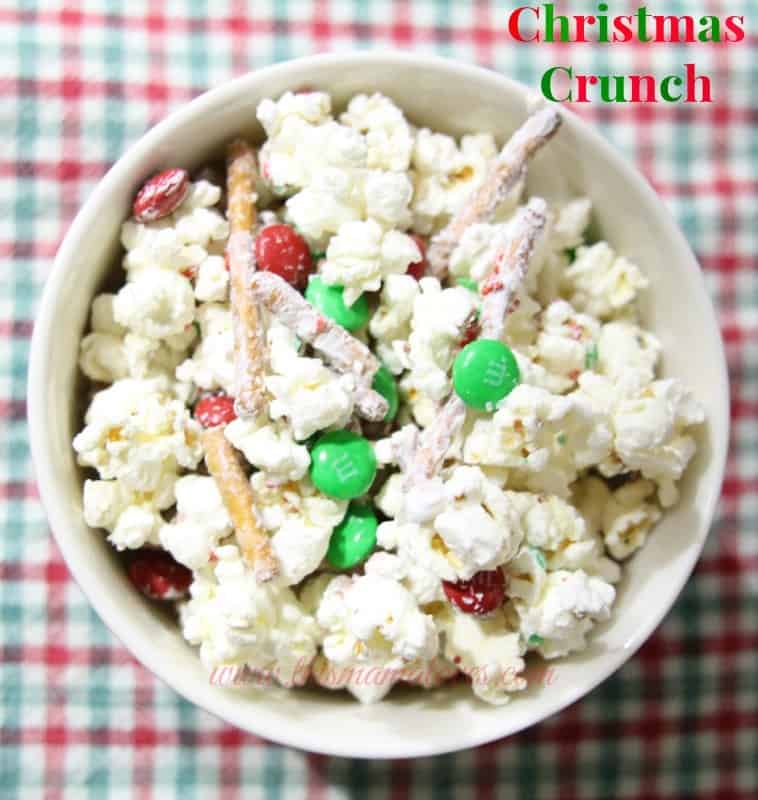 Holiday Treat Recipes: Christmas Crunch
Author:
Prep time:
Cook time:
Total time:
Sweet popcorn recipe with fun addins
Ingredients
2 bags microwave popcorn or 1/2- 2/3 cup popcorn kernels, popped
12 oz bag white Wilton candy melts
2 cups pretzels- broken into pieces
1 – 11/2 cups M&Ms
Sprinkles, Nonpareils, Holiday shaped candies for decoration
Instructions
pop popcorn, set aside. Be sure to pick any unpopped kernels out- they aren't fun to bite into when you don't expect them!
Melt the candy melts at 30 second intervals in the microwave if you want this done quickly. Otherwise, you can always do a double boiler method (it'll take longer), stirring frequently.
Toss broken pretzels and M&Ms into the bowl with popcorn.
Then pour 1/2 the melted candy over the top and combine with a rubber spatula. (I actually found that using 2 rubber spatulas worked a lot better for me and I didn't get covered in mess!)
Spread mixture out on a sheet of wax paper- drizzle remaining melted candy over the top.
Sprinkle the nonpareils, candy bits or sprinkles (I call them shots)
After the chocolate dries/firms up again, break into bits and either store in an airtight container (for about a week) or package it up into treat bag