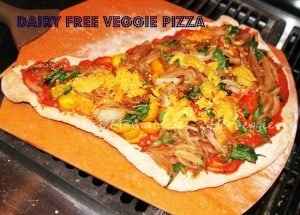 Pizza is one of America's favorite foods.  When I stopped eating dairy, I was often asked if I missed pizza.  The answer was always no, because we never stopped eating it.  We still order pizza at restaurants, at our local grocery store and we love to make it at home.  At first we made it with lots of cheese substitute and then we realized it was better with just the veggies and sauce.  One of my favorite things about homemade pizza is, that once it is prepped and in the oven I have time to clean up the kitchen and get a few other things done.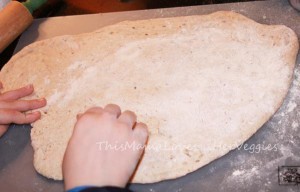 If you have little helping hands around, they love to stretch out the dough after it is proofed.  Sometimes my son will get his own piece o dough and make his own pizza.
What you Need for this Dairy Free Veggie Pizza:
Pizza Dough (White, Wheat, Whole Grain)
flour for dusting the surface
Tomato sauce (Pizza sauce, pasta sauce, or crushed tomatoes)
Vegetables for toppings I used:
caramelized onions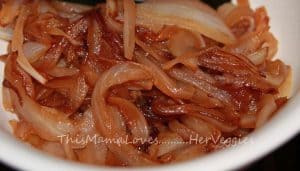 roasted peppers
cherry tomatoes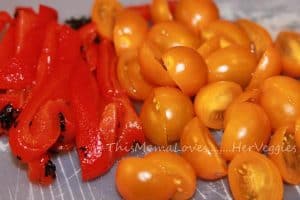 spinach
Other great toppings:
Olives
Artichoke hearts
garlic
broccoli
I added a little soy-based cheese this time.
What To Do:
Prepare the dough as directed on the package.  (We bought the pre-made dough from the grocery store.  Most pizza shops will also sell their dough and there are so many great pizza shells on the market now.)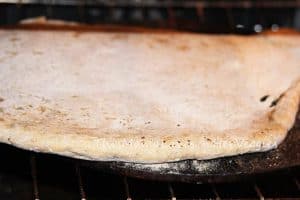 After we spread out the dough I put it in the oven to bake at 350 for about 15 minutes.  This helps crisp it up a bit before adding the toppings.
Remove the crust from the oven, top with sauce, veggies and cheese of your choice.  Place the pizza back in the oven and cook at 350 for about 10 minutes, just long enough to make sure all the ingredients are heated through.
Remove pizza from oven, slice and enjoy!
This week we had ours with a side of broccoli.  A side salad would be great too.  I was expecting there to be leftovers for lunches but only 2 small pieces were not eaten.  It was really good!
What are your favorite pizza toppings?