Honey Rhubarb Iced Tea Recipe
We have three enormous rhubarb plants in one of our garden beds.  Our wonderful neighbor, Mr. Scoop (not his real name, but this is what we have all taken to calling him…his wife is Mrs. Scoop) gave us the plants when my mom was sick, knowing that we visited her at least monthly up in New Hampshire and that she loved rhubarb.  I cannot bear to part with the plants, given the history of them, but we don't really eat much rhubarb, and these plants are quite fruitful.
I'm always looking for people to share the fruit with, or new ways to use our harvests, and I was so excited when my sister told me about Rhubarb Iced Tea- although I love to put honey in things for many reasons, so I changed things up a bit. Now we have a refreshing iced tea recipe we can all enjoy, sweetened with local honey that can help with seasonal allergies a bit, and it's super simple to make!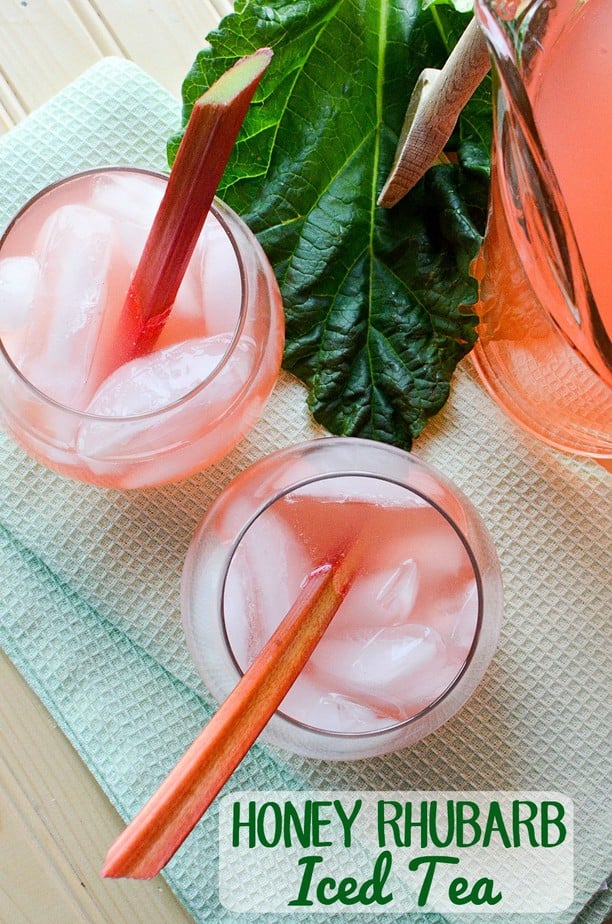 Honey Rhubarb Iced Tea
Ingredients:
8 stalks rhubarb, cut into 3 inch sections
8 cups water
1/3 cup honey (or sugar) to taste ( I did 1/3 cup honey and about 1/4 c sugar and we serve this with tons of ice to dilute)
mint for garnish (optional)
 
Instructions:
Add rhubarb to water and bring to a boil; reduce heat and simmer for 1 hour. You really can just let it simmer and not touch it!
Strain with
cheesecloth
, add honey/sugar (to taste) and serve iced. We like to serve it with LOTS of ice to dilute it a bit, but if you like a stronger flavor, use less. It's pretty foolproof as is.
Enjoy, enjoy, and enjoy again!

I'm thinking about changing this Honey Rhubarb Iced Tea with a spritz of seltzer.  Thoughts? What do you like to do with your rhubarb? 
[mpprecipe-recipe:2145]