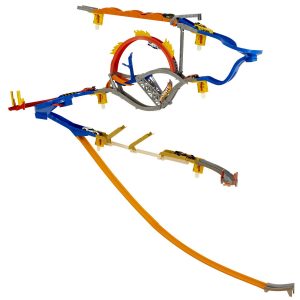 If you have a kid who loves vehicles and racing them on tracks, but are short on space, I have a great solution for you.  Hot Wheels Wall Tracks are an awesome solution that saves tons of space!  I was quite intrigued when I first heard of these Wall Tracks and knew for sure I'd love them when I saw that they use Command Hooks to adhere to the wall.  I have those hooks all over my house, on plaster and sheetrocked walls, on wainscotting, on cabinets, etc.  I have much love for those, and my family has loved Hot Wheels "orange" tracks for…at least 22 years since my oldest nephew was old enough to have them!!
The attach-to-the-wall-feature of this product is really unique.  We are working with limited space in our house, and it isn't always conducive to setting up huge tracks of, well, anything.  Our "playroom" is just one end of our living room that has foam squares to define it.  When the kids make creations with building blocks or huge train tracks, they always overlap into the 'adult' section- and sometimes around corners. I had to limit creativity but man, am I ever glad that someone finally decided to think out of the box and looked to the walls!!  Damage free hanging is the way to go, and THANK YOU to the smarty pants person at Hot Wheels who came up with this idea.  Brilliant.  The Bargains family thanks you.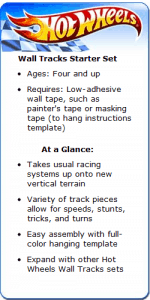 Not sure what the directions are saying?  Want to get some guidance?  Check out Hot Wheels' site because they have video tutorials for you to follow (and by you I mean me.  Because I need tutorials for things like this.  Lots of small parts and pieces!!)  I'm not saying the directions are hard to understand- I don't think they are at ALL- but if you are visual like me you may prefer to watch the video a time or two to be sure you have this right.  The template included with the starter kit made things really easy, and I just tacked it up with a small piece of painter's tape.
I think older kids will want to add to this set very quickly- it's fun but its basic, and that's probably the intent of the folks at Hot Wheels.  Lots of fun, but leaves you wanting more.  Playing with cars never gets old around here, so I'm fairly sure we'll be seeing a lot of air time (race time?) with the Wall Tracks, which are available just about anywhere toys are sold, in store and online.   For the younger kids?  They'll be happy launching their cars and racing them.  I don't anticipate they'll stay on the tracks every time, but that's ok with me!! We're going to try to use some of our other Hot Wheels tracks to see what else we can do with these!!
Hot Wheels Wall Tracks Starter Set

Introducing the coolest new place to play – off the floor and onto the wall. Wall Tracks brings stunts, speed, turns and tricks to new heights. Kids can experience track play from an entirely new perspective and change stunts as they change their rooms. This huge raceway plugs in for nonstop speed, lane switching action and crashing cars. Use the enclosed 3M Command Strips to create a variety of interchangeable stunts with just one set. Can be used alone or connected to other Wall Tracks sets to increase the fun. Includes 1 die-cast Hot Wheels car, 3M Command Strips and easy instruction poster.

Recommended Ages: 4 years – 8 years
I received a sample of this product in exchange for my post.  Opinions are my own.
0