How bladders are like toddlers.
A toddler has no impulse control.
My bladder doesn't always have impulse control.
Toddlers need routine, and lots of practice to learn skills. Sometimes it seems things will never sink in.
My bladder has lots of routine (visits to the bathroom) and the skill of always holding all the pee in until I'm ready to go is just not sinking in.
Toddlers are easily distracted.
The bladders of 1 in 3 American women are also easily distracted.
Toddlers are usually not 100% reliable to wear underpants outside of the house.
Bladders ARE usually reliable, although some… are not.
Toddlers think the world revolves around them.
My world often revolves around my bladder. 
See? Bladders are like toddlers.  Or toddlers are like bladders.  At least for some of us. If you've ever had a little leakage, you know exactly what I'm talking about.

They say 1 in 3 has it.
Are you 1? Of the 3? 
One of the three that has to pee? 
Or rather, one of the three who leaks before they pee?
One of the 3 who has leakage of the wee (wee)?
I am.
No shame in it. At all. I can't even pretend like there should be, so if you are wanting to make someone feel bad about this, well, shame on you. It's really really common- 1 in 3 American women lives with a little leakage here and there, maybe here and there and everywhere.
So what's a lady to do? I mean, you can't just hang out at home all day hoping things stay put until you're at a restroom. Just like a kid, just because you tell your bladder to hold things until it's a good time doesn't mean it'll listen. And again, just like a kid, especially one of the toddler variety, bladders don't always have impulse control. Or coordination to hold things um…together. Or in.
Sometimes there's a reason for the leakage.  Maybe a little pregnancy, perhaps?  A tiny little being that's growing daily and moving and oh wait, I think I have a distinct memory of Child #1 punching my bladder on an ultrasound for almost 2 full minutes.  Oh, and some who have diabetes can have a little leakage, and some who are overweight.  But for many, it's just…
…really bad luck.  A little leakage never really hurt anyone right?
I mean, unless you don't like to have a little wet spot in your pants. Or you worry that someone may be able to see signs. Or you know, concern (valid) about an odor).
I don't know about you, but the whole leakage of the bladder thing is *so* not fun and no, I don't want the people I'm with to know unless I tell them.  I actually usually don't bring it up, unless I'm laughing a lot with girlfriends, and then most of us are usually sharing the same comments about leakage….
So lately, if I'm going to be out and about and not near a bathroom or a place to change…I'm sporting the Depend Silhouette Active Fit briefs. These are a new thin design with moderate-absorbency brief designed to give you the best comfort. These  Active Fit briefs come in beige and black, in a small- medium (waist 28-40 inches) and also  large- extra large (waist 38-50 inches). They are not, surprisingly, as Granny-Panty-esque as I'd feared they'd be. These offer the trusted protection from Depend with a lower-rise brief, and truly fit and feel much like regular underwear. They are super comfortable and truly are a discreet way to have that protection you deserve.  I've actually worn them without saying anything while doing a 4.5 mile walk with 2 girlfriends, and neither noticed. I had my ears on high alert for any 'sound' that might indicate my unders were anything but trusty cotton ones I always exercise in.  But neither of the ladies noticed.  That's a win.  We were walking on a quite rail trail in the woods, so there were plenty of times it was quiet and they could easily have noticed a strange sound coming from my pants.
I'm not alone. I know I'm not. Over 51 million women suffer from bladder leakage just.like.me.


Depend knows exactly what women go through offer support to the millions of (us) women who live with bladder leakage. By sharing a photo and/or video with the #Underwareness hashtag, Depend  will donate $1 and up to $3 million dollars to charities to help advance the research of and education of bladder leakage until 2016.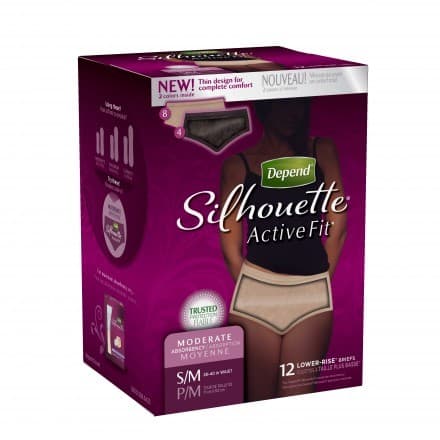 Ready to help support the 1 in 3 who sometimes leak a little pee?
Join the movement and request a free sample of Depend Silhouette Active Fit briefs at www.depend.com/products/get-samples. Together, we can show that wearing a different kind of underwear is no big deal.
In year two of Underwareness, the brand's social movement and charitable cause to break down the bladder leakage stigma, Depend is joining forces with CVS Health to support women with bladder leakage as they navigate their path to better health.
Visit www.cvs.com/depend to learn more about Depend Silhouette Active Fit. To join the Underwareness movement, go to www.Underwareness.com.
I am participating in a Vibrant Influencer network campaign for the Depend brand. I am receiving a fee for posting; however, the opinions expressed in this post are my own. I am in no way affiliated with Depend and do not earn a commission or percent of sales.