This post is sponsored by Target.
So your kids wear a uniform to school. But chances are that your kids want to rock their own look and show some of their personal style even with the uniform on. So how do you achieve that look while staying within uniform guidelines? Finding a few key items will help your kiddos feel like they are still rockin' their look! Awesome accessories and fun ways to personalize school uniforms are easy as 1-2-3 at Target! Thanks to Target for sponsoring today's post about how to personalize school uniforms.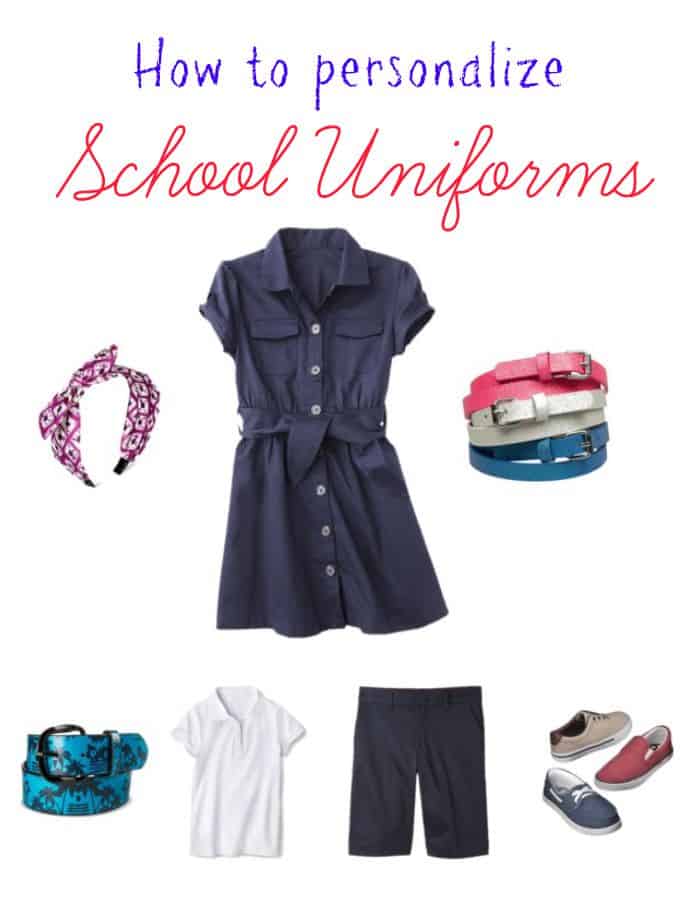 How to Personalize School Uniforms
Belts
Seriously. Belts.  Just because they are holding up khaki or blue pants doesn't mean they can't be cute.  If your little darlin' loves to sparkle, find a belt that has some shimmer to it!! For older girls, if she's not loving a regular belt, get an ombre fashion scarf (which are all the rage around here!), and use that for a belt.  She can wear it loosely tied off to the side!


If he's all about his fave superheros or Teenage Mutant Ninja Turtles, get a character belt. Or find a fun, quirky belt like the Space Junk Food belt!
Socks and Tights

The sky is the limit when it comes to socks these days.  Characters, prints, mismatch… they are all out there, and ready to add some fun to those uniforms. Even tights come in all colors, patterns, and designs these days, so have a little fun with them!

Shoes
Just because they serve a purpose and are practical doesn't mean they can't be fun. If she really loves those sparkly shoes, why not let her get them? If they fit well and she's happy wearing them, my feeling is no harm, no foul.  Footwear is a super easy way kids can let their personality shine through and make that uniform look more personal.
Accessorize, accessorize, accessorize

Hair accessories are a super simple way for your girlie to show her style. Big, sparkly bows are a great way to show her big, sparkly personality! From a simple ribbon headband to one covered in a fun fabric with a bow, there's a huge selection of hair accessories she can choose from to keep her signature look while rocking her school uniform!
Bags

I know they won't carry their bags around all day, but let them pick the backpack that suits their personality and/or interests the most. You can find almost any favorite character and/or trendy print backpack at Target, and chances are?  A lunchbox to match. I'm kind of bananas for the Minions backpack that comes with a lunch kit- that also clips onto the pack!

Target makes going back to school easy.
How do you personalize school uniforms?