If you're looking to update your décor to give your house a little more pizazz, the kitchen is a great way to start.  Remaking your kitchen is one of the easiest and most effective ways to make your home look great and it will do an awesome job with tying in your home's theme.


Never underestimate what a great set of kitchen curtains can do for the entire room.  They're available just like traditional drapes, seen in tons of various shades and sizes, and there will always be a set to match your existing décor quite nicely.  Additionally, they're a great tool for controlling the natural light that's filtered into the room, which means you can get some great ambiences with them.
Replacing your old faucet should be on your list of priority make overs.  New faucets can give your kitchen a great hint of shine and it can really do wonders for making your area look more modern and clean.  The great thing about faucets is that they can usually be done by yourself with very little help and they're cheap to grab.
Tiles and back splashes look great in every kitchen but they can be quite a bit of work and depending on the material, they can be pretty pricey.  Purchasing a roll of peel and stick backdrop is an easy and inexpensive alternative.  It looks a lot like back splashes, but it's applied much more like wallpaper than anything else and it's a lot easier to install.  There are tons of colors and styles on the market, so you should be able to find something to work with your theme.
Before you start ripping out your cabinets, give them another chance and really look at them.  Many times, simply switching out the handles and hinges to something shiny and new is all you need to upgrade your cabinets and have them look great.  This is a well known trick that's commonly used for front doors, but it works just as great in the kitchen as well.
Likewise, can you get away with just painting or staining the cabinetry?  You probably could and it will save you a ton of money as it's much cheaper than buying entirely new cabinets.  Paint and stain can be bought in a variety of colors and hues, able to be bought at pretty much any hardware store across the globe.  It's a great way to make your cabinets look brand new and it's something that can be done in a just a day or two.
While you're taking a peek at your cabinets, consider installing shelves or removing the doors from some of the existing cabinets already in the kitchen.  Shelves will give you a ton of extra space and they can be decoratively.
In that same token, open faced cabinets are a huge trend right now that doesn't cost anything except a little time to remove the doors and clean out the insides.  It can go a long way to giving your kitchen a nice modern, open look about it without a lot of work involved in achieving it.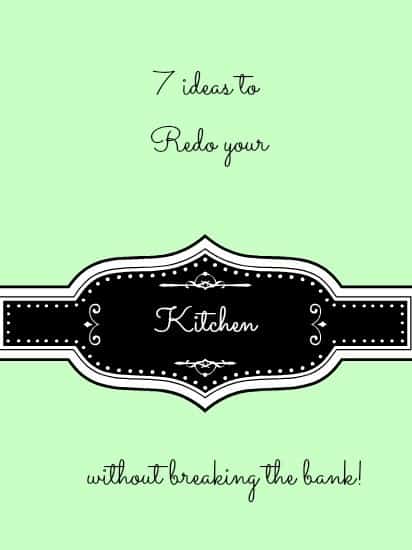 When it comes to redecorating, few things are quite as satisfying as doing the kitchen.  Luckily enough, there are quite a few ways that it can be done and many of them are both easy and affordable.  With just a few customizations, your kitchen can look brand new.
Thanks to Becky W. for sharing these great tips for our readers!