I grew up believing in God but not really sure why. My parents sent us to Sunday School and we learned what most kids learned, but it wasn't until far into my twenties that I really began to understand and not only accept but embrace my spiritual side….and to understand not only how but why I believe in God.  I remember watching the Passion of the Christ years ago and having it just devastate me, and break my heart into a million pieces.  I didn't sleep for days.  Seeing the story I'd heard so many times put to life, it was just this amazing experience for me.  Awesome, really.  Once I was done mourning what had happened to Jesus, I began to embrace the gift of his resurrection…and my journey to learn more and more about myself, my belief in God, and my faith.
I've never "read" the bible.   I've heard many passages so many times I could probably recite them in my sleep, but never have I thought hey, I'll pick up the Bible and read it cover to cover.  When I heard that Roma Downey and Mark Burnett had done THE BIBLE miniseries, I knew I wanted to watch it.  I looked forward to it for weeks.  So of course I asked if they'd send a copy to review.
I've not been disappointed by this miniseries.  The casting was very well done, especially with Jesus- Diogo Morgado was such a great person to play this role- he has so much depth, and is so believable with his love and gentleness.  Seeing so many of the stories from Sunday School and sermons come to life in these episodes was just wonderful- a very entertaining film to watch, yes, but also, a very spiritual experience.  Watching this as an adult and seeing these stories brought to life- with effects and realistic settings- it's like we really do see Abraham…and Moses parting the red sea…Jesus' birth, his capture…his death- and yes, it still rocked me to the core.
If you are one who loves a good series, a Christian, someone who wants to learn a bit more about Christianity, I absolutely recommend THE BIBLE for your collection.  It's amazing, and I will wager a guess, that, like me, you'll pick up a little something more each time you watch any of the episodes.
I will note that my children have not seen this, and will not until they are much older.  There are things that we don't feel our children are ready to see and have made the decision to wait until they are much older for sharing this with them, although we know that we absolutely will watch with them when the time comes.  There are deaths and some are quiet violent.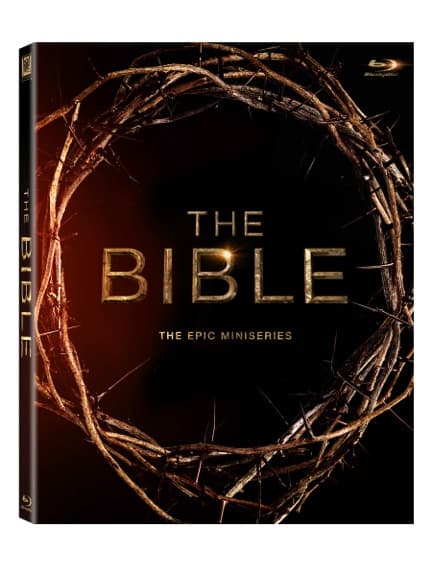 Blu-ray and DVD audiences will be captivated by the special features, including:
● The Bible: Genesis – With Mark Burnett and Roma Downey as our guides, we discover how the team approached the daunting task of filming the stories of the Bible
● The Cast of The Bible – Highlighting the international cast, we join Mark and Roma on their search for the perfect actors to bring the characters from the Bible to life
● The Bible: Creation – An emotional three-part journey through the making of THE BIBLE
○ Creation I: The Vision, The Look – Discover the vision of producers Roma Downey and Mark Burnett in this behind-the-scenes look at how THE BIBLE was created including the incredible team, beautiful location, high-quality production and superb costume design
○ Creation II: Production Stories – An exclusive behind-the-scenes look at the challenges faced by the production – including the supernatural experiences with snakes on set – plus Diogo's approach to portraying who he has called the most complex figure in human history
○ Creation III: Crucified & Resurrected – A deeper look into the emotional filming of the crucifixion, resurrection and the last days in Morocco
● Scoring The Bible – A rare look into the recording session for the soundtrack of THE BIBLE with genius composer Hans Zimmer and award-winning soloist Lisa Gerrard
● Believing in Miracles – The cast and crew relive the magical moments that happened while filming in the deserts of Morocco
● The Bible: Visual Effects – A montage of the striking visual effects that make THE BIBLE the most high-quality Biblical epic of all time
I received a copy of this BluRay for review.  Opinions are my own.