I am a sentimental girl.  I love things with history. I love hearing stories- family stories, friendship stories- they just make me feel so connected to a time, a place, a person.  I think that's what draws me to the whole idea of the charm bracelet.  A simple bracelet (or necklace) that starts out plain  and then, as time goes by, the stories and events that shape the owner of that bracelet's life start to fill the bracelet and give it personality, and meaning.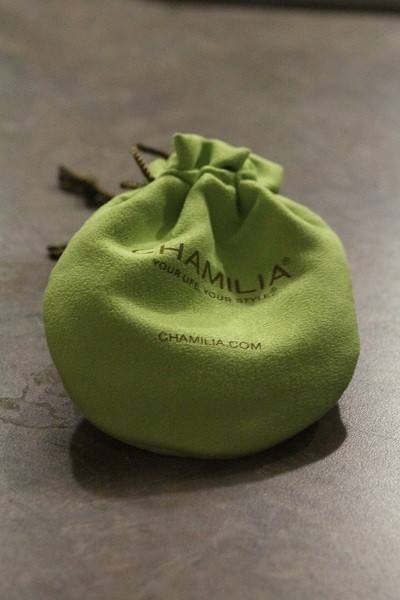 For my birthday this year, my husband surprised me with 3 beads for my (now broken) bracelet from Chamilia.  A pink peony, because they are my favorite flower.  A "B" bead…well, because I'm Brett, and then a bead with XOXOXO.  I was so thrilled that he'd chosen those particular beads for me, and added them to my bracelet immediately.  I was so crushed when my bracelet (not from Chamilia) actually BROKE and the company wasn't willing to replace it even though I'd had it just under a year.  So my beautiful beads went back into the bright green pouch from Chamilia, to await a new bracelet.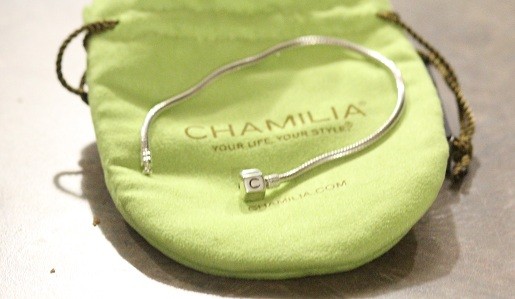 This fall, I got the chance to review a new Silver Snap bracelet and some beads from Chamilia. I couldn't believe my luck.  We've had a lot going on this year and I wasn't about to spend money on a bracelet for myself when we had expenses to pay for, you know?  So I was feeling a little sad that I'd not be able to not only wear my bracelet but add to it.  This was my chance!

Delighted, I chose the Silver Snap bracelet, which is sleek and  simple.  Then I set to find a bead or two that spoke to me.  How would I choose a bead for myself?  It felt a little strange at first.  But then I saw this adorable little dolphin bead, and I knew it needed to be on my wrist.  You see, dolphins are my favorite animal.  I've swum with dolphins twice, something my mom said more than once was one of the very few regrets she had in life- she'd always wanted to swim with dolphins and never did get the chance.  Another way to kind of stay connected to my mom.  Perfect.
My other choice was Silver Engraved Mickey bead.  I've always loved Disney and Mickey Mouse, so I knew I wanted something Mickey on there!  I'm sure there will be another Mickey bead soon, as we'll be taking our family to Disney for the first time and my souvenir of choice is definitely another bead…and it'll help tell my story.
One thing I really, truly love about these bracelets and beads is that you can find something for almost any budget or price range.  There are starter sets and themed sets if you aren't sure what to buy, but you can also get super personal and create something (or just start something) very special for someone you love. There are bracelets available from $40.00 all the way up over $1200.00, and many, many options in between.  The beads also come in a variety of materials and pricing so you can find something beautiful AND stay to your budget.
If you have someone you are shopping for, I definitely recommend considering a bracelet (or necklace- which is what I'd love to get next!) for that special someone.  It's a gift that you can keep on giving and that others can add to, over time.  But it's also something special that helps us tell our stories.
When you start perusing on the Chamilia site, you'll soon realize there are more choices than you realize, and you may want to give some thought before you start going through beads.  It can get a little overwhelming if you just jump in, although it's totally doable.  I suggest that if you do decide to go with one of these bracelets, to think about how your story is intertwined with the person you are giving it to, and have some ideas ahead of time (even if it's a starter kit!) to make things easier on you….although you never know what you may find when you are browsing.
There's even a Miss Chamilia available with smaller sized jewelry and beads as well.  Very reasonably priced and such a sweet gift for a little girl.  I know my 7 year old would adore one of the Miss Chamilia bracelets!
Do you have a bead bracelet like this?  What are your favorite beads?
Samples were received to facilitate my review.  Opinions are my own.
1