Inspire Kids to Gift Kindness at the Holidays with North Pole Ninjas
Bring kindness back to Christmas!
Thanks to our friends at Penguin Young Readers for sponsoring today's post about inspiring kids to gift kindness.
I'm always up for reading new books, and when it comes to kids' Christmas themed books, I'm a sucker. I won't even lie. We have a bin of them that I pull out when the decorations come out.  This year, we'll be adding North Pole Ninjas to the collection, along with a little stuffed Sensei and an (already well worn) envelope for ninja tasks.
North Pole Ninjas is this sweet kids book about some top secret elves who do some work on the side for Santa- and by having the book in your possession, you become a NPN as well…and the deal is, you do as many top secret acts of kindness as you can before Christmas, but without telling anyone. Well, I suppose you tell Santa when you send your ninja envelope back to him. It's a cute story, pretty short, and it really does inspire kids to want to do more for others…to give kindness during the holiday season.  Hopefully, it inspires them to give kindness all of the time, too.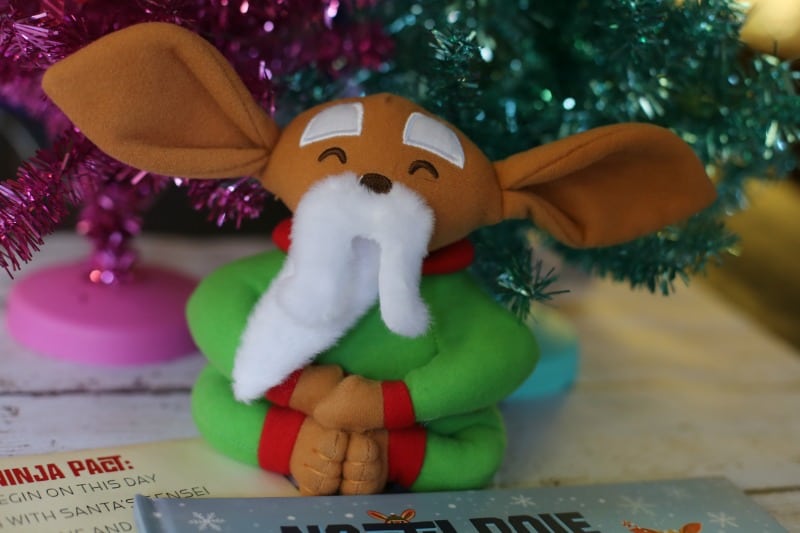 …I loved this book so much I took it in and read it to my Sunday school class, and we challenged the kids to do Ninja tasks all month long. My kids have been SUPER excited to do some tasks- I've been the lucky recipient of a poem written by my younger two, together! and have caught glimpses of notes tucked into bags and coat pockets, and have overheard the kids asking their dad if they can go to the neighbors' to help pull their big trash cans to their garage before they are home from work.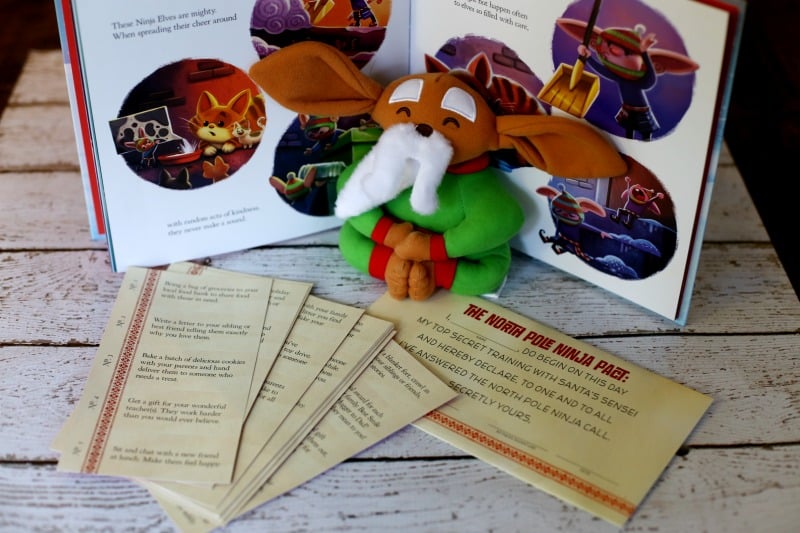 Christmas is so fun and exciting for kids, and really, for me too. It's one of my favorite times of the year.  It's not just the gift buying and wrapping and watching someone open them, although that's fun. It's definitely about the birth of Jesus and the significance of that for Christians around the world. But it's also a time of year when people seem a little more open to sharing what they have, in terms of time or things or money, and taking that extra moment to hold a door, or share a smile, be a little more kind and less indifferent. That's what the North Pole Ninjas encompass to me. The spirit of Christmas, of helping others simply to help them, to be kind, expecting nothing in return. Just to be kind because it's the right thing to do. Giving a gift to others- a smile, a hand, a hug, a help- a snack, a meal, a bed. It doesn't matter what the gift is, but the meaning behind it.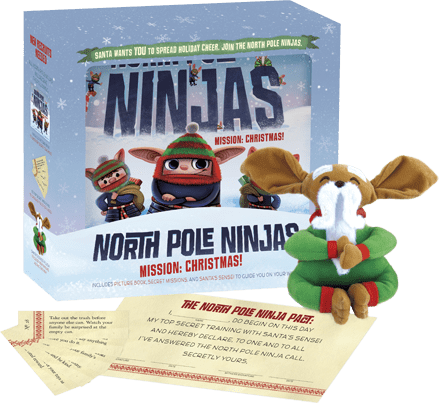 North

Pole

Ninjas
Mission: Christmas
By Tyler Knott Gregson and Sarah Linden
In Stores Now
Recommended for ages 4 – 8
Visit the Official Site of the North Pole Ninjas

Follow PenguinKids on Twitter | Facebook | Instagram

 

You may not know that Santa has a team of special elves, selected for their ability to help carry out top-secret missions that are all about helping, giving, caring, and listening. Anyone who receives this box is called upon to help carry out those top-secret missions with a bit of stealth and an open heart.

The gorgeously illustrated picture book retells the ancient legend the North Pole Ninjas use for new recruits. After reading the book, readers are given their own Ninja missions to carry out: 50 special tasks packed in a special envelope. Complete with a plush and huggable "sensei" to guide Ninjas on their journey, this is the perfect antidote to worrying about whether your child has been naughty or nice.

Figuring out what to get kids for Christmas can be hard, but the North Pole Ninjas book is here and it's the perfect gift for kids (and their parents). Your mission is to help bring kindness back to Christmas and the easiest way to do that is to order the book for friends and loved ones.
One reader will win a copy of the North Pole Ninjas story book- winner chosen randomly from comments left on this post.  US only.  Giveaway ends 11/28/16 at 11:59 PM EST. 
Don't forget to enter the #NorthPoleNinjas SWEEPSTAKES!  (Hosted BY Penguin Young Readers)
Share the spirit of the holidays and the chance to win $200 worth of books with friends!
 The holidays are a wonderful time of year to connect and reconnect with family and friends. So while you're reaching out to loved ones this season, share a unique opportunity with them to enter the North Pole Ninjas Sweepstakes for the chance to win $200 worth of books for themselves or their favorite charity from Penguin Young Readers.
To enter, share a photo completing a North Pole Ninjas kindness mission and use both hashtags #NorthPoleNinjas and #Sweepstakes.