Thank you to Google for sponsoring this post about keeping kids safer online: mindful monitoring with Family Link app from Google through the Mom It Forward Influencer Network.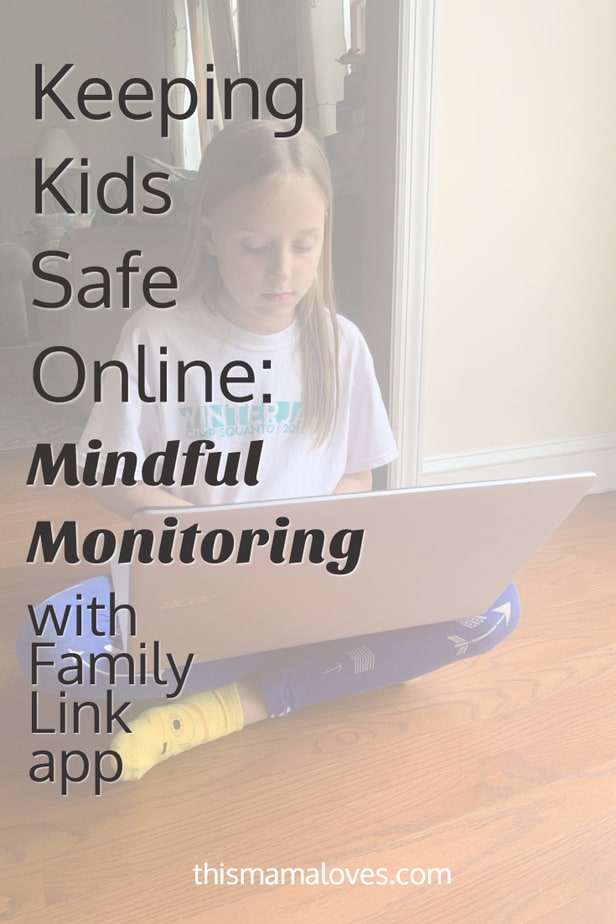 I don't consider myself to be an overly protective parent, but when it comes to online safety, I will admit I am hyper cautious. It may be partly because I'm a blogger, but I think it's also because I work in social media and I see the reports and stories on a regular basis of what can happen online. I am all too aware of the importance of keeping our kids safe online, and exposing them to more freedoms as they mature and we feel they are ready to handle those freedoms.
I don't think we should prevent kids from being online. I DO think that we should be monitoring their online presence and helping to ensure that they are accessing safe and appropriate content until we feel they are mature enough to handle other things. And listen, guys. I'm turning 45 next week. I don't want to accidentally stumble on a lewd photo in my own messages, nor anywhere else. I don't want my kids to be searching for some fun trivia or a silly slime video and find something wildly inappropriate!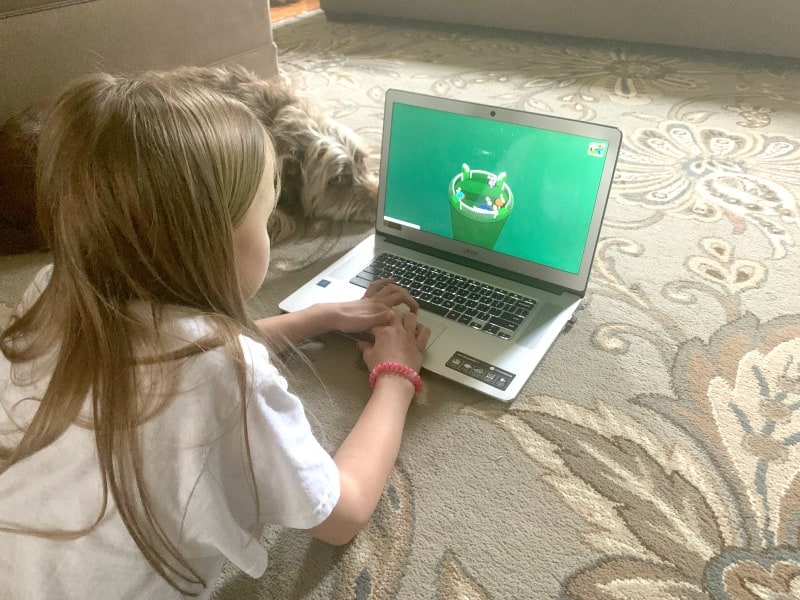 Our goal as parents is to guide our kids through this whole experience. Safely. We want to give them the tools and understanding of how to protect themselves and be smart about things online so that it becomes a second nature. They don't need to be online 24/7, but it's 2019, and they are online.
Keeping Kids Safer Online: Mindful Monitoring with
Family

Link

app from

Google
No devices in bedrooms
I don't mean they cannot ever take devices into their bedrooms, but pick a cutoff time and devices go to a designated charging spot. Ours is in the kitchen, and all devices charge there. The kids are able to use devices in their bedroom but they don't sit on them for hours on end without anyone around, ever.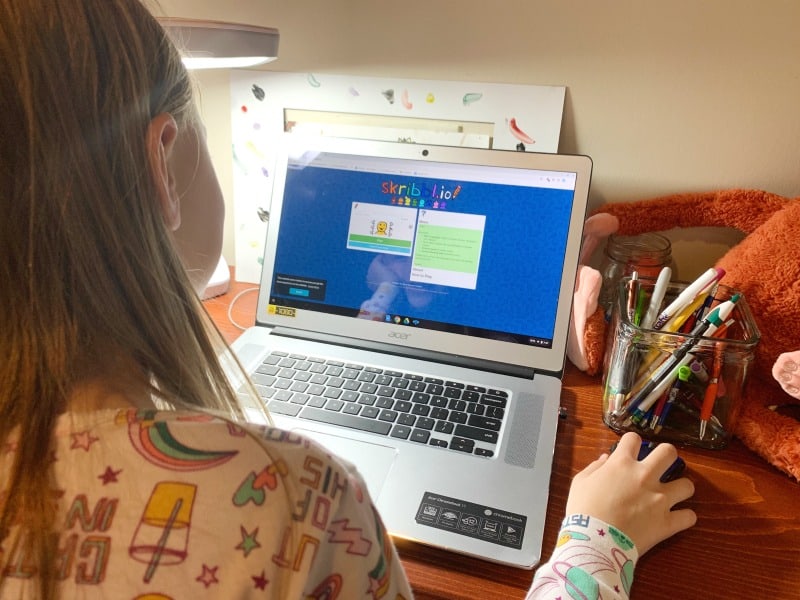 Stay with the Family
We also have the "kids" Chromebook in the kitchen in a little homework area we have- this way if they have questions or need help with homework and one of us is cooking dinner, we're able to talk while doing other things. But it's also given us some great conversation opportunities as questions come up. As you can see, games are also played here. But they have all the supplies they need for homework – extra paper, tape, rulers, etc are on a shelf above her head. We love the daylight lamp to brighten the space.
Monitor Content
Family Link app from Google is a free app for families. Yes, free. It helps us parents to apply our family guidelines and limits to devices via the app, and let's us decide what kinds of content are appropriate for which kid.
It's really pretty easy to use and set up, too. The parent creates an account and sets up Google accounts for the kids or uses the ones they already have. It took a few minutes to set accounts up for kids 2 and 3, as the oldest already has her own account.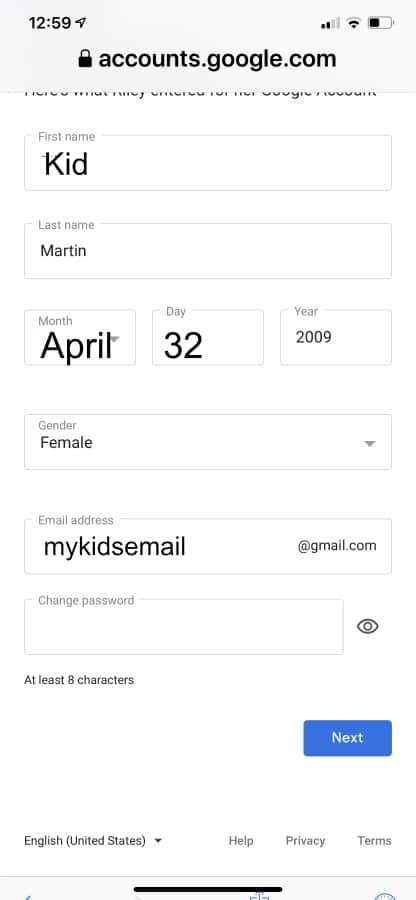 Once the kids' accounts are set up, you'll need to enter a code that pops up in your Family Link app (this was a code for US, it won't work for you). For your child's Android device(s) or Chromebook, you will download Family Link for Children and Teens.
Once the kids' accounts and devices are connected to the Family Link app, you're ready to go in and set things up based on what you feel is best for each of your children.
You get to set the guidelines, and the kids know about them. Some things, we're ok with them viewing/playing/doing before the age that's listed on an app, a game, or even a music site, but many we aren't. We are open with our kids about what we feel is age appropriate and they know that as they are more mature and get older, they'll be able to do/see/access more things. They are aware that we monitor and WHY we choose to do so.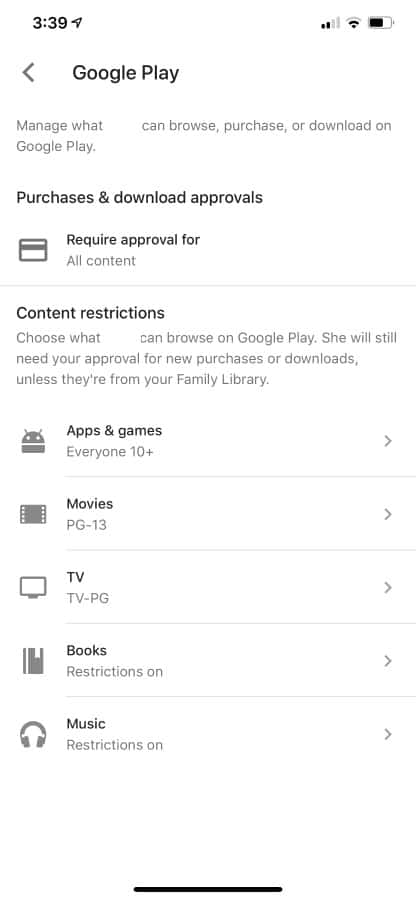 I really like being able to make changes with a few simple clicks/swipes in the app. Our rules aren't rigid, and for example, our oldest is almost 14 and really wanted to watch a specific show. By our guidelines, it's not allowed, but I've seen that show and I know it's fine, so we allowed her to view it. If we want to change our settings, it's just a quick few seconds in the app and voila! Things are changed.
Be Mindful of How Much Time is Spent on Devices
Family Link app from Google isn't just about managing content for your kids and their devies, though. It's a great tool that can be part of the ongoing conversation about technology use, devices and aligning them with family values. Honestly, being aware of how much time anyone uses devices in this day and age is probably a good thing. Many of us, myself included, are guilty of staying connected too long or too often.
Family Link shows how much time is being spent on devices. This is particularly important with our 11 year old, who's fallen into the Fortnite with buddies thing, and frequently protests when we remind him time is up. He always insists it's only been a half hour. Family Link shows him clearly what the actual time is. It's helping HIM to also be aware of how much time he's spending!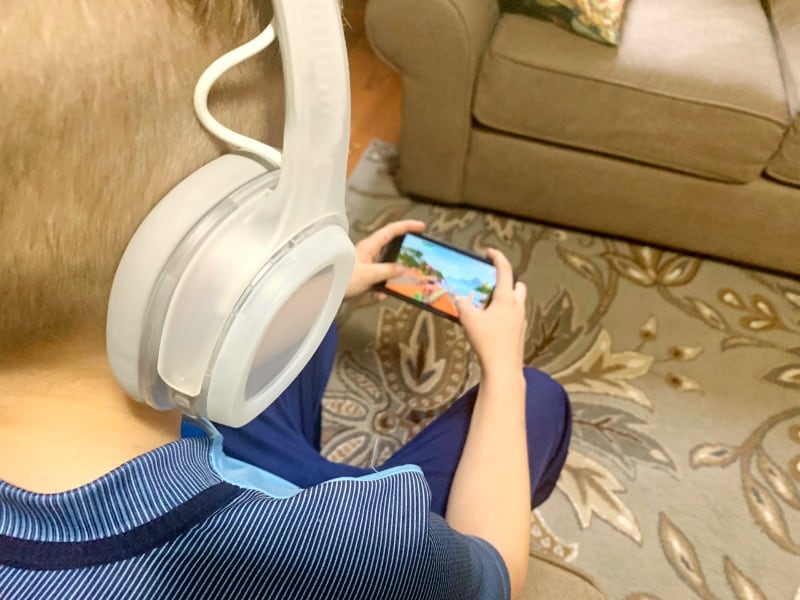 If he doesn't comply, or cannot seem to control, we can hide it on his device right from the Family Link app. There's also a bedtime feature so that devices lock down when you decide they need to. So even if your kids decide to keep that device in their room? It's not going to do them any good.
Approval before Spending
If you are one of the masses who's had a kid make an in-app purchase without your permission/realizing it – and it's happened to most parents I know-Family Link allows you to require approval of purchases your kids try to make. Don't want another $15 spent on an app? Don't approve. This is a bonus for families with young children who maybe just like to press buttons and swipe…
For families with older kids, you can turn that requirement off for them if you'd like. Having separate accounts for each child is great for families with kids of different ages- obviously what you allow a 14 year old to watch isn't going to be the same as a 5 year old!
Download Family Link and begin setting digital ground rules to help guide their kids as they learn, play, and explore online! Let's make Family Link part of the conversation in your home about online safety and awareness. It's free, and it is a great tool for families!