It's midwinter, we're most of us going to be experiencing lots of cold weather, winter precipitation, and lots more time indoors than in other seasons.  Inactivity isn't good for anyone, including our pets. Our friends at Babbleboxx sent us some fun goodies to help make a care package for pets that will help keep the winter doldrums away and give us some new ways to keep the dog, the cat, and even ourselves- amused. There are 3 main things to keeping pets happy in winter- activity, feeding and attention.  I don't eat the same things in winter that I do in summer, so why shouldn't I let our furry family members have some changes in their diets as well?
Keeping Pets Happy in Winter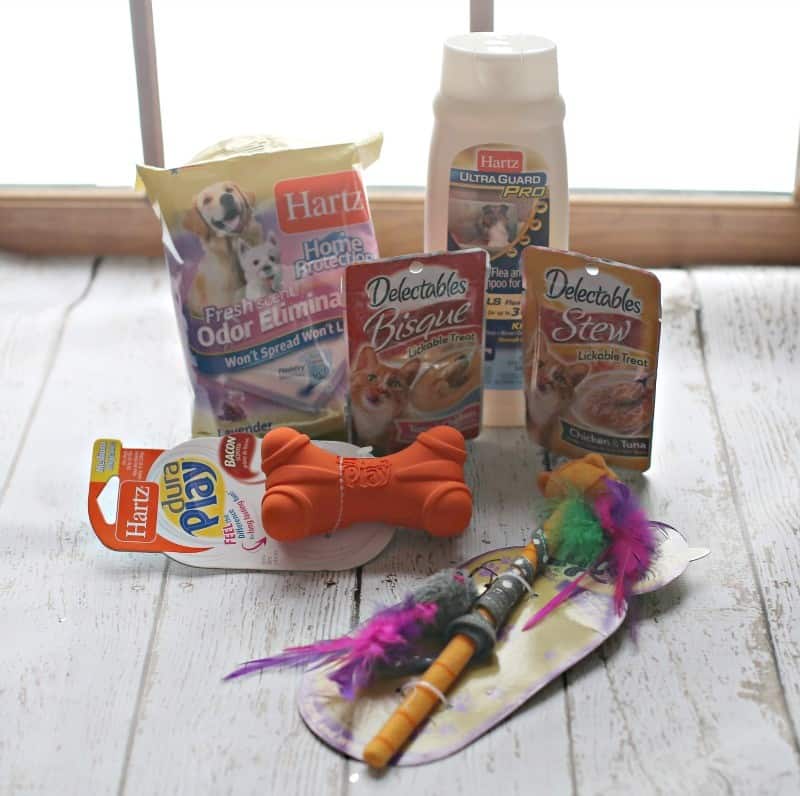 Brownie's still a puppy. She'll be 1 in a few months but she likes to be busy, or we find her getting into mischief (I didn't know dogs could chew baseboards until this puppy…).  We have some toys that we give her just for her crate time, and others we just use for tug, catch, etc.  We try to get her mind exercised even if her body isn't moving as much and fun new toys are a great way to do that.  Crate toys keep her busy a while, but also keep her from getting stressed from being in her crate.  With winter weather, I'm longer on travel time, so a trip to the grocery store might normally mean an hour or two in the crate, but in snowy conditions, it's bumped a bit longer…and she's not used to long periods of time alone. I'm home full time with her.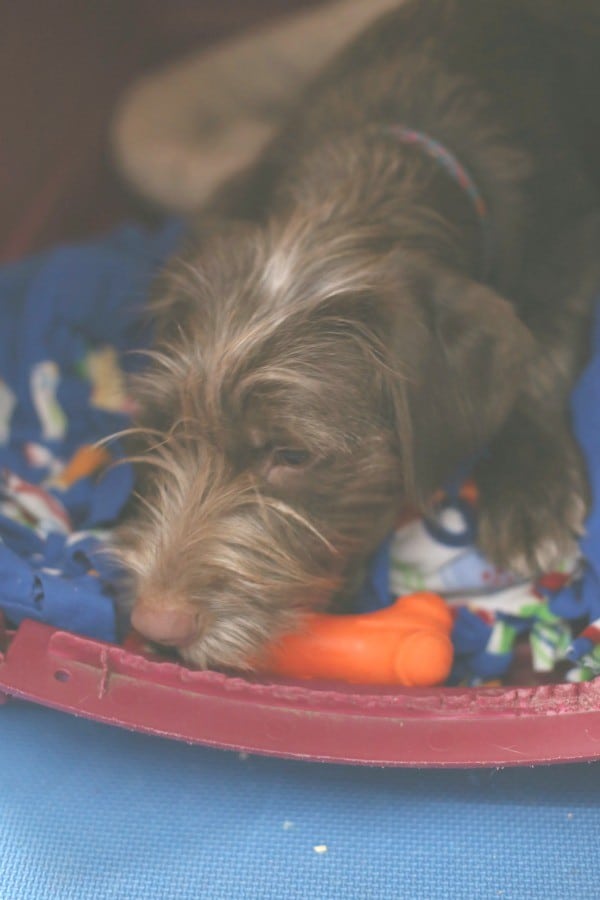 The Hartz® Dura Play® Bone Dog Toy is her newest toy- this one, we gave her in the crate, and she was so excited she ran to the living room, showed us all her toy, and ran back into her crate.  She loves it- good size for her puppy mouth and durable so it won't fall to pieces when she's playing with it- solo or with us. It's also her first bacon scented dog toy, so that's even more exciting for her! This dog bone also floats, so I have a feeling come summertime, it'll become a water play toy as well.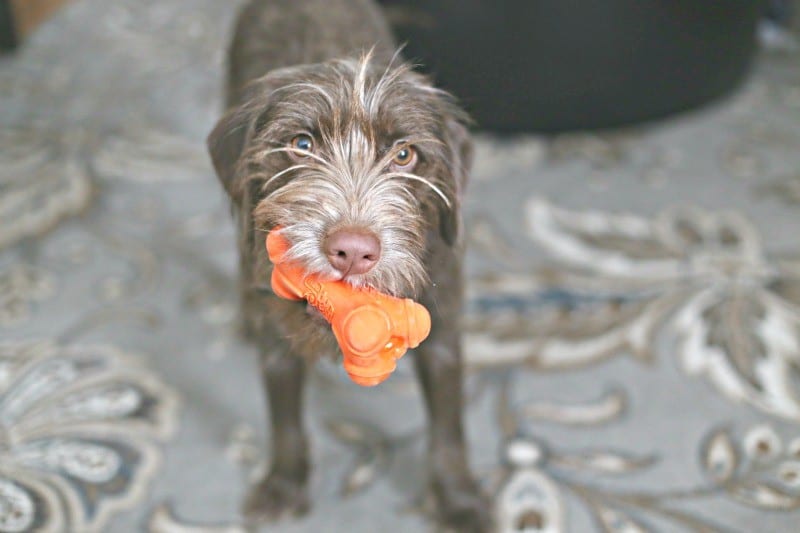 I don't know about you, but our Brownie doesn't like walking around in winter weather.  She also refuses doggie boots.  That's kind of an issue since she doesn't go in a litter box — and bless her heart, she couldn't deal with the -11 temps over night the other night and she had an accident in the house.  Thankfully, I'd anticipated her having an issue and had set out some of theHARTZ® Home Protection™ Odor Eliminating Dog Pads– so while she did have an accident, cleanup was a breeze (and haha, they actually have Febreze in them, so no odors to make the area by the door smell like there was an accident ever took place!). With these pads, liquid instantly turns to gel and as a result- no leaks, no spreading…no odor.  I'm glad I thought to put one by the door we use to go out- poor Brownie was just beside herself with the cold, the snow and the wind. Hartz also makes a wide variety of products that can help keep your pet comfortable and entertained- and you can grab some money saving coupons for them here!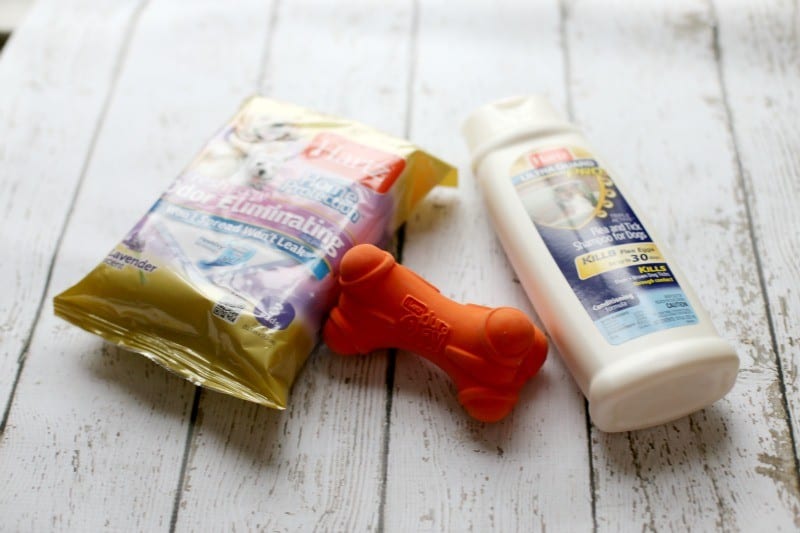 The kitties need some attention as well- even indoor kitties want some new toys and treats on occasion.  My kids love to play with our cat, when she allows them too (she spends most of her time, especially in the past week with the super cold weather, hiding out and burrowed in the blankets in one of our beds). When she's in the mood, she loves to chase lasers, bat newspaper and chase mice (apparently she's not one to notice a real mouse…).The Hartz® Just for Cats® Twirl and Whirl™ Cat Toy is a fun new interactive cat toy that we can take out and entertain Rosie (and ourselves) with whenever a storm hits- it's a great size to tuck into a drawer and take out as needed!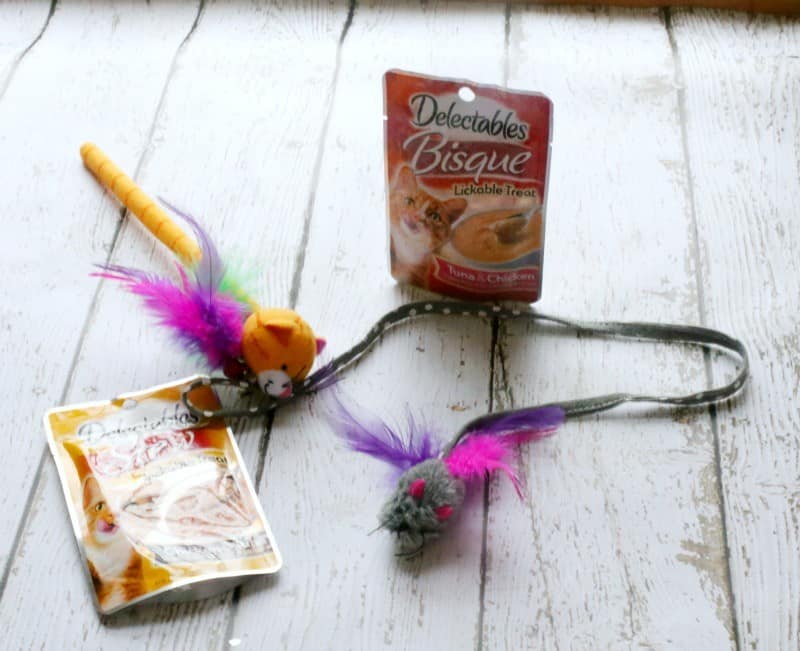 What cat can resist feathers?  Not Rosie.  Unless it's a day she's hibernating, or crabby at the puppy.  We know she'll love this and it'll be a fun surprise at the next storm.  The Delectables™ Bisque Lickable cat Treats will be a yummy reward for her for allowing us to play with her.
If your pet will go outside with you or has no choice, be sure to watch their paws carefully for discomfort- many products put on the roads in some areas (Connecticut) can be harmful to our pets' paws. We frequently wash Brownie's paws— she thinks she is having spa time, we're just making sure she's not in pain! We have not yet found the right coat or jacket for her but will soon.  If your pet will tolerate boots, definitely invest in some.
A few different flavors of cat or dog treats, a few new toys to play with (alone or with you), and you'll find some fun new ways of keeping your pets happy in winter.  Even playing hide and seek with your pet will keep their mind going and get their brain some exercise!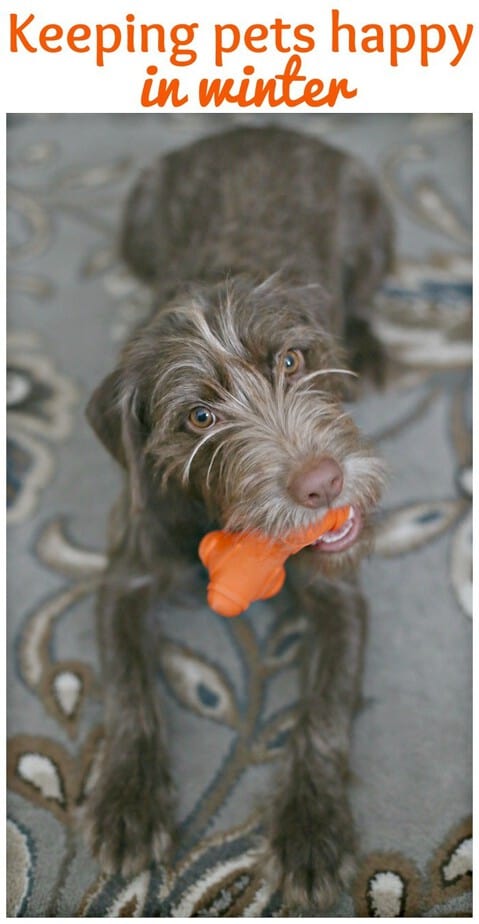 Besides, who doesn't like a fun surprise? Brownie loves getting packages in the mail- and yes, she has learned to open them!
Grab coupons for these items and more to make a winter care package surprise for your pets!
This post is sponsored by BabbleBoxx.com on behalf of Single Edition Media.