This multigrain medley veggie salad recipe is brought to you by our friends at Minute® Rice. Our life changed drastically just under a year ago when we found out our then 2 year old had Celiac Disease.  We used to eat a lot of whole wheat pastas, whole wheat breads, and many other foods that were full of gluten.  Many of our family favorites had to be replaced with new foods or at least modified to no longer contain gluten.  One family favorite we transformed was a go to dish for family get togethers, something we were used to seeing on the table at picnics and cookouts.  The traditional Pasta Salad.  Since pasta salad just isn't the same with gluten free pasta we decided to go a completely different direction and created this MultiGrain Medley Veggie Salad made with 
Minute® Multi-Grain
Medley.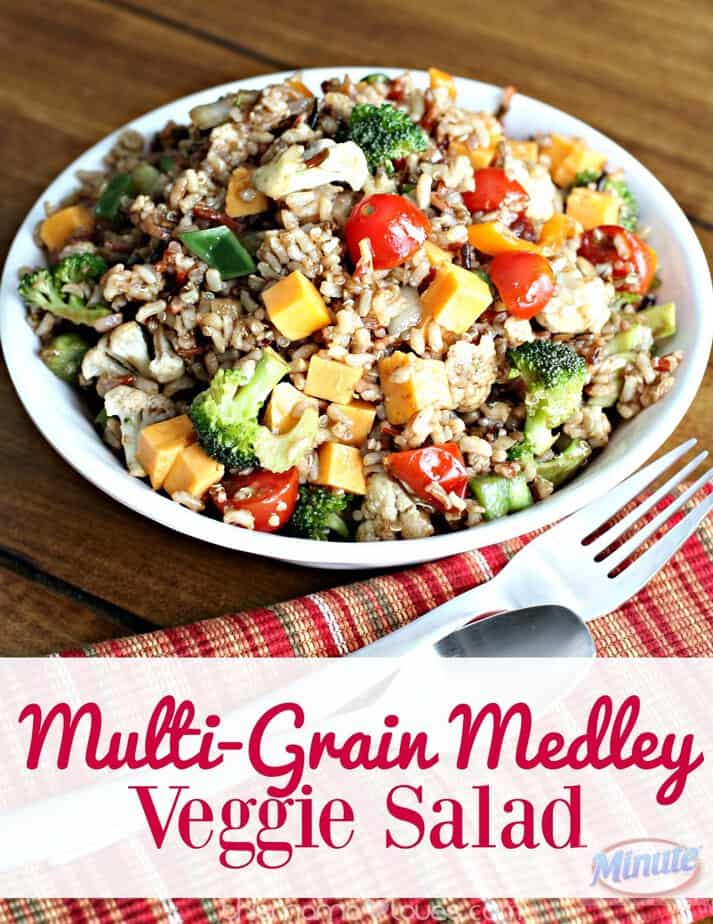 MultiGrain Medley Veggie Salad
Ingredients:
Minute® Multi-Grain Medley – it comes in four pre-portioned bags for ease of preparation
red, green, yellow, and orange peppers
cauliflower
broccoli
onion
tomato
celery
other fresh veggies – any favorites you'd normally put in a pasta salad
1/2 cup small cubes of sharp cheddar cheese
Dressing Ingredients:
3 tbsp balsamic vinegar
2 tsp raw honey
2 cloves garlic, minced
1/2 cup olive oil
4 drops Basil essential oil
3 drops Lemon essential oil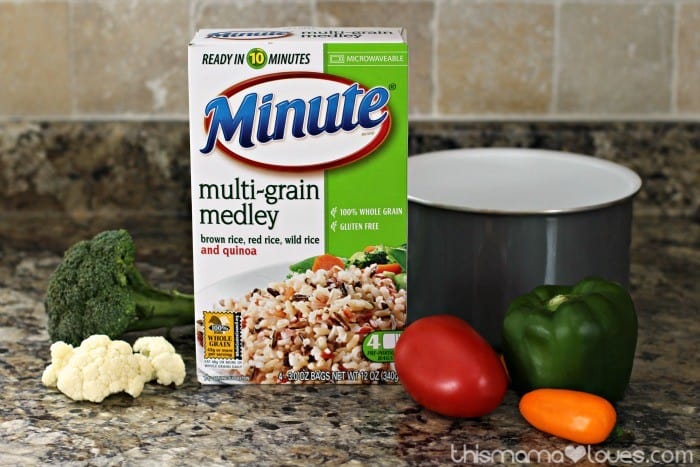 Instructions:
Prepare your Minute® Multi-Grain Medley according to package instructions.  It cooks in just 10 minutes.  Allow it to cool completely before mixing with the remaining ingredients.
The Minute® Multi-Grain Medley is a blend of four, gluten free grains – 100% whole grains – brown rice, Thai red rice, wild rice and quinoa.  It's also non GMO which is so important to me! The blend is slightly chewy with a nutty flavor so it's great as a base in a dish like this "pasta" salad.
While the rice blend is cooling, chop your veggies.  You want this salad to be full of fresh flavors so use all the veggies your family loves.  Place the veggies in a bowl and set aside.
In a separate bowl combine the ingredients for the dressing then drizzle over the veggies.  Toss together and place in the refrigerator to chill until the rice is completely cool.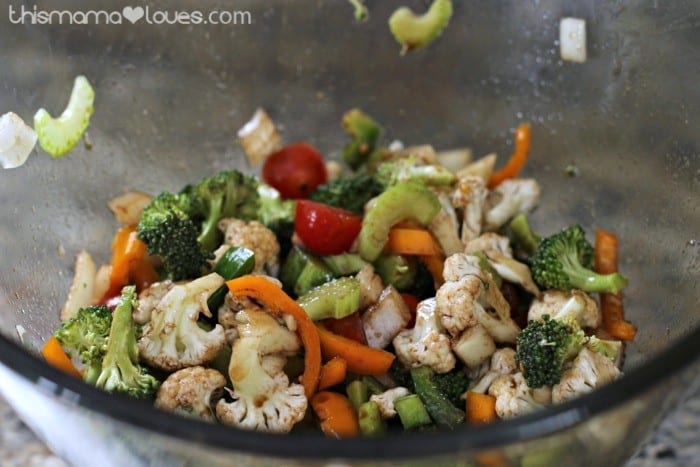 Once the rice blend is cool add it to the veggies.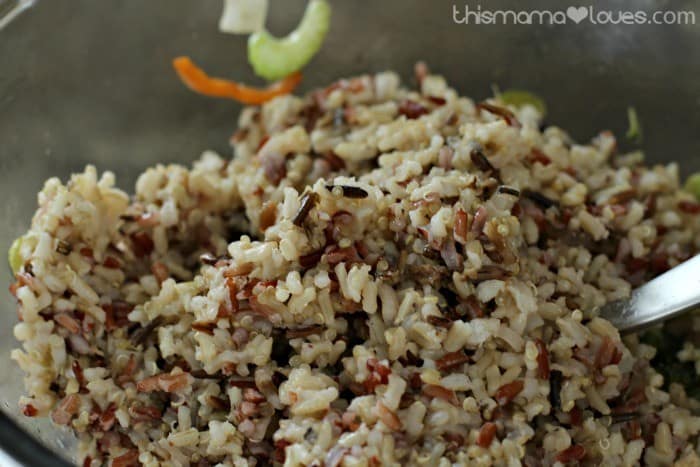 Toss the rice blend and veggies together until they are well combined and everything is coated with the dressing.
Lastly, add the cubes of cheddar cheese and combine.  You want to wait to add the cheese until you're ready to serve so that it does not become soft.  You could also use a crumbled feta cheese in place of the sharp cheddar.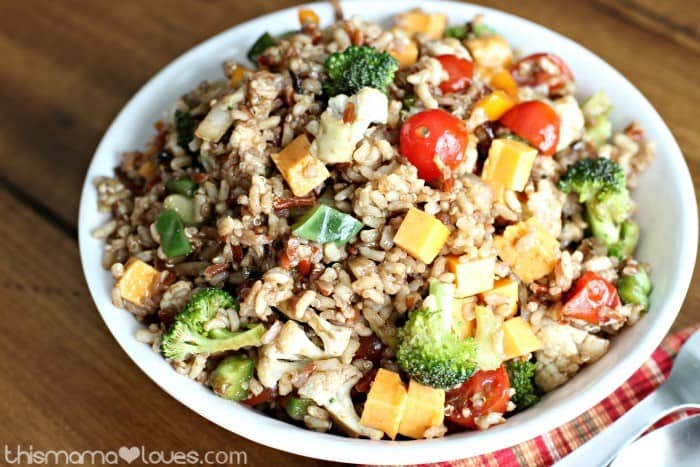 Minute Rice is a pantry staple for us.  It's a family favorite for meal time or even after school snack.  Our 11 year old daughter loves preparing it for herself and her brothers because it's easy and she can make a new recipe with it by adding fresh veggies or other ingredients from our pantry or refrigerator.
You can get more great recipe ideas and special offers from Minute Rice sent right to your inbox by joining The Riceipe Club®.
This is a sponsored post written by me on behalf of Minute® Rice.