Every year as my mom's birthday approaches, I get lime on the brain. My mom always loved Key Lime recipes. Last week, I shared with you my super super simple 3 Ingredient Key Lime Cookie recipe. Now, for some folks, those are lime enough. For others, they want a little bit more. So today I'm going to share with you a fun twist on those cookies- or rather on the frosting- to get a little more lime in your cookies (without a lot more work)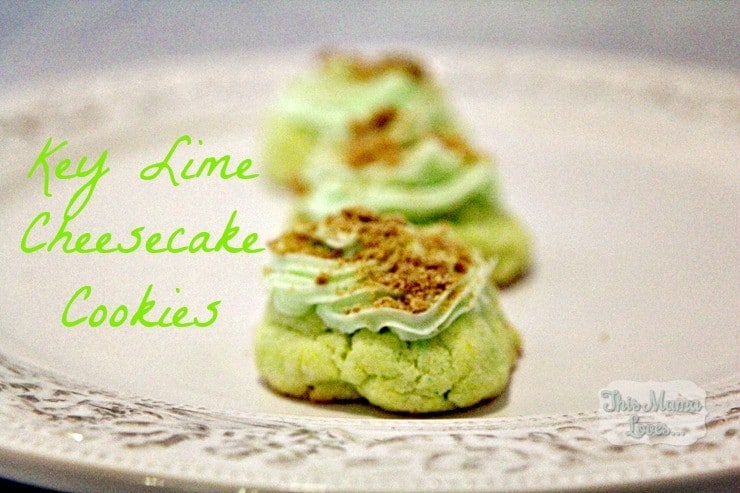 You'll still want to make the 3 Ingredient Cookies again. If you are a big lime lover, add the zest of 1 lime into the batter.
For the Key Lime Cheesecake frosting, you will want 1 can of Pillsbury's Key Lime Frosting plus 1/2 an 8 oz tub of whipped cream cheese. You may or may not want to add the zest of a lime (depends how much you love lime). Fold the cream cheese into the frosting. It's that simple.
For the finishing touch, sprinkle crushed graham cracker crumbs on top of the frosting. Voila- Key Lime Cheesecake Cookies!
You will want to store these in an airtight container in the fridge if you add the cream cheese. They probably won't last long. We've not had leftovers since we've made any key lime recipes.
Key Lime Cheesecake Cookies
Author:
Prep time:
Cook time:
Total time:
Easy recipe for Key Lime Cheesecake Cookies
Ingredients
1 Box Pillsbury Key Lime Cake Mix
2 eggs
1/2 c oil
1 tub Pillsbury Key Lime Frosting
4 oz whipped cream cheese
4 graham crackers, crushed
Instructions
Cookies:
Stir together eggs, oil and cake mix.
Batter will be very thick
Place in rounded balls on ungreased cookie sheet. Bake at 350 for 9 minutes
Frosting:
Fold whipped cream cheese into Key Lime Frosting
After cookies are frosted, sprinkle crushed graham crackers on top