Kmart has a LOT of the hottest toys this holiday season.
Johnny The Skull  Johnny the Skull is an electronic game that, when he swivels his head around the room, ghosts are projected from his eye. Shoot quick or you may miss them! The blaster will count the number of ghosts hit. Hear the ghosts make spooky sounds throughout the game. Game has 3 different skill levels — can you master them all?
Twister Dance An updated, modern version of the ever-popular, classic game.  It's Twister, 2012 style.  Fun for parties and family get togethers!
WEE Brawlin' Buddies Stuffed versions of popular WWE stars who can handle a throwdown and even use familiar phrases used by the real stars!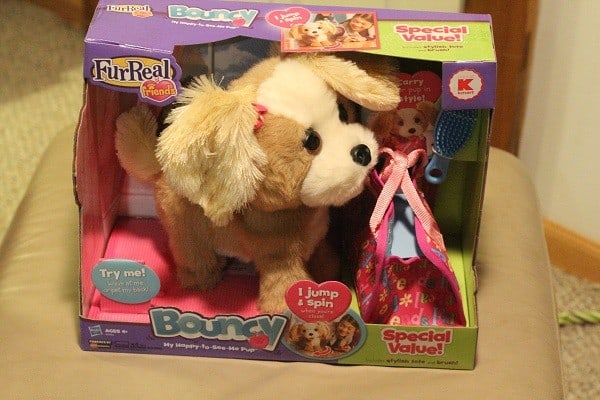 FurReal Friends Bouncy My Happy To See Me Pup– This little pup is just cute as can be.  A nice small size, this little pup comes with it's very own tote bag and brush (an exclusive to Kmart gift set) and is all ready to interact and play with your little one.  This little pup even jumps and spins!
Monsuno Strike Sector Combat Set Step up your game and take your Monsuno action into the battle zone! The Monsuno Strike Sector Combat Set allows for fast-paced battle anytime, anywhere. Quickly & easily snaps apart and folds up for easy transport! Comes with an EXCLUSIVE translucent blue Charger figure, core & card!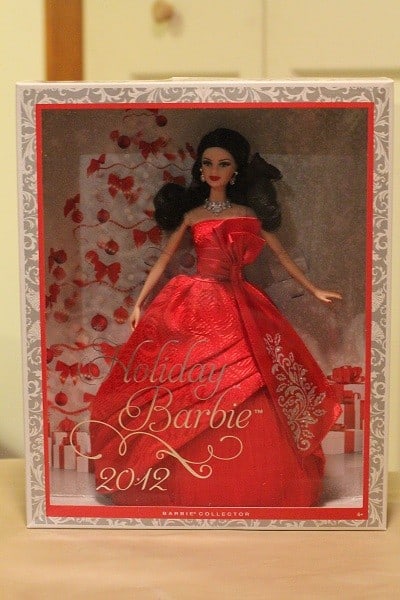 2012 Brunette Holiday Barbie- This is a brunette Barbie in a gorgeous, holiday red ball gown, with shimmer and silver accents.  She's a favorite collectible and any Barbie fan will love to have her!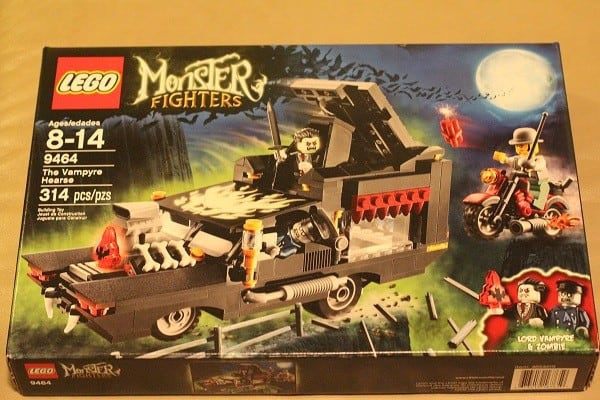 LEGO Monster Fighters: The Vampyre Hearse With all of the success of the Twilight movies, LEGO has found a way to give the "bigger" kids some fun – and safe- vampire toys.  We're huge LEGO fans anyway in this house but I am loving the "edge" of this product line!
HotWheels Dune Racer Ride On My son would be over the moon for this dune racer, although it's not in our budget and we have some ride on toys already.   It is totally cool, though.  I wouldn't mind if Santa dropped one by the house!
Furby Furby's back and I secretly hope someone decides to tell Santa I'd not mind having a pink one.  Why?  I was "too old" for them last time, but always wanted one.  Now they are back and the kids are almost old enough…and I still want one!  It's hard to resist such a cute, furry toy that's interactive.
Air Hogs Hover Assault- Super cool R/C vehicle that can also FLY!
Imaginext Castle– We are HUGE fans of the Imaginext Line- so much opportunity for creative and dramatic play!  There are also accessories and add ons for every budget and this is going to be a big hit under the tree….and one of those toys that's played with for a really long time.  Anything Imaginext we've had has been played with for hours upon hours a week…
Cinderella Enchanted Carriage Vanity My 3 year old is fully engrossed in the world of princesses.  She saw this vanity in the store and I'm telling you, my child's eyes filled up with tears.  "It's so beautiful, mommy," she said in a whisper.
LeapFrog Explorer LeapPad2 The #1 learning tablet just got better! LeapPad2 Explorer inspires kids to imagine and explore with front-and-back cameras and video recorders, 4 GB of memory and a library of 325+ cartridges and downloadable apps, including eBooks, videos, music, creativity apps and more for limitless learning and fun!
Master Moves Mickey- Mickey's always a hit and Master Moves Mickey is no exception. He's a dancing machine and does handstands and even 360 spins.
Monster High Roller Maze Gift Set Skultimate Roller Maze is a ferocious game that requires monster skills. Unfortunately, the star players have all gotten injured, and the ghouls of Monster High have to save the day! This Kmart exclusive gift set includes both Ghoulia Yelps and Abbey Bominable dolls. Ready to roll, each player has a "fangtastic" skating outfit with helmet, knee pads and skates.
And Kmart has some of the hot toys that aren't ON the list- like any of the Doc McStuffins toys- each time I head to Kmart I peek at the Fab 15 toys and check for Doc McStuffins and I can tell you that at least in the Vernon, CT store, there have been items in stock a few times per week…when other local stores are sold out!
What are the toys on YOUR shopping list this year?
Samples of these products were received in exchange for this post.  The samples were photographed in their packaging so that we could donate them to ToysforTots.