Thank you AstraZeneca for sponsoring this post.Please visit LIVE W.E.L.L. and LVNG With Lung Cancer for more information.
November is Lung Cancer Awareness Month. Now more than ever, there is reason for hope. Please visit LIVE W.E.L.L. and LVNG With Lung Cancer for more information.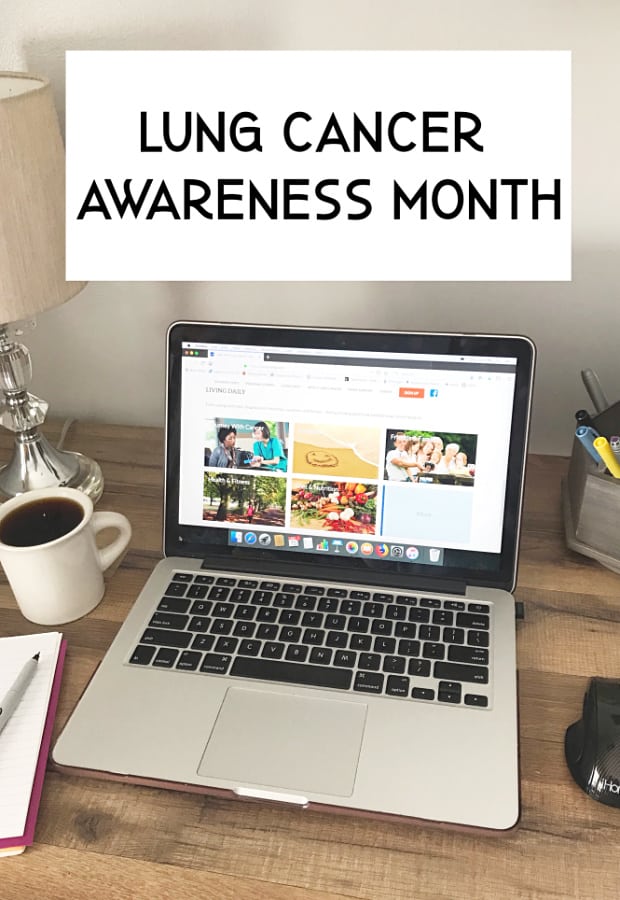 My Aunt Dianne passed away in September of this year. She had lung cancer. A lady we used to know in our old neighborhood passed away in October to lung cancer. I have not met anyone who's not been affected by cancer, in the lungs or otherwise. Both of my daughters have teammates who have a parent or grandparent living with lung cancer right now, so the reality of cancer is something we kind of have to talk about. You may have read my previous story on when someone you love has lung cancer, about my mom, who passed in 2009 of complications…which is why talking about lung cancer awareness is important to me. I wish the "list" of those we know who have been affected by lung cancer, or other cancers, hadn't grown as much as it has since my mom died.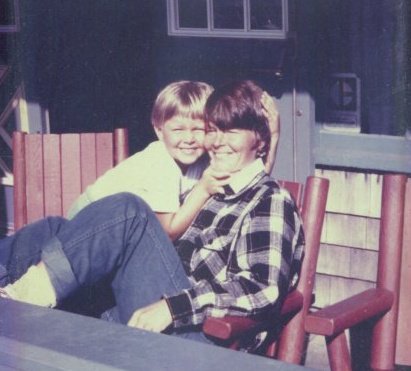 Talking about cancer is hard. It's sad, and it's scary for many. Talking about lung cancer seems to have this piece to it that has a stigma attached, as if people assume those afflicted with cancer in their lungs were automatically heavy smokers, and that they've somehow done this to themselves. But many of the folks we know who've been diagnosed are not smokers, and haven't been. Some are, but many are not.
Cancer is everywhere
Without sharing too many details, one of the folks we know is a dad in his early 40's. A healthy guy who exercises, takes care of himself, and yet…he spends many of his days making video diaries for his three children, who are each a little younger than my own kids. He's never smoked. He's eaten well and exercised. But he's living with lung cancer, and fighting the fight while trying to face his reality that he may truly not be here when his kids become teenagers, drive a car, graduate high school, go away to college…or beyond.
This is my husband, with our girls. Photos and moments like these are treasures, and it's hard to think about what it would be like talking to our girls if their dad had cancer. The reality is that just like the dad above- it can happen to anyone. And so, we talk about hard things.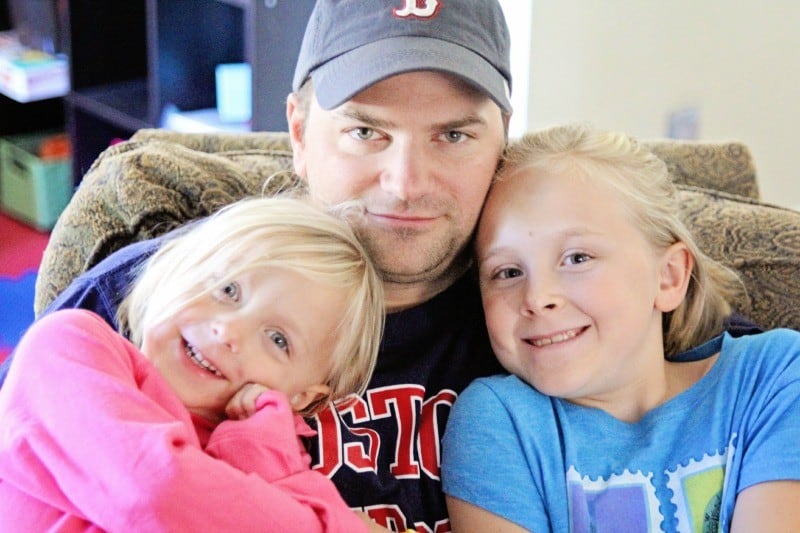 Another person we know with lung cancer is a grandmother, recently diagnosed and awaiting the prognisis and likelihood of treatments helping her quality of life. It's very unlikely that she's going to get better, although there is hope to slow the progression of her cancer.
Another person we know with lung cancer is a grandmother, recently diagnosed and awaiting the prognosis and likelihood of treatments helping her quality of life. It's very unlikely that she's going to get better, although there is hope to slow the progression of her cancer.
While these are just 2 individual stories, I know there are more in our personal community, and even more on broader levels.
How do I, as a mom, as a neighbor, a teammate, part of the same community, help my children support their friends and teammates, while supporting the families? It's HARD to talk about cancer. It's not easy, it's not fun, and it's so hard. It's necessary, though. With November being Lung Cancer Awareness month, I want to take the time to talk about lung cancer to help raise awareness- and really, not just for lung cancer, but cancer in general.
Facts about Lung Cancer
In the United States, lung cancer is the leading cause of cancer death among both men and women, accounting for approximately 154,000 deaths each year and about one-quarter of all cancer deaths – more than breast, prostate and colorectal cancers combined.

In 2018, an estimated 234,000 people will be diagnosed with lung cancer – that is three and a half times the number of seats in a typical professional football stadium.

Lung cancer is not just one disease; about 80 to 85 percent have non-small cell lung cancer (NSCLC) and about 10 to 15 percent of patients have small cell lung cancer, and each category has many different subtypes within it. Because there are different types of lung cancer, when someone is diagnosed, it's important to understand the specific characteristics of the disease, so they can find out which types of treatment are most appropriate for them. This is the crux of "personalized medicine" – ensuring each patient is treated according to the specific characteristics of their unique diagnosis.

There are medicines that have been proven to benefit patients with specific types of lung cancer, so if diagnosed, it is critical to understand the details of your diagnosis and talk to your medical team about what treatments are approved to treat your specific type of disease.
Growing Knowledge
In recent years, researchers have come to understand important details of how lung cancer grows and spreads. This has led to important new treatment options that treat cancer differently from conventional therapies, like chemotherapy and radiation. Two important types of therapy are targeted medicines and immunotherapies. In later stages of lung cancer, particularly stages 3 and 4 NSCLC, these types of medicines are changing the way cancer is treated.
What does this mean for patients and healthcare providers? More personalized treatments and targeted treatments based on what kind of cancer someone has. If I'm going through treatments for an illness, I want whatever option is best suited to whatever MY issue is, don't you? Living in these modern times is allowing us to be educated and find out what treatments will work best based on the effectiveness of a medicine, if/where the cancer has spread, safety of the therapy, etc.
There are tests available to help patients to be informed and know what the best treatment options are for them. With the advancement of treatment options, it is critical for patients not to give up – to be aware of their options and talk to their doctor about what treatments may be appropriate for them.
NSCLC
About 1 out of every 4 people diagnosed with NSCLC – more than 43,000 cases each year in the US – are diagnosed with Stage 3. And most people who are diagnosed with Stage 3 NSCLC have tumors that are determined to be "unresectable," meaning they cannot be removed surgically.
Historically, the standard treatment path for unresectable Stage 3 NSCLC was concurrent chemoradiation therapy. After approximately 6 weeks, the treatment would typically stop, and the cancer would be monitored to see if it would spread to other organs. Although most patients initially benefit from chemoradiation therapy, up to 9 out of 10 patients would ultimately progress to Stage 4 – meaning the cancer would spread.
Lung Cancer Biomarkers
Lung cancers have certain "biomarkers," which are unique traits of each individual lung cancer that can help patients and their doctors understand its specific characteristics and can play a role in determining what types of medicines the cancer is most likely to respond to. Biomarkers can be identified through "biomarker testing" to inform treatment approaches for each patient. (My friend's mom just did this). This is often considered a form of "personalized medicine," which includes treatments specially designed for certain tumor characteristics.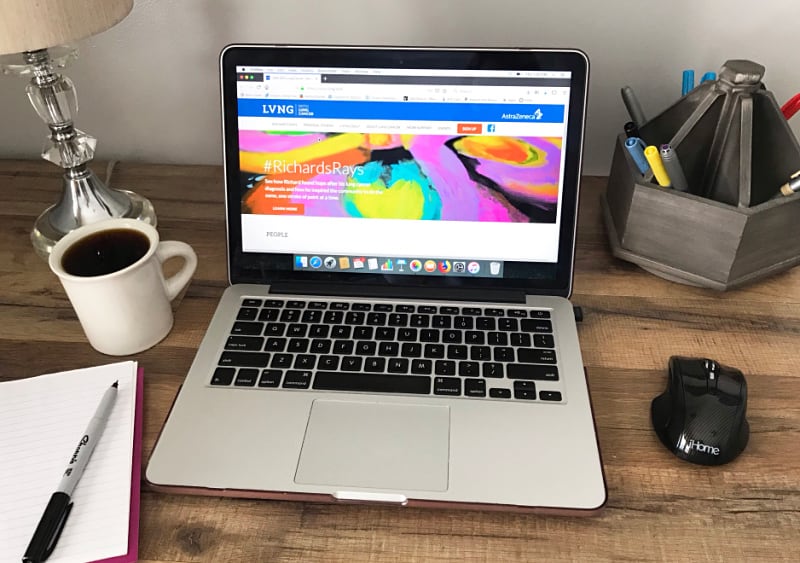 Personalized Treatments
Personalized medicines include targeted treatments for lung cancer with certain biomarkers, such as the epidermal growth factor (EGFR) mutation. EGFR is a protein found on the surface of some cells to which epidermal growth factor binds, causing the cells to divide. It is a common mutation of NSCLC, for which targeted medicines are available.
Given the complexity of biomarkers and where cancers have spread, safety of medications, etc, it's really quite important for patients to have a comprehensive medical team that they trust, comprised of nurses, oncologists, surgeons, pathologists, and more. Each and every part of the medical team has a unique expertise and can provide critical insight throughout the treatment journey. This helps patients with the goal of living significantly longer without tumors spreading, while being able to truly live life with lung cancer.
Immunotherapy
In the fight against disease, the immune system is the body's greatest ally. However, cancer is smart and can take on a disguise. Proteins such as "PD-L1" can cloak cancer cells, preventing the immune system from recognizing them and making it nearly impossible for the body to attack the harmful cells. Unlike traditional types of therapy, such as chemotherapy, which seek to attack the cancer directly, immunotherapies – also called Immuno-Oncology (IO) medicines – empower the body's own immune system to find and attack cancer. By blocking or inhibiting proteins such as PD-L1, we are able to make the cancer cells more recognizable to the immune system, thereby activating it to find and attack cancer cells. For some lung cancer patients, immunotherapy may be an option following conventional therapies, to keep the cancer at bay for longer and, in some cases, showing positive signs for improved overall survival.

Take the time to visit LIVE W.E.L.L. and LVNG With Lung Cancer now for more information, and please, please share this post and the links within them to help us raise awareness throughout November and beyond.

I was selected for this opportunity as a member of CLEVER and the content and opinions expressed here are all my own.