Make the most of your visit to Universal Studios Theme Park in Orlando
Visiting Universal Studios Orlando can be an overwhelming experience, especially the first time you go. From the minute you get out of the car or shuttle and make your way in, there is so much to see and take in. Every bit of it is extremely well done & there are so many neat details in every store, display, and ride, but it can be a lot to figure out which things you want to be sure and fit in your day & to make the most of your time there so let me try and help you out a little.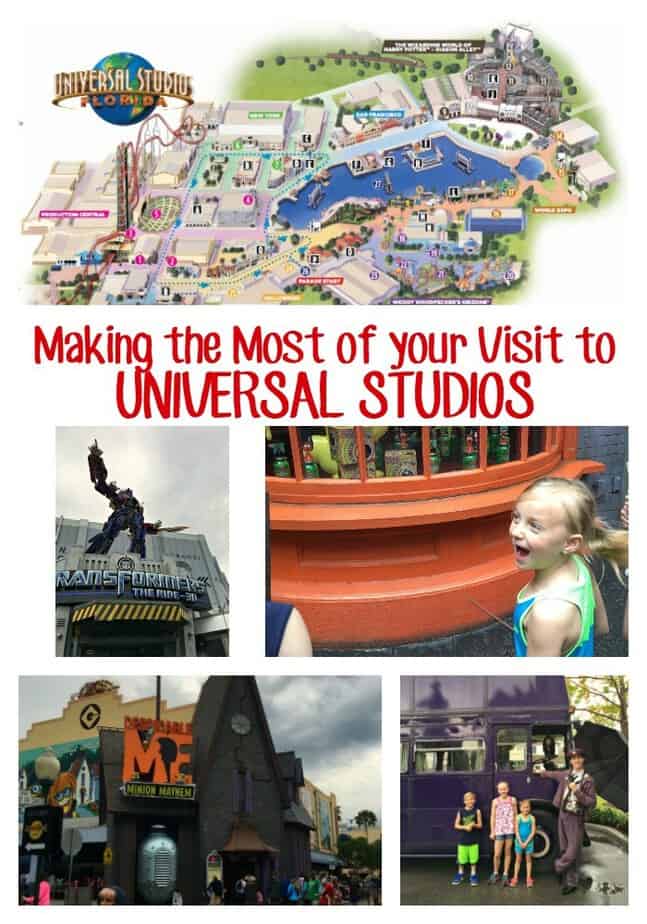 You are given a few options for purchasing tickets to the parks, and the main one is to visit both Universal Studios and Islands of Adventure, but I will warn you, there is so much to see in each park that it is best to do it over a two day span and not try to cram it all into one day. Depending on how busy the parks are during your visit, springing for the Express Pass may be worth it for you.  There are also apps that have analyzed crowd patterns that can help you to optimize your time- a friend suggested the TouringPlans.com Universal App and that was a great resource for us- the $6.99 subscription was well worth the ability to NOT stand in line waiting for popular attractions!
We are going to focus in this article on Universal Studios only. It's a very iconic look as you walk in the front gates, with store fronts and streets like old Hollywood. There are many great shops that are fashioned exactly like Hollywood, like the Brown Derby Hat shop, for example, as well as many of the classic window displays, the Hollywood Walk of Fame along the sidewalk with many classic film stars' names, classic cars and great places to eat, like Mel's Diner, that will give you a real Hollywood Nostalgic feeling.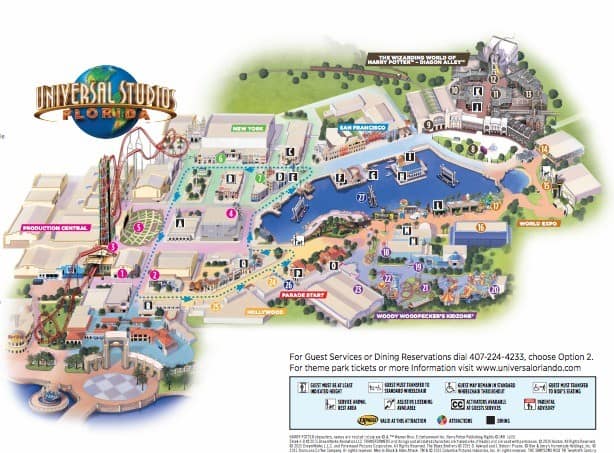 What you don't want to miss in that main area, though, especially if the old school Hollywood vibe isn't your thing, is that there are some great movie and film collectibles and gems tucked into some of those shops. The Terminator show lets out into a shop that is full of movie memorabilia, some is authentic and for display only- and some for sale. There are tons of Star Wars and Comic book collectibles, as well as a section from the Walking Dead and more.
When you head out of that strip and go towards the back of the park, to the right, there are lots of fun things for younger kid. A classic kid's roller coaster with Woody Woodpecker (which is exactly enough coaster for me, myself and I)…and an scaled-to Fivel Mousekevitz-sized American Tail themed play area where they can run, play and slide!  It is one area of the park that is easy to miss and if your kids are small, they will love it.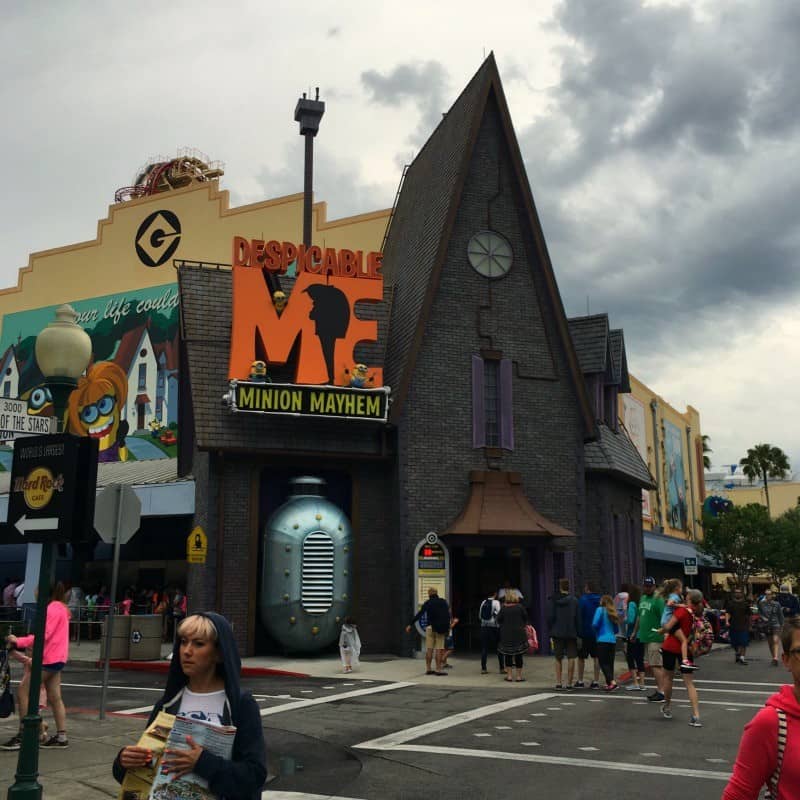 Also, don't miss the Minions 3d ride or Shrek show if you have the time to do them. If you have to choose between them, choose the Minions. Or Shrek.  We loved both for different reasons! I suggest hitting these early in the day and not later, as most people seem to want to hit these attractions on their way out of the park. We prefer to go against the crowds!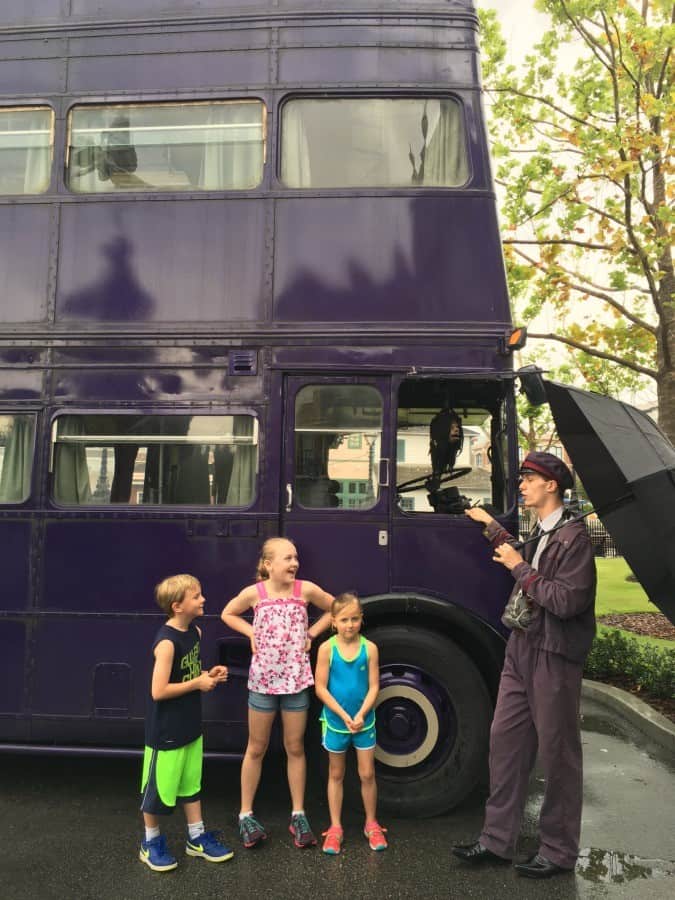 The looks on their faces really is awesome. So much excitement to meet beloved characters from their favorite books!
As you are walking the streets of London, you will see the Knight Bus, and you can walk up to and talk to the driver. You'll be right across from King's Cross station, and yes, there *is* a Platform 9 3/4, because I've been on it myself.
This is where the Hogwarts Express takes you back and forth between the parks and if you have a ticket to both parks, do take it for sure. Be sure to ride in both directions if you have the time, as the experience is different heading to each of the parks. It's also a nice way to sit for a few minutes! It's so much fun to ride but it also saves you walking all the way around Universal Studios to go into Islands of Adventure.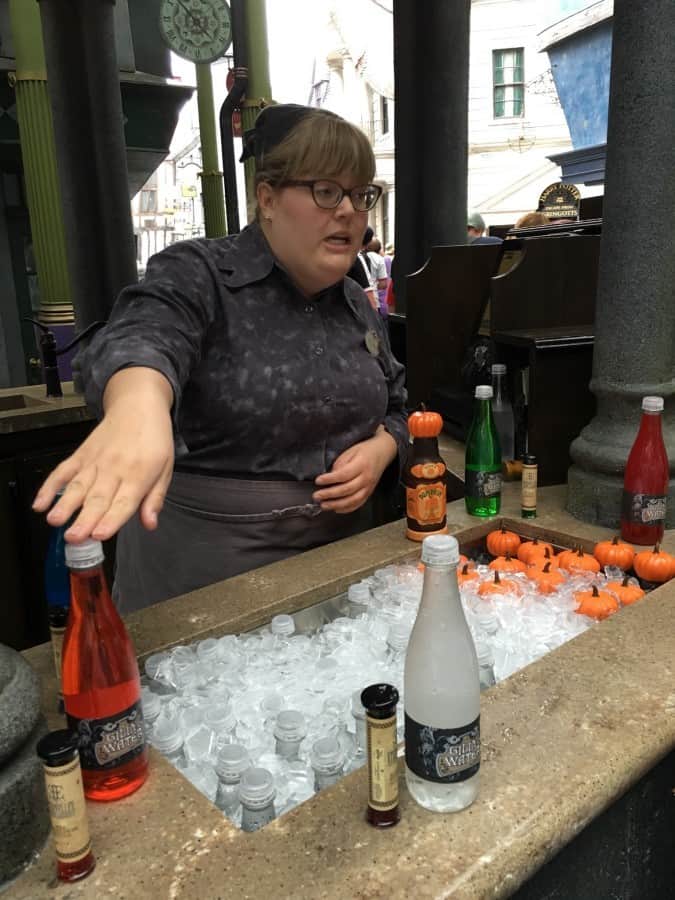 You'll find there's a hidden area toward the back of the park, where most people are headed, to the Wizarding World of Harry Potter, Diagon Alley. You really and truly feel as if you are walking into Diagon Alley as you walk through the entrance to this *secret* area. Leave a good amount of time to explore, especially if you are a Harry Potter fan, because you are likely to find surprises and delights every time you turn a corner, no matter how many times you've been in that area of the park.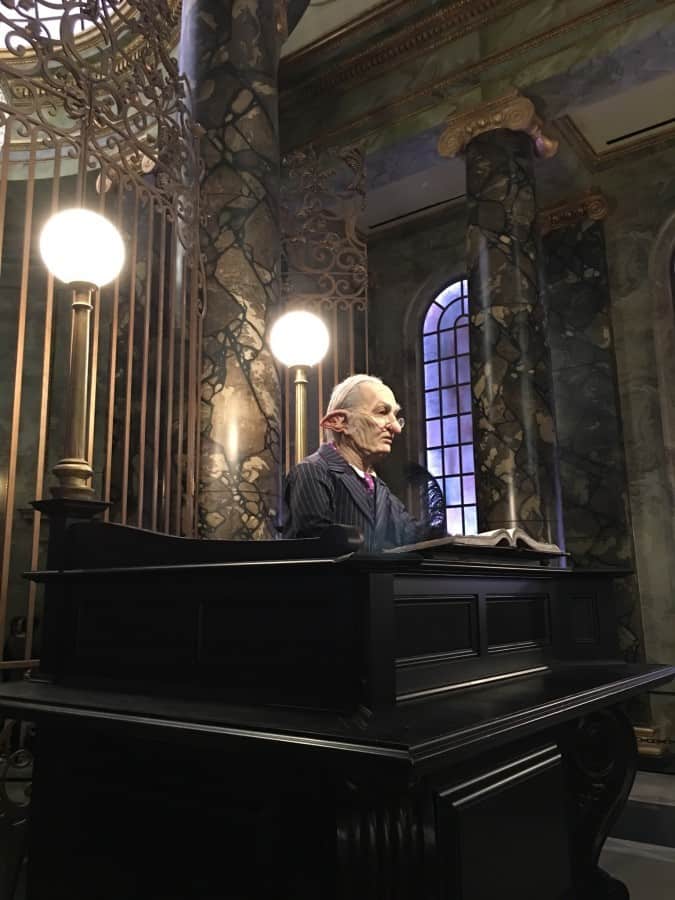 The paint and detail on the buildings paired with the cobblestone and all of the people walking around wearing Wizarding World apparel really help to put you right into the pages of the books or into the scenes from the movies. My husband's favorite part of the whole trip was seeing our 8 year old's face as we walked into Diagon Alley- he's read the series three times, and he was simply in awe.  Our 10 year old loves Harry Potter as well but isn't *quite* as obsessed with it as our son is.

Inside of Diagon Alley, there are many awesome shops, lots of great Harry Potter souvenirs, some wonderful treats to try…plus the Gringott's Bank ride. You will see (by you will see, I mean that you won't really can't miss) the dragon perched on the top of the bank and every so often he breathes out a huge amount of fire. Almost everyone in Diagon Alley will feel the heat of that, but it really is cool to see!! After you pick up your jaw from the ground, do not miss that ride. It is different than anything you've ever ridden and will not let you down. It's partially a coaster but not fully. It may scare littler children but most of them will adore it.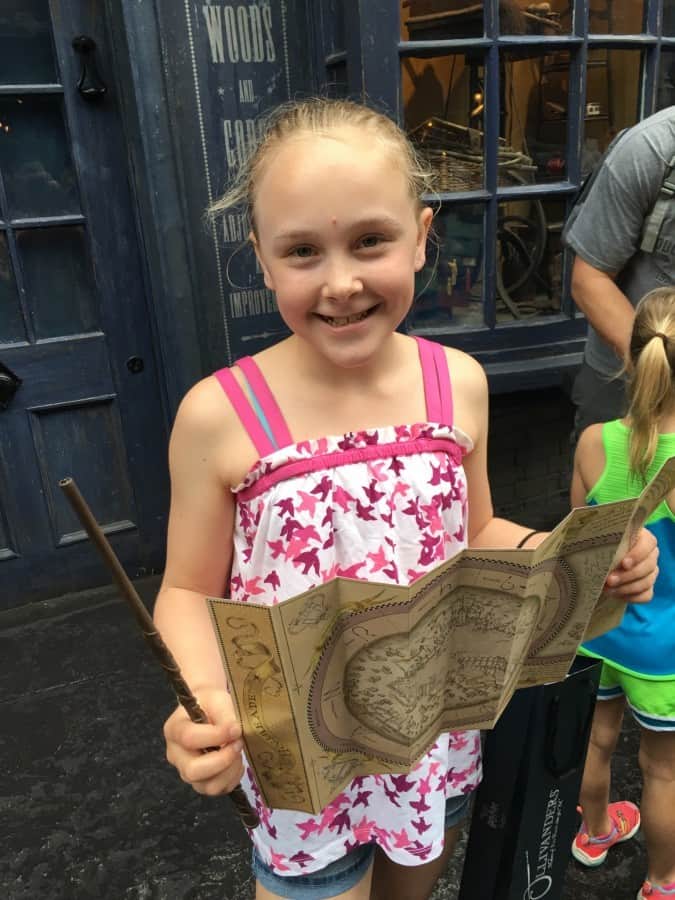 One other thing you must do before or after Gringott's, if you have the funds, is to get an interactive wand- the wands are available at many shops throughout the parks but we really wanted the experience of Ollivander's and were not disappointed. The interactive wands cost just about $10 more than the regular type of wands and you can go to both parks and cast numerous spells with them. There is a system that works with cameras for the effects. (You can read our post about the Interactive Harry Potter wands here). You are given a map and each (or so you think) spot where you can use your wand is marked by a medallion on the ground. The medallion is designed  to tell you which way to point your wand and which spell to use. Pay lots of attention to details when you are in any of the Wizarding World areas in either park, because there are surprises and hidden spells you can cast.  There is much more information online if you want to know all the details, and even some websites with some secret spoilers if you just can't take the suspense!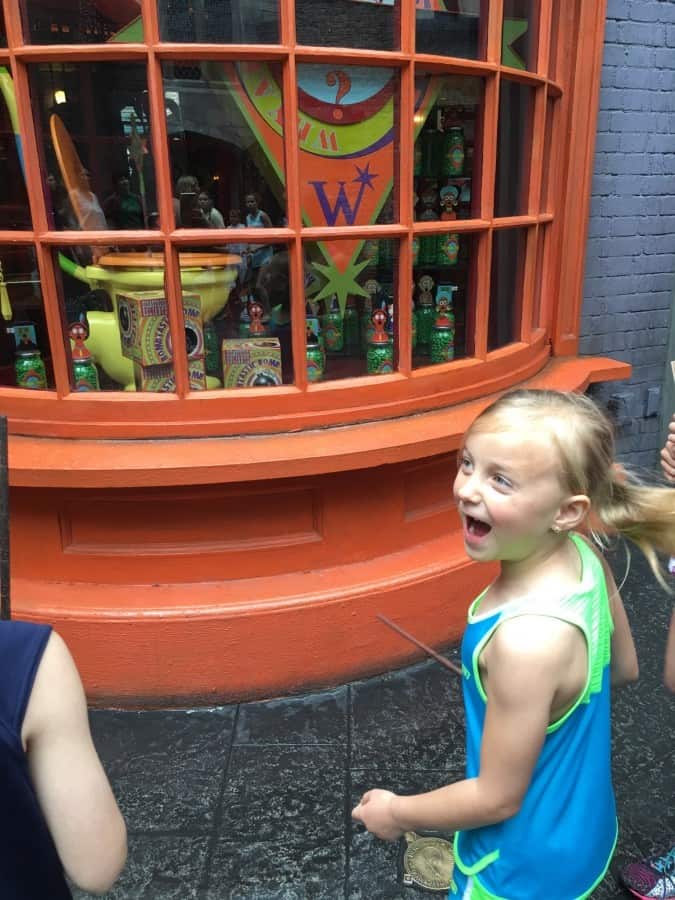 These wands are pricey. I won't argue that. But the excitement and wonder that you see on my daughter's face- that was replicated by all 3 kids at each of the spots we found to cast spells. The look on her face made it oh so worth it!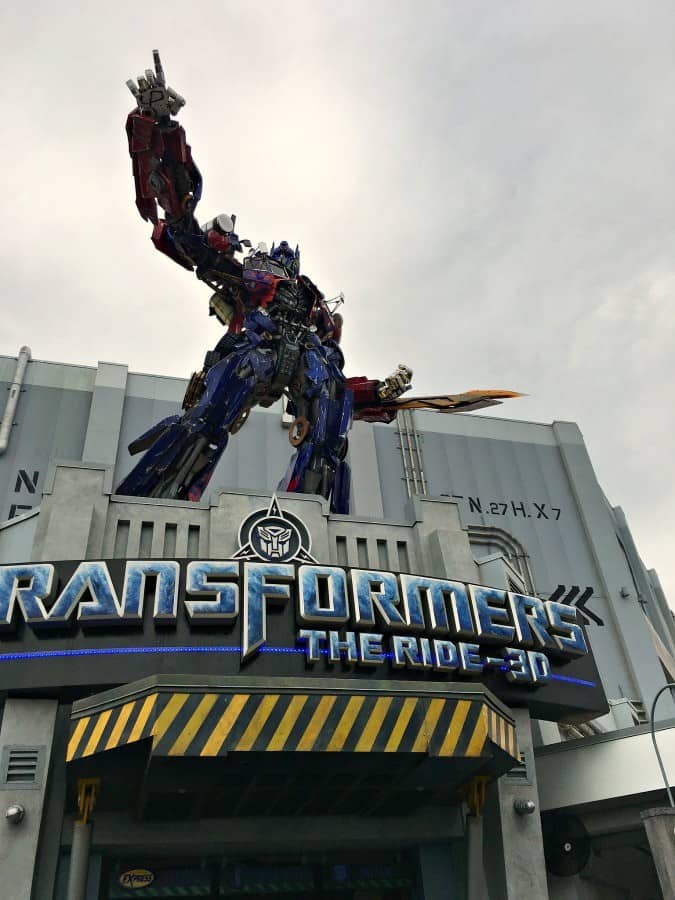 A few other things to be sure and fit into your day especially if your kids are older or you're just with the grown –ups: the Transformers Ride, Men In Black (this one is a family favorite- we did it 4 times in 2 days… you could say we're a little competitive!) , the Mummy coaster and the Hollywood Rip Ride Rock-it coaster. They are all fantastic and worth the wait.
Be sure to download Universal's free app on your phone, too! It will give you up to the minute wait times for the rides, Lots of information on the restaurants and food items, a map and more. Very handy to have, especially for a first timer.
What are your tips for making the most of your trip to Universal Studios?
Thanks to Universal for the passes for our family!