This new house, new medicine cabinet post was sponsored by Pfizer Consumer Healthcare. All opinions are my own.
Moving to a new home is full of lots of emotions.  LOTS and lots and lots for all of us, not just me.  It's a really big deal for me, for my husband, and for the kids.  Even moving across town, where moving schools and jobs isn't involved still involves packing up our whole world and leaving the home our family has lived and loved in for all these years.  This is the place our babies came home from the hospital to, it's the place we celebrated first birthdays, the place we marked their growth on the walls, the place I snuggled them when they were sick and had boo boos.  Sure, there's all the emotion (stress) of packing and unpacking, the grown-up emotions (stress) of the actual buying and selling that goes on, but there is so much more.  There's all these good memories we are saying good-bye to in this house and there's sad emotions with that.  Like everyone though, no house is perfect and all these years have growing pains and yuckies too, and we get to say good-bye to those as well.  So there is excitement and anticipation of starting fresh with all of the things our new home will offer!
Starting Fresh with a Medicine Cabinet in a New Home
Moving to a new home is the perfect opportunity to purge the medicine cabinet and get rid of all the outdated items you've let yourself accumulate over the years.  There are lots of products we go through quickly and others we don't.  Prescription medicines are pretty easy to keep track of and usually get used up on time.  If you have old prescription bottles, check with your doctor's office to find out if you can dispose of unused prescriptions there.  Any medicines that are past their expiration should be disposed of.  Do this now!  Don't move them and wait to do it at the new house.  If you have bottles of medicine that are mostly empty, go ahead and toss those too.
Take Inventory
Take an inventory of what you have and what you need.  Do you have plenty of pain reliever?  The kind you take?  The kind your husband takes?  Pain reliever for your children?  What about cold medicine or other items you might find yourself needing in the middle of the night that you don't want to have to make a run to the store for?  Make a list and stock up on these items for the medicine cabinet in your new home.  At minimum grab a bottle of the must-haves like Children's Advil®, Children's Robitussin® (the Day/Night pack!) and Children's Dimetapp®.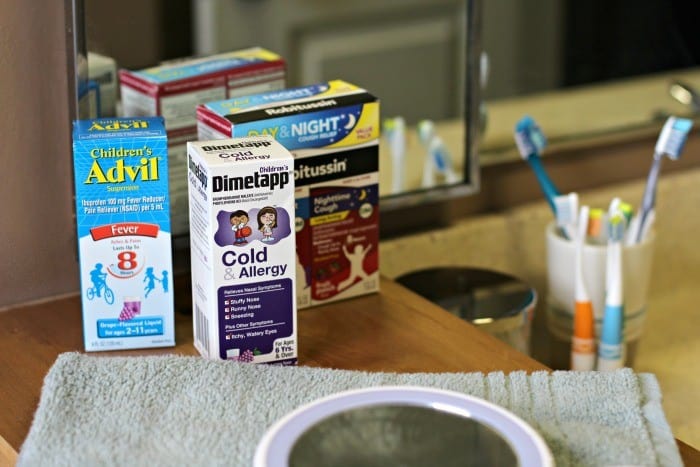 Be Prepared
We almost always have pain reliever on hand, but also check your stock of things like anti-itch cream, peroxide, bandages, and even thermometers.  Have you replaced your thermometer since your kiddos were babies?  Or the battery at least?  Maybe it's time to toss the old thermometer and grab a new one for the new house medicine cabinet.  Peroxide and alcohol tend not to be used up as often.  Check the expiration dates on those, or if in doubt, just toss them and buy new ones.  They are inexpensive items.  Pick up cotton balls, cotton squabs, and other items you typically might need in the medicine cabinet too.
My medicine cabinet tends to grow into a scary place over the years…tell me I'm not the only one.  Moving is an opportunity to start fresh and a chance for starting fresh with a medicine cabinet that is stocked and ready with the things I know I need and can count on for my family.