Given the love my have for building blocks, when I was asked to check out the new  Mega Bloks Barbie Build 'n Style Luxury Mansion Play Set, I didn't hesitate to say yes.  We have loved the Spider Man sets from Mega Bloks, especially given my son's obsession with all super heroes.  The kids were all excited to try something new!  This set  comes with 301 pieces (about 2 dozen of which are accessories for the set to make it play-able) and took us just under an hour to assemble.  It took the kids about 5 minutes after it was assembled to start taking it apart to make modifications.  As I type this, all 3 are in the living room making a custom village with parts from all of our building block sets.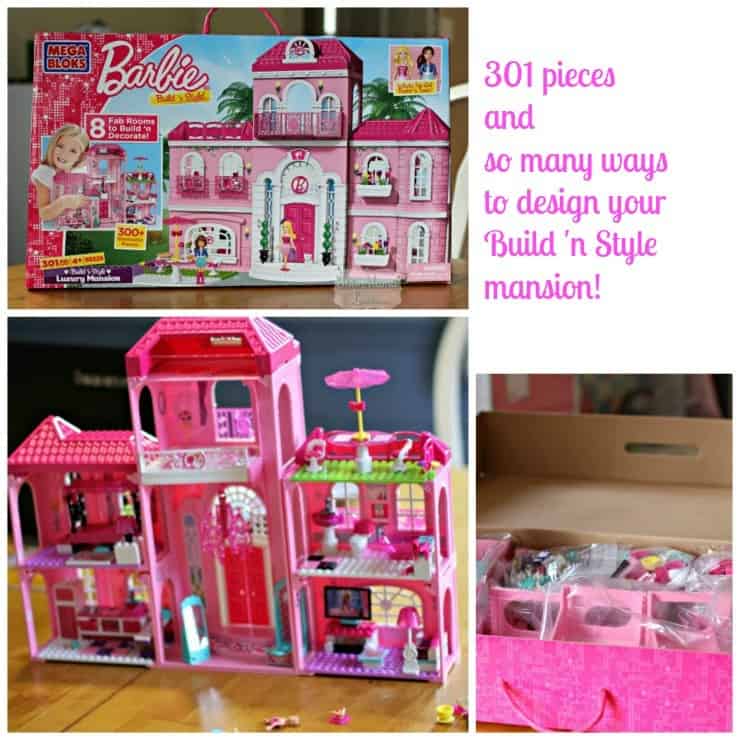 There is a lot of attention to detail with this set.  It is of course, predominantly Barbie pink.  The building blocks are pink, white, sparkly pink and teal.  Fun, bright colors are always a theme with Barbie products!  Reflective fronts of mirrors, laptop keyboards, remote control stickers, and a raise and lower toilet seat!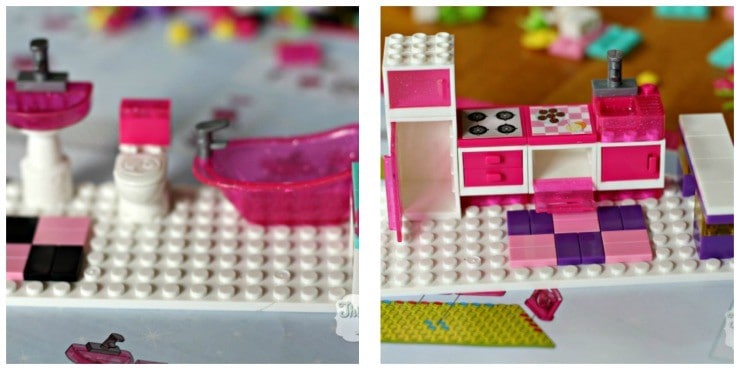 This Mega Bloks Barbie set has 8 rooms that you can build and rebuild to make a custom luxury mansion for (included) Barbie and her pal Teresa to hang out in.  Our favorite is the elevator- my little one is enamored with the rooftop patio and the bathroom.  The chandelier is a pretty neat feature too! All of the Mega Bloks Barbie sets are interchangeable so you can add on to your collection and mix and match and redesign to your heart's content.  The drawers really open, as do the fridge, stove and cabinet doors in the kitchen.
This set is kind of hard to keep together once assembled as the mansion.  I think I might use some super glue to keep it as the mansion if the kids decide that's how they want to use it and keep it together- although by the
looks of things, they have their own agenda anyway.  They don't seem to mind and just put the pieces back where they were.
You can find the Mega Bloks Barbie Mansion and other playsets at Walmart- they are also on rollback right now!
I was provided a sample and a thank you item for sharing my review of this set with you.  Opinions are my own.