Spring has sprung and with just a few bits of snow here and there in the yard, there are signs that plants are coming back to life.  I love this time of year- I get so inspired to plant our vegetable garden, and do some other projects outside.  We're big DIY folks, so all of the planning, shopping and purchasing is on us alone.  This spring, I'm part of the Home Depot Spring DIY Program, and this is the first post I'll be writing to share with you about the Home Depot Garden Club and our spring projects. If only we had the time and funding to do all of our projects.  We'd need about 11 years for that!
For the first time this year, it's over 55 degrees outside.  There's green grass, and plants are getting ready to explode with blossoms and leaves.  We've just  most of the morning picking up sticks and debris in the yard, and I can't help but feel like there are so many things we can and should accomplish out out there.  While I fall wait for the kids to fall asleep for nap I'm going to head over to the Garden Club and poke around for some inspiration and ideas.
The Garden Club already has me wanting to do the Butterfly Island Garden Bed– we lost one of our apple trees last spring and I feel like it's the perfect spot to do something like this. The instructions recommend using a Kousa Dogwood, and we have one that's already several years old that needs to be moved to a new spot.  I'm thinking this may be a fun (and exhausting) spring project for us to tackle in the next few months- and what a beautiful focal point for our yard- we'll enjoy it for years to come!  There's even a how-to video on the Garden Club Forums to help you figure things out.  I'd put the Island Garden Bed as shown below- this is the view from our patio. Don't you think we have the perfect spot for this?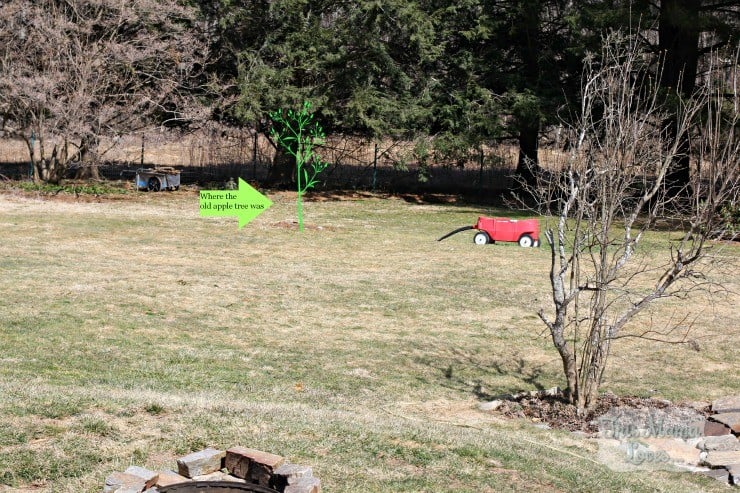 When you sign up for the Home Depot Garden Club, you will get a $5/50 coupon for signing up, 8 project ideas,  monthly to-do lists, expert advice, and over $300 in email exclusive savings every year!  The Garden Club newsletters come out monthly and include lawn and garden tips, ideas and suggestions for your region.  It's free and takes next to no time to register. (We've been in the club for at least 7 are-8 years).
What lawn and garden DIY projects are you planning on tackling this spring?
It's home improvement time, and The Home Depot has everything you need for spring. No matter what projects you want to tackle, The Home Depot has you covered.
Spring is the perfect time for all your outdoor home renovations. Shop The Home Depot for terrific values on new patio furniture, landscape supplies such as fertilizer and potting soil and outdoor grills. Keep your lawn and garden looking great, too, with the huge selection of lawn mowers, edgers and trimmers, and garden tools.
Visit The Home Depot Garden Club for product ideas from kick-starting your Spring with seed starter kits to building a window birdfeeder.
This is a sponsored post written by me on behalf of The Home Depot.