My kids LOVE to help make things for holiday gatherings.  Memories made- and treasured. They also love making place cards for everyone joining for dinner, but it's never enough to satisfy their desire to help, and I think finding ways to incorporate fun crafts and snacks makes for a happy kid and gives them a sense of importance. Just watch their faces when they show off their hard work and someone recognizes them for it. Definitely worth it!
This mini turkey trifle is great Thanksgiving craft for kids to make and decorate- and then enjoy later as a healthy snack!  Great for Thanksgiving Day pre-dinner snacks! Looking for another Thanksgiving snack? Try our crabbies!
Easy Thanksgiving Craft for Kids: Mini Turkey Trifle
Mini Turkey Trifle
*Please note, this 'recipe' will make two trifles, so if you're wanting to make more, make sure you double up on peppers and dip!
Ingredients
1 each – red, yellow and green pepper
ranch or veggie dip for dipping your peppers
brown paper bag
scissors
orange, red and black marker (I used the kid's Crayola markers because I know I can wash it off their hands, especially littler kids' hands!)
Scotch tape
mini trifle dishes (I love these, especially because they come in sets of 4 or 8, so if you aren't one with a large group for holidays, you don't need to buy a ton!)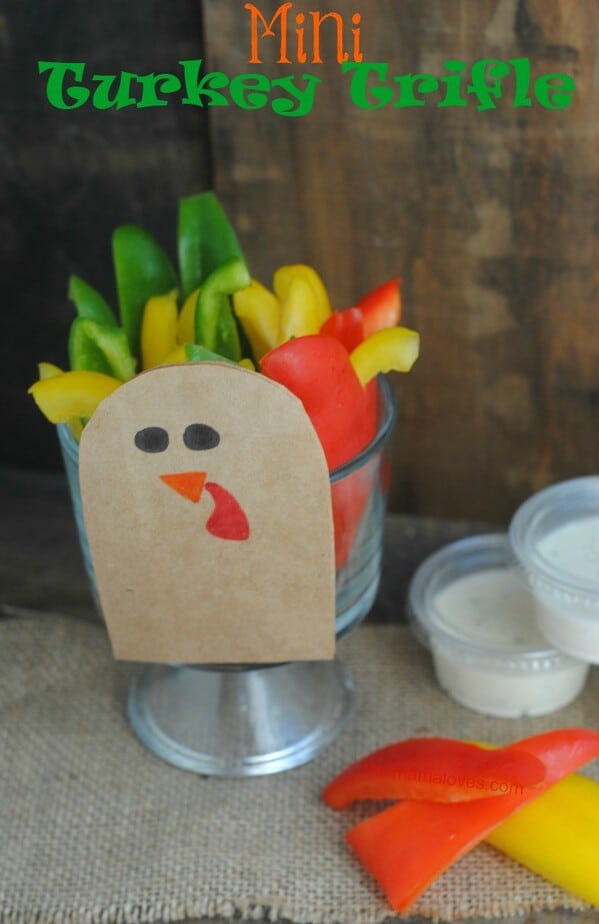 Directions –
#1. First, make your turkey. I free cut the shape pictured out of the brown paper bag and then drew on the eyes, nose and turkey gizzard.
#2. I then used some tape to adhere it to the mini trifle dish. Easy.
#3. Slice the top off off each pepper and then remove the seeds. Cut them each into slices and arrange in the trifle dish to look like turkey feathers.
#4. Serve with ranch of veggie dip.
*Makes 1 serving but you will probably have enough veggies to make 2 mini trifles if you wish.