Monster High Deluxe High School #WelcomeHomeMonsters
This post was sponsored by Megan Media and Mattel. All opinions are my own.
Monster High® Deluxe High School
This upcoming holiday season is going to be a unique one around here. My house has been Monster High® Deluxe High School-ed. What does that mean? This means Monster High® Deluxe High School* has taken over, and I am 100% okay with that!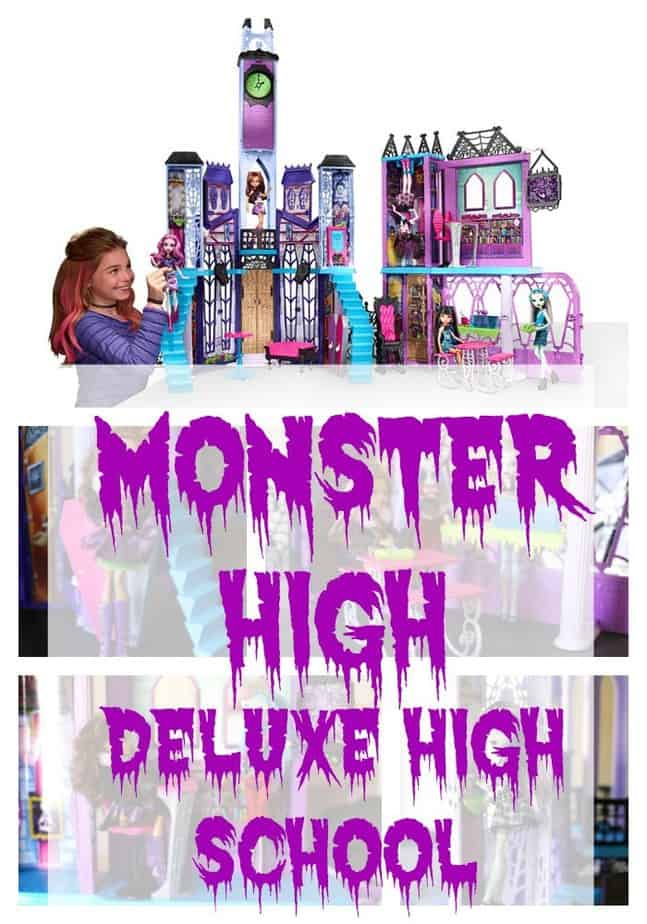 My daughters and so many of their friends have wanted to own this awesome toy this year. This is a TOP holiday gift that girls want–I promise they won't stop asking until it's in your house. Now that the girls have the toy (I gifted a little early), I want to share with you WHY we love it.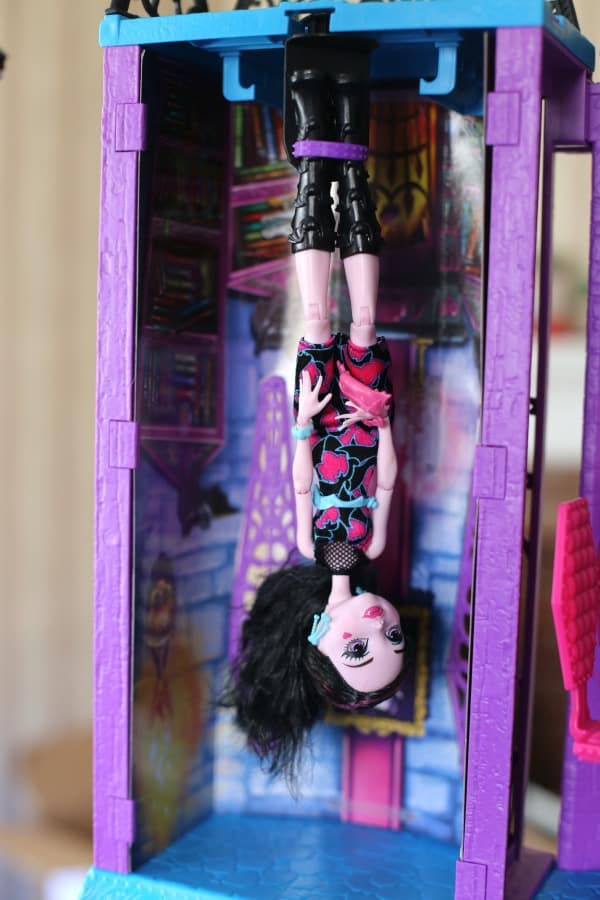 Monster Surprises
One of the things my girls love about the Monster High® Deluxe High School is that there are tons of surprises, like the headmistress' office, which is revealed when the clock tower is opened. And get this, the front hallway doubles as a party room. There is even a radio booth and signage in the room above and tentacles that pop out from the locker to make a seat or let your dolls stand up!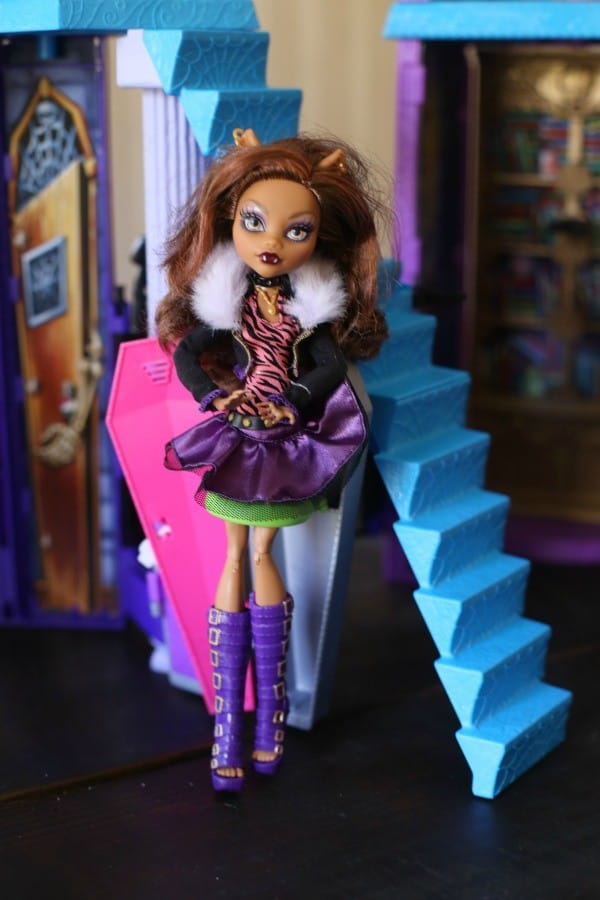 The Design
My girls are over the moon with the design of Monster High® Deluxe High School. It's unlike anything else on the market. It's brightly colored, HUGE (which we love), and there are so many secrets and surprises just waiting for your kiddo to discover. The large size means several kids can play together without being on top of one another! We had two 7 year-olds and two 11 year-olds playing together yesterday–so much fun to see the older kids playing with toys (and their sisters) once again.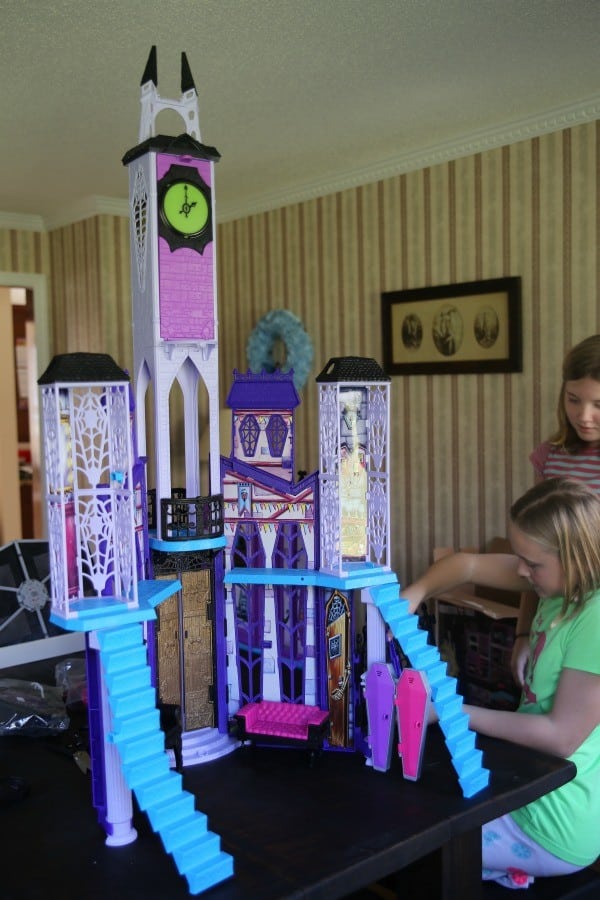 I was little bit concerned about being able to assemble it, but after I'd run upstairs for a quick shower, I came back down to find that the 11 year-olds had almost the entire set assembled! I'm not sure I would have gotten it done that quickly, but with the help of the YouTube assembly video, I'm sure I could've made it work!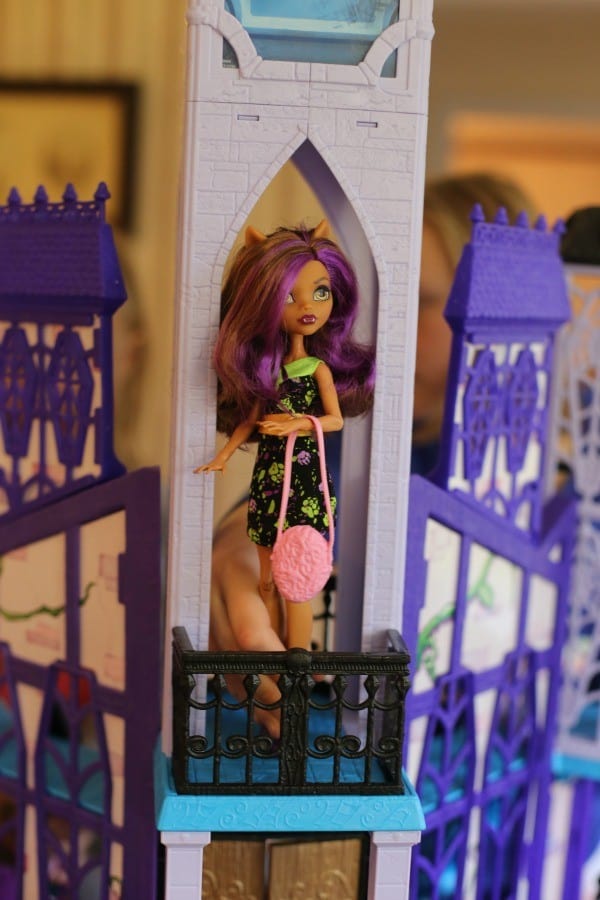 (PLEASE note: if you are giving this as a holiday gift, leave yourself time to assemble it, because we all know when you need things to assemble quickly that distractions pop up and this toy is going to get a HUGE reaction from your Monster High fan when it's spotted, so get things ready ahead of time).
Grab Some Grub in the Creepateria™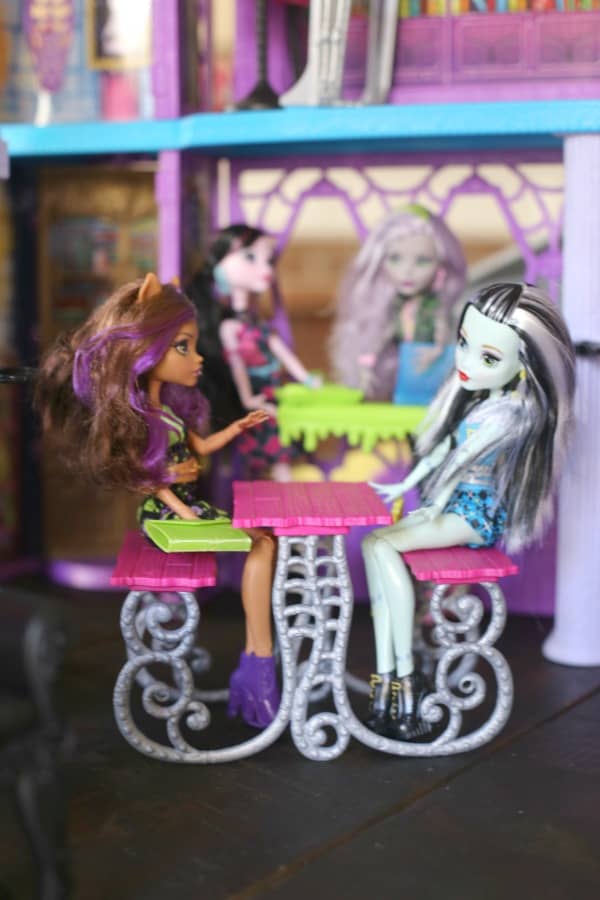 My girls and I laugh when we say the word Creepateria™ because it's such a fun part of the Monster High® Deluxe High School. You can take a fun class, head down to the library, or even hang upside down in the Vampire Lounge. In between studying and eating, the students of Monster High® Deluxe High School never run out of things to do. They can travel between floors, check out the scenery from the balcony, and even walk in or out of the grand front doors.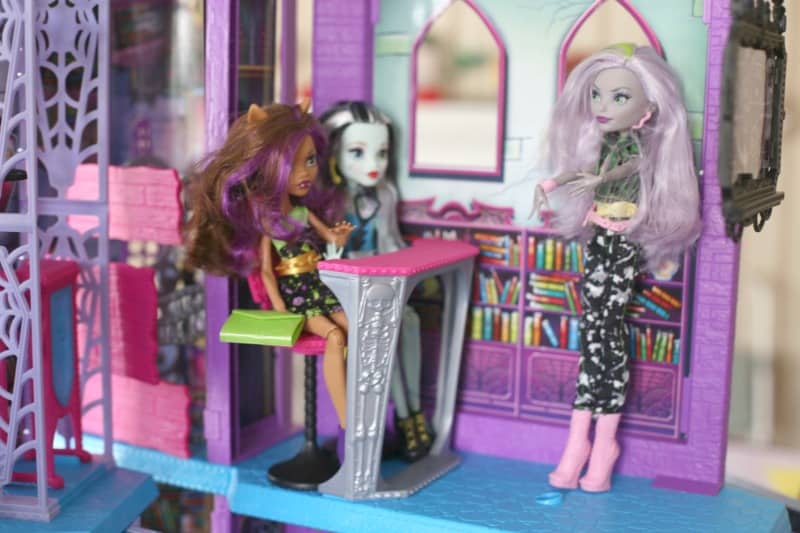 I'd say that if you're looking for a gift for a girl around the ages of 6-8, the Monster High Deluxe High School is THE ULTIMATE GIFT! Girls can recreate scenes from the movies, create fun scenarios with the furniture, and so much more. The High School is huge and expands, so the storytelling fun is never-ending. When your girls are done, you can easily close it up and store it in an easy to reach area. The gates are part of the fun, but they also help to keep the playset shut as well.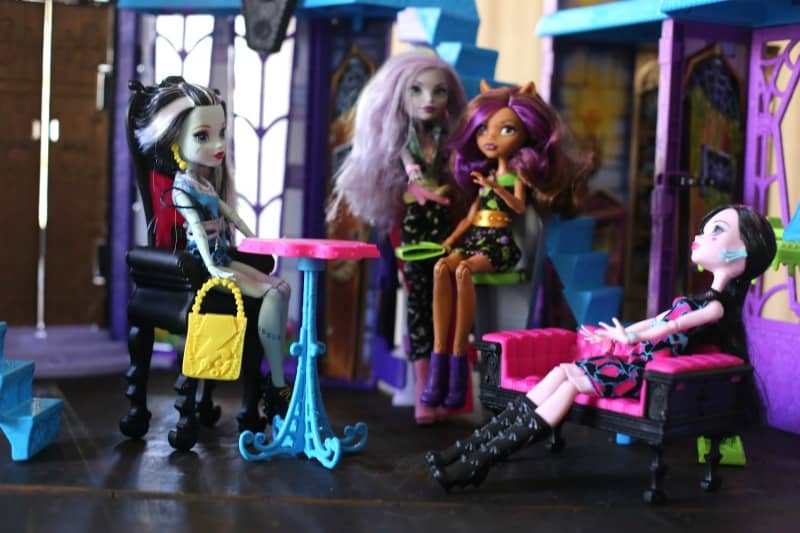 You can learn more about the Monster High Deluxe High School playset here. Can't wait to hear your thoughts!
*Dolls sold separately