I have a confession to make.  Recently, I took my family to Outback Steakhouse for a fun family night (the nice folks from our local Outback invited us). Now, I knew all about the Moonshine BBQ menu items because I had sampled them in April at the Bloomin' Brands headquarters…but I hadn't been able to talk about it with anyone until quite recently. Finally my family could understand and share with me in the Moonshine BBQ sauce that makes you want to lick the plate or bowl of whatever you are eating.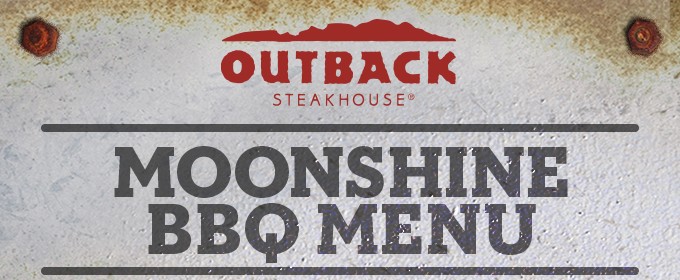 We started out with 2 Aussie-tizers- Seared Ahi Tuna for my 6 year old son (he loves it with the wasabi!)…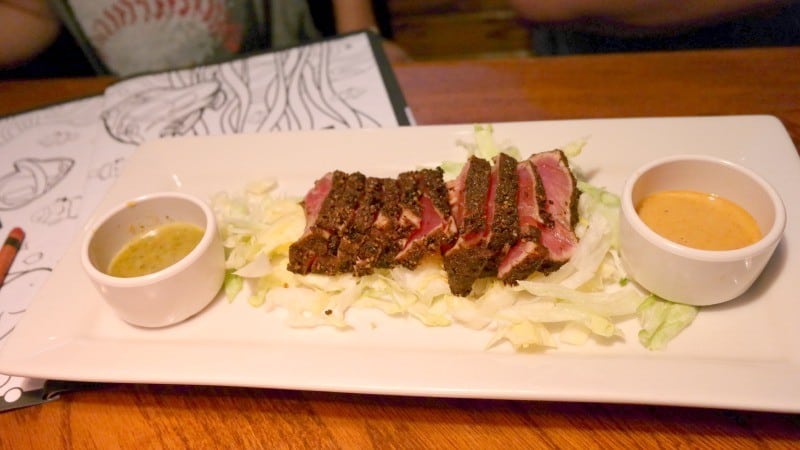 and Moonshine BBQ Wood-Fire Grilled Wings.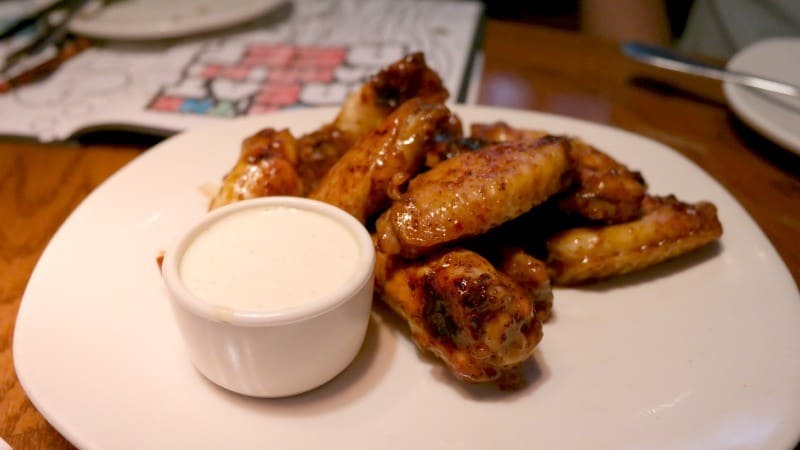 There was nothing left on either platter.  NOTHING.  I forgot to get a picture, too.  Boo, on me.
As the fam was deciding what to eat for their main meals, I encouraged my husband to get something from the Moonshine menu. Not because I wanted to push the new items, but because I knew he LOVED the sauce like me and wanted him to taste it on some other tasty foods in addition to the wings.
Naturally, he listened to his smart wife and got the Combo Platter. Even my son listened and asked for his meal to come with Moonshine BBQ on his ribs.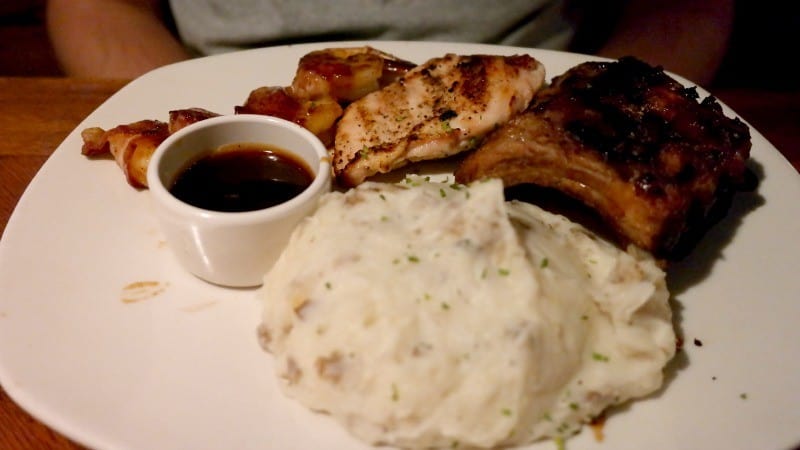 I realized after that I probably should have focused on NOT mashed potatoes, but if you have ever tasted the taters at Outback Steakhouse, you totally understand why they were front and center here.  They are amazing paired with the Moonshine BBQ sauce.
While hubby was happily enjoying his ribs, steak and chicken, and glaring at me when I stole little bites of his mashed potatoes, I was excited to have my Moonshine BBQ  salad with grilled chicken breast. (I almost always seem to order salads with chicken when we're out to dinner).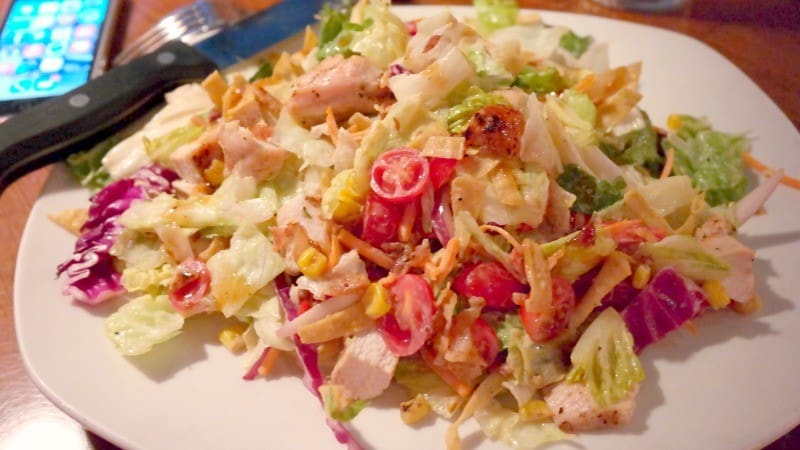 Halfway through, we swapped plates. There was no way I could eat that much salad, especially not after 2 amazing Aussie-tizers and half of hubby's mashed potatoes.  No way!  We were both happy to try so many of the menu items. I kept telling him "I told you so!" when he liked something on his plate or mine.
The kiddos were oh so very happy to have some of the mini milkshakes I'd been telling them about since my trip in April.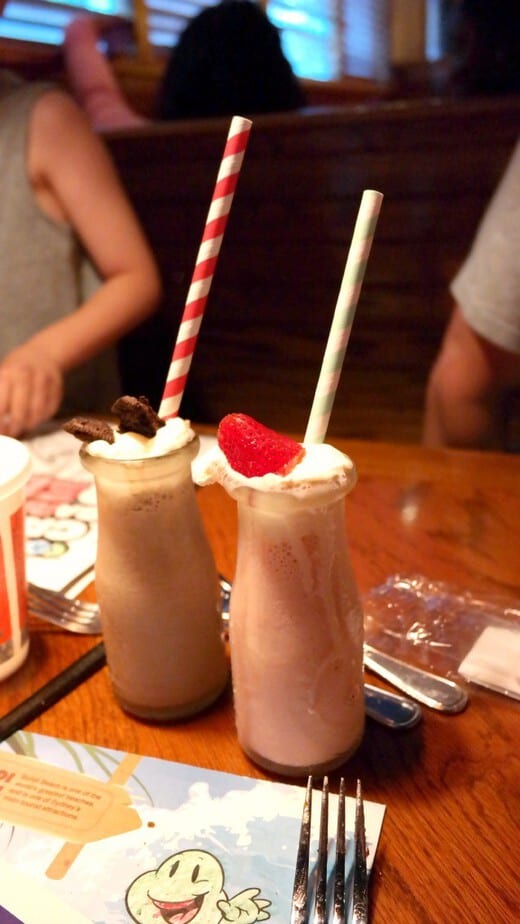 We don't normally do milkshakes with dinner- but really, if and when we do, the kids share one because the portions are HUGE.  They were over the moon excited to have their OWN milkshakes, although my littlest one was (just like her mama) wanting to bring the milkshake glass home with us.
My oldest has become a vegetarian in recent months and as such, didn't really get to have a full sense of the Moonshine BBQ sauce.  She did get to taste some, but she was happy to enjoy her mac and cheese with some fruit on the side. The sauce has a little too much kick for my 4 year old so she went with a milder choice for her dinner. (The boys were quite happy that this meant more for them!)
We are having a date night this week- I've already been promised we can eat at Outback for some more of Moonshine BBQ!  YUM!
The first of its kind Moonshine BBQ menu includes:

Sirloin with Moonshine BBQ Bacon Wrapped Shrimp – Outback's signature sirloin with Moonshine BBQ Bacon wrapped shrimp and your choice of one freshly made side
Moonshine BBQ Ribs – each succulent rack is smoked, wood-fire grilled and brushed with Moonshine BBQ sauce, served with Aussie Fries
Moonshine BBQ Wood-Fire Grilled Wings – tossed with our chef-inspired Moonshine BBQ Sauce and served with ranch dressing
Try all three Moonshine cocktails including the Huckleberry Hooch and Watermelon Hunch Punch, made with Ole Smoky® Blackberry Moonshine™ and Just Peachee made with Georgia Moon® Peach Moonshine


Additional menu items to hit the sauce include the Moonshine BBQ Combo Platter, complete with Moonshine BBQ Bacon Wrapped Shrimp, 1/3 order of Moonshine BBQ Ribs and Grilled Chicken on the Barbie, the Double Moonshine Burger and Moonshine BBQ Chopped Salad. Of course, no menu is complete without dessert and what better way to finish off a Moonshine BBQ meal than with Outback's new Skillet Apple Pie, made with warm apples and cinnamon baked in a flakey crust, topped with Blue Bell® Homemade Vanilla Ice Cream.

In addition to the nationwide sampling event, Outback is making it easy for everyone to get their 'shine on with the Moonshine Name Generator at www.Outback.com/Name. With a few simple clicks, fans can determine their Moonshiner name and determine if they are a "Rebel," "Outlaw" or "Maverick."  Last but not least, guests can learn the "true" secret behind why Outback's Moonshine BBQ sauce is so dang good by visiting www.Outback.com/Shine.

Have you been to Outback lately? Have you tried the Moonshine BBQ?

This post is brought to you by our friends at Outback through the Outback Best Mates program.  Opinions are my own.