So this one time Kevin Spacey turned into a cat and then all this funny stuff happened and he learned some important and meaningful lessons while he was a cat and my kid had to pee so I missed the end of the movie and I'm not really sure if Kevin stayed a cat or turned back into a man.
That's kind of the jist of the new Nine Lives movie that's coming to theaters August 5, 2016.  Mark your calendars, my friends. I've got a sneak peek at the trailer and it looks good.  Funny, with some good messages, and good. It's the kind of movie that gives you a little bit of food for thought.  Second chances.  Have you ever had one?  Did you ever get a chance to go back and fix a broken relationship?
I can't say I've ever been able to fix a broken relationship. The second chances I have had… well, the best I was able to do was to make peace and apologize for my part in the breaking of things. Swallowing my pride and putting things right. It was not an easy path for me to walk down, and it wasn't a quick one. But I had the chance to fix it and I did what I could. I screwed up early on in a friendship and paid dearly for it much later- the mistakes of youth, I suppose.  And I think that friend, K, was able to open up and let me in just long enough for me to give her a meaningful apology… and let me go.  Maybe she needed to do that to let go of her own anger. I don't know. I'm happy I was able to get a chance to say I was an idiot and stupid and how sorry I was.
That second chance- well, it taught me a whole lot of life lessons.  I learned a whole lot about what friendship really and truly means, and also what the loss of it means. I learned that integrity and character go a whole lot further than just about anything else and maybe one of the most important things I learned was that sometimes, second chances are worth giving. K letting me back was a gift- she gave me the ability to give others a second chance with me… and gave me some tough lessons on how I could avoid needing to get a second chance again.  Still not perfect, not me, nor will I ever be, but I'm a work in progress. I've learned a lot of lessons the hard way, but once I learn them, I stick with them.
I wonder if Kevin Spacey-as-a-cat learns things the hard way.  Also I wonder if Kevin Spacey-as-a-cat uses a litter box. Or eats cat food. Or if Kevin Spacey as-a-cat learns the lessons he needs to learn to stop being a cat and embrace those lessons (learned a harder way than any of mine!) and to take the second chance and take full advantage of it.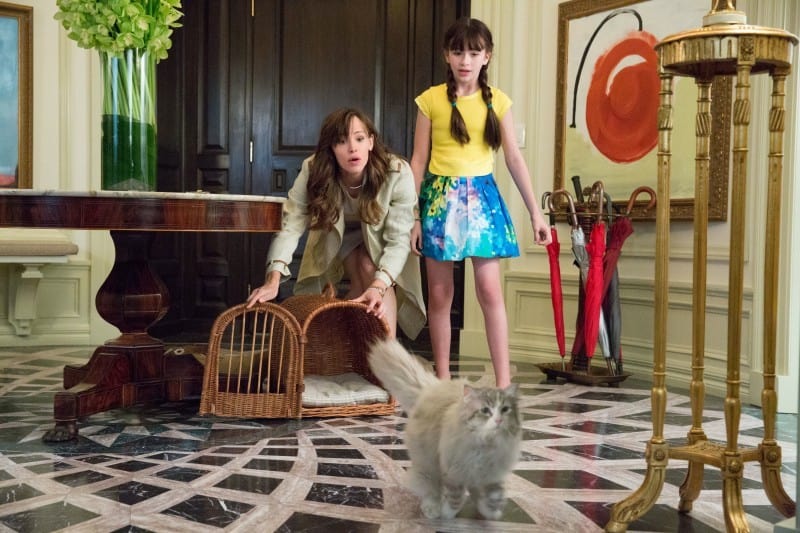 On behalf of EuropaCorp, we are pleased to share the teaser trailer for the upcoming film, NINE LIVES! Starring Kevin Spacey, Jennifer Garner, Malina Weissman, Cheryl Hines, Christopher Walken and Robbie Amell, NINE LIVES is the story of a stuffy businessman, Tom Brand (Kevin Spacey), who finds himself trapped inside the body of his family's cat. If any hope exists of returning to his family as the husband and father they deserve, Tom will have to learn why he has been placed in this peculiar situation and the great lengths he must go to earn back his human existence.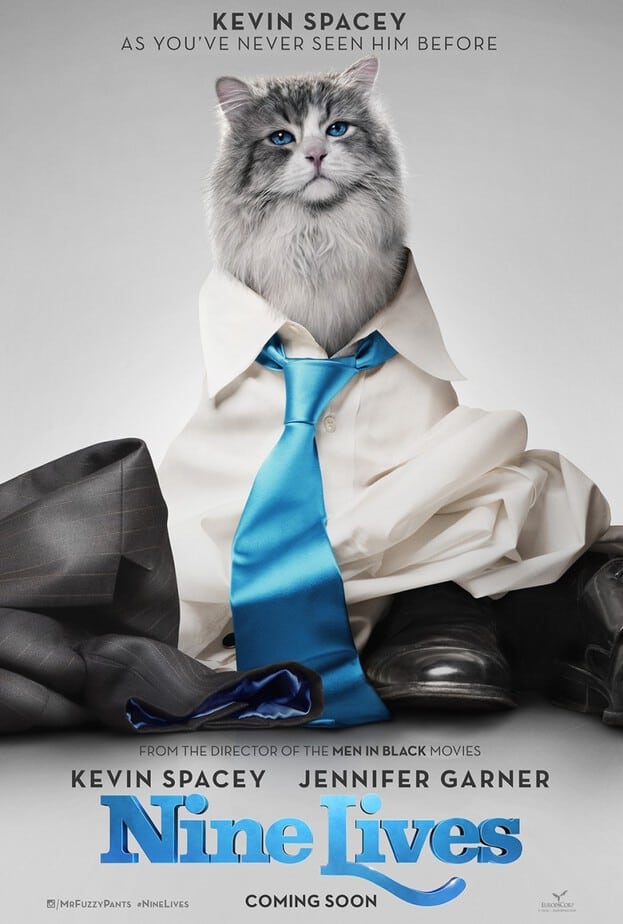 Nine Lives Movie
Release: August 5, 2016
Director: Barry Sonnenfeld
Written by: Matt Allen & Caleb Wilson and Daniel Antoniazzi & Ben Shiffrin
Cast: Kevin Spacey, Jennifer Garner, Malina Weissman, Cheryl Hines, Christopher Walken, Robbie Amell
Produced by: Christophe Lambert
Follow NINE LIVES on Twitter, Facebook
Follow 'Mr. Fuzzypants' on Instagram
#NineLives
This post is brought to you by EuropaCorp.