Birthday Pancake Cake
Right now we are in the middle of what I call birthday season in my family. The kids have birthdays 1-2-3 all in a row, in about 7 weeks time. It gets a little crazy.  The kids have always made ME breakfast on Mother's Day and/or my birthday, as well as for my husband on his birthday/Father's Day, but up until this year, they've not ever done anything on one another's birthday. This post is sponsored by Hungry Jack. Opinions (and happy, full bellies) are my own.
But this year, the kids have asked to do more cooking.  All three have learned a lot of things in the kitchen in the past year and who am I to say no to kids helping cook? It's important they learn and it's a great way to spend a little quality time together, unplanned and unscripted. It's also a nice way to help celebrate another family member, by cooking something special for them.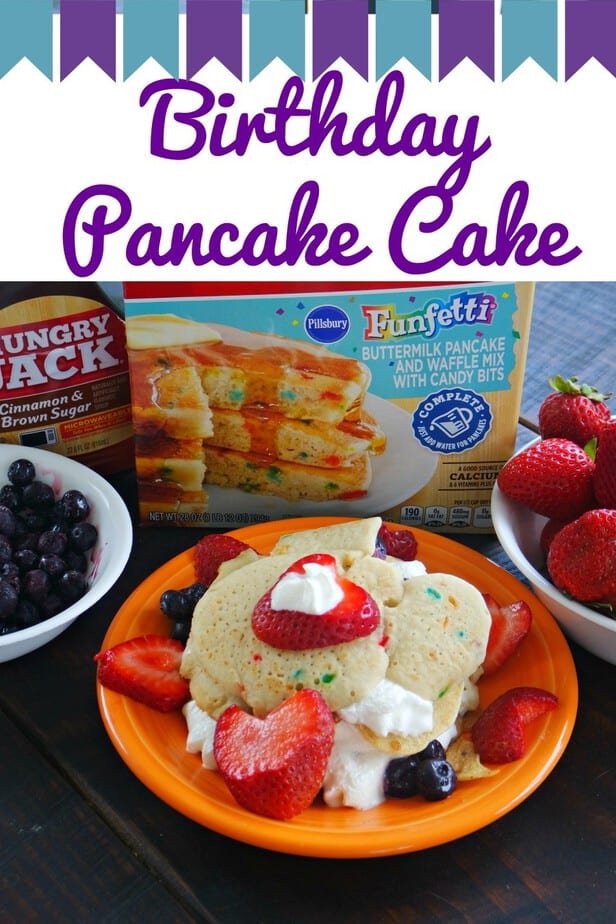 Birthday Pancake Cake
What you'll need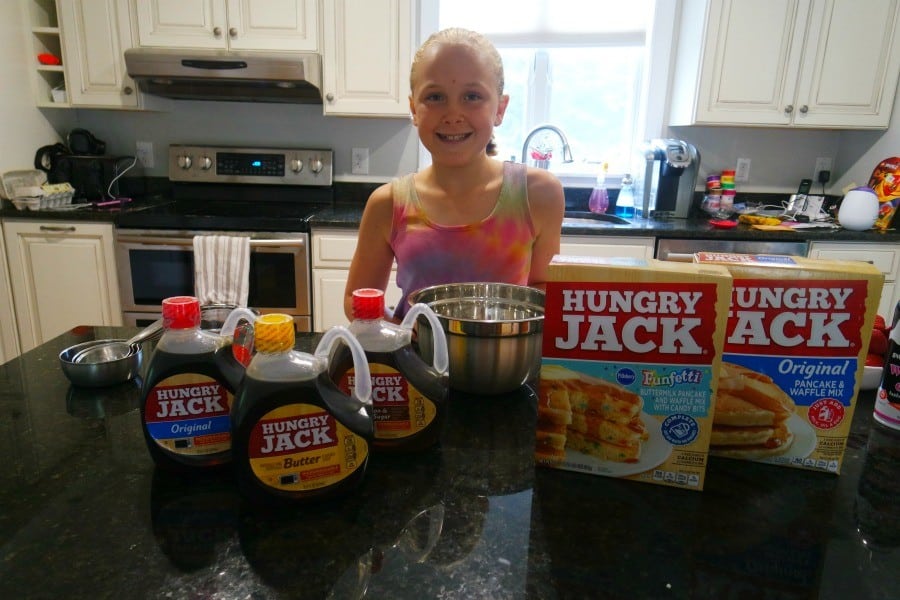 Hungry Jack Buttermilk Funfetti Pancake & Waffle Mix (You can also use the Gluten Free Hungry Jack Funfetti Pancake & Waffle Mix)
Water
Fresh Fruits
Can of whipped cream (we use lightly sweetened)
Water
Pancake Griddle
Measuring cups (for liquids and for solids)
Butter (to grease griddle)
Spatula
Mixing spoon
Birthday Candles (and an adult to light them)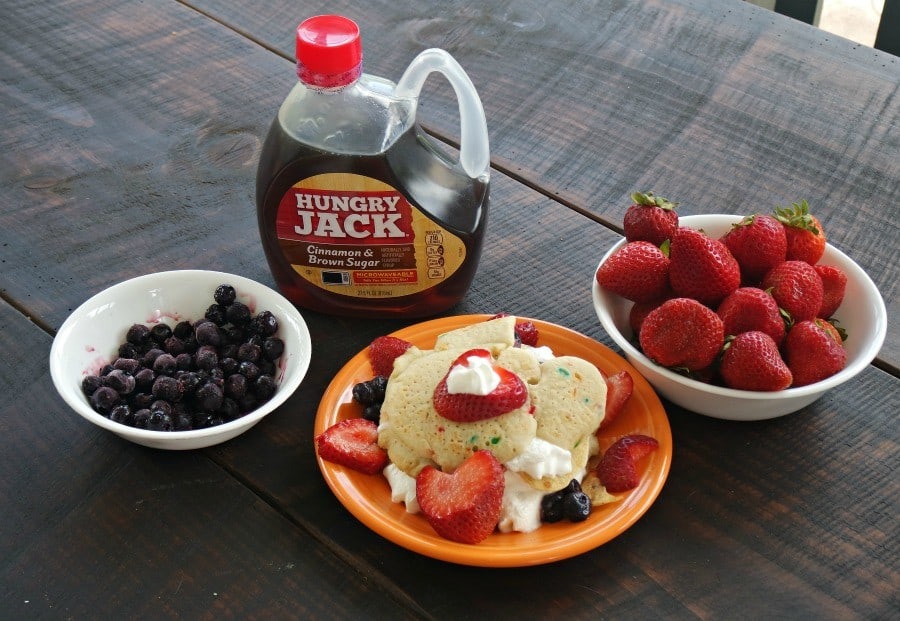 Directions:
Heat your griddle
Prepare your Funfetti pancake mix as directed.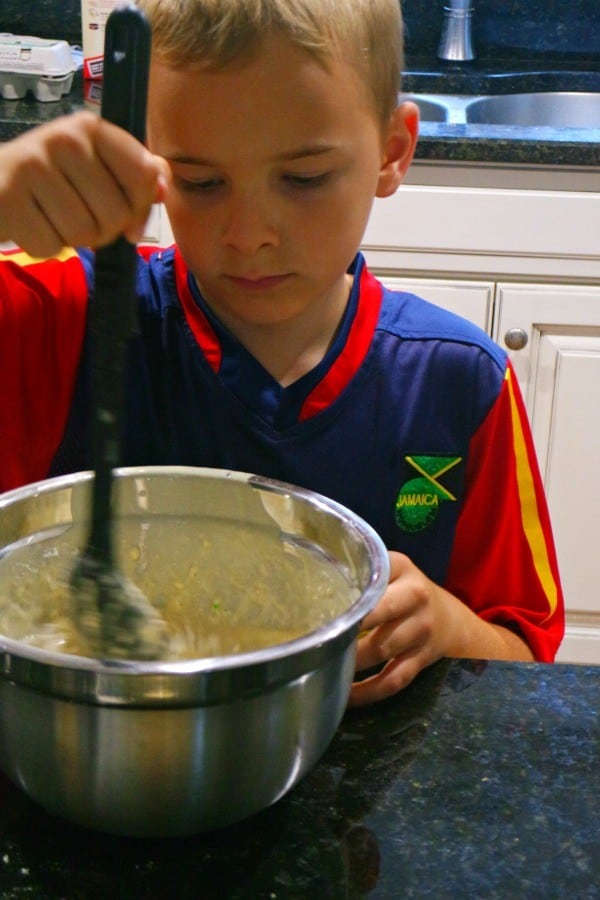 Make pancakes as directed, trying to keep 6-7 of them the same size/diameter (they do NOT have to be perfect)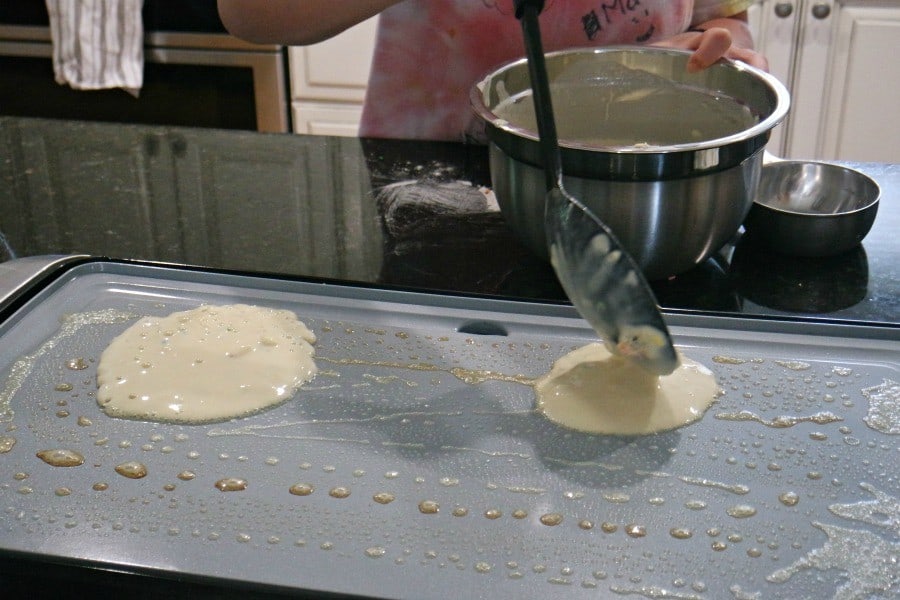 As pancakes finish, spread them out to cool a bit- you don't want them too hot or they'll melt the whipped cream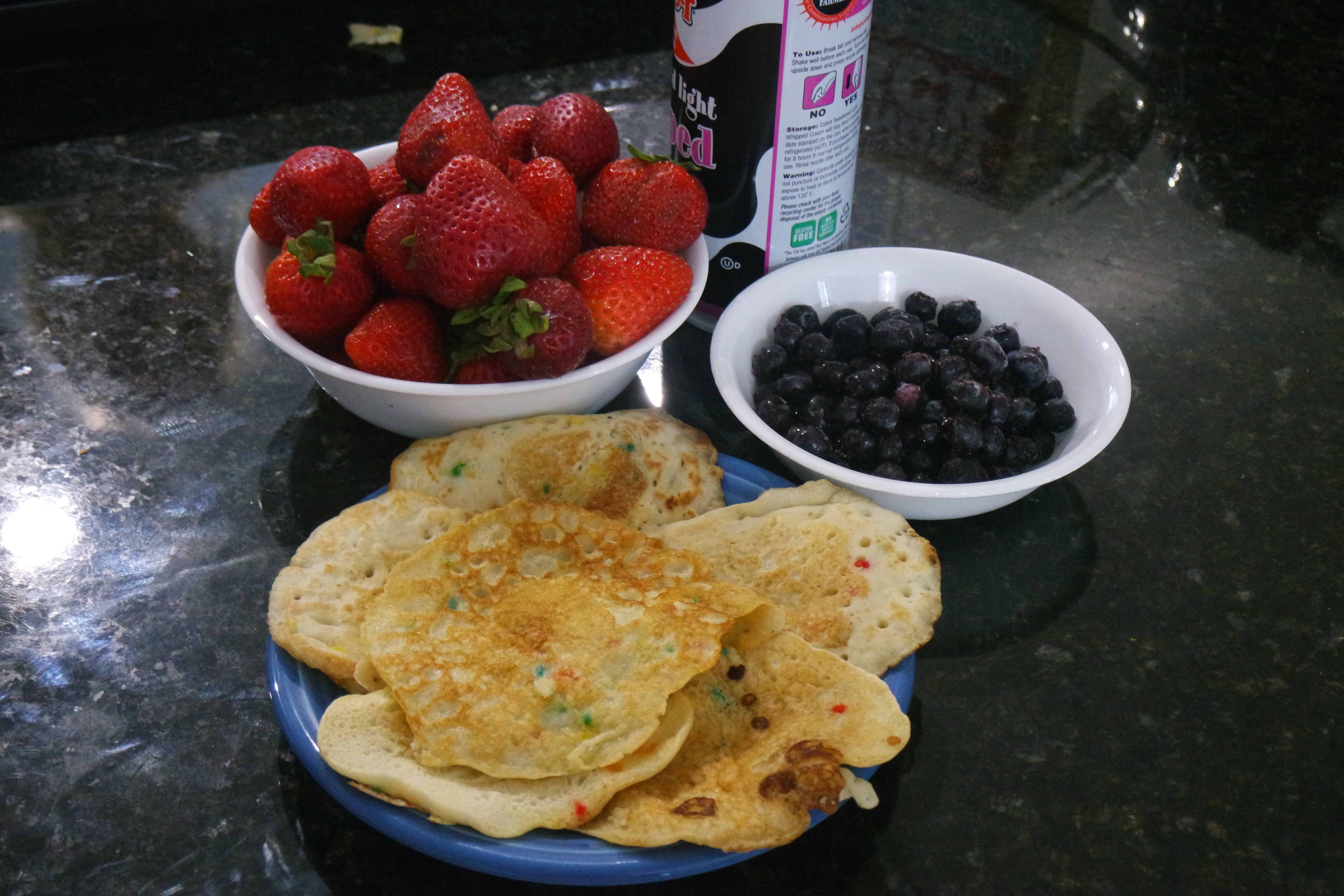 Squirt a bit of whipped cream on the center of your plate (this just helps to keep your cake from sliding)
Add a pancake on top of the whipped cream, centered on your plate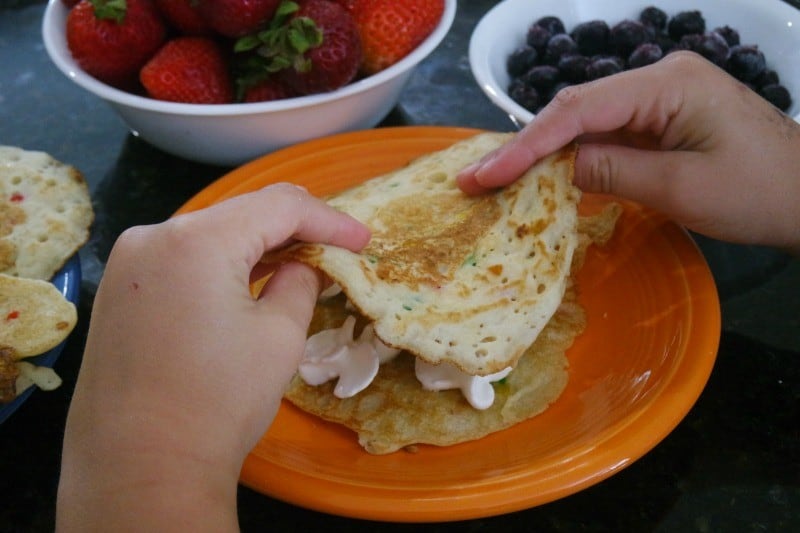 Add a few squirts of whipped cream and then place another pancake on top.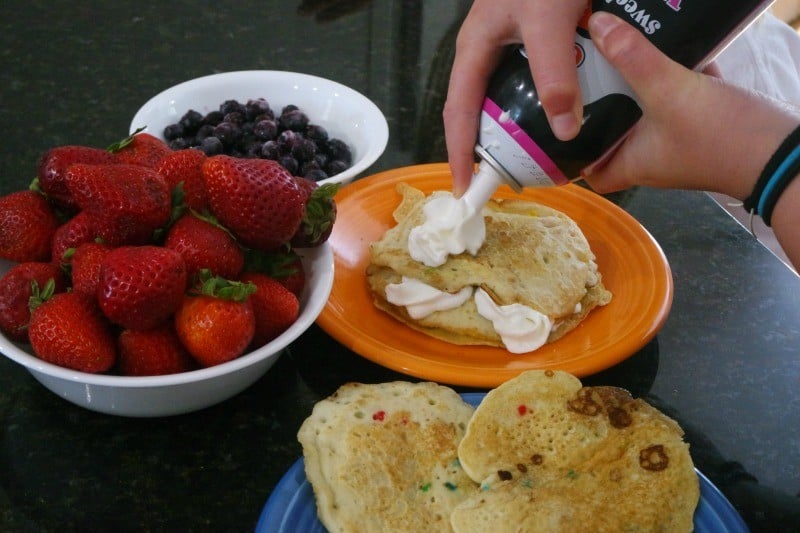 Repeat the whipped cream and pancake layers until you have a "cake" (about 6-7 pancakes)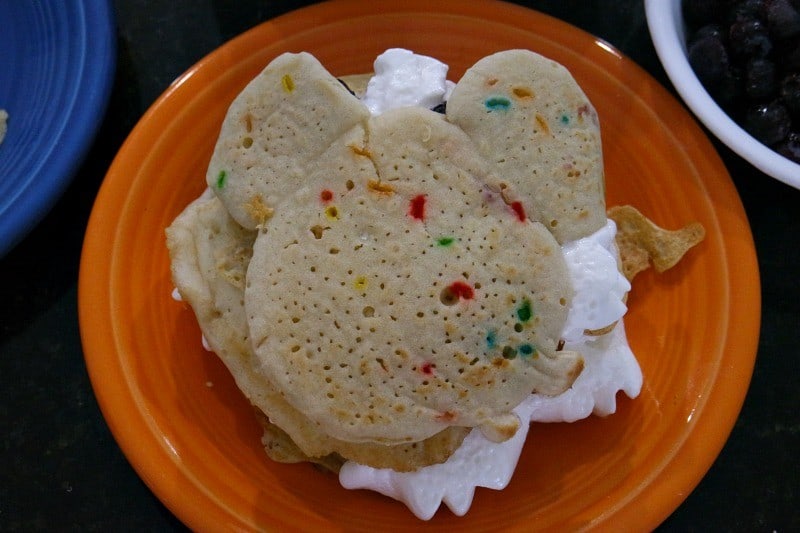 Top your Pancake Cake with fresh fruits- we like to cut strawberries into hearts like this:

and blueberries, especially frozen, are a must in this house to enjoy for breakfast…so we scatter those around our cake.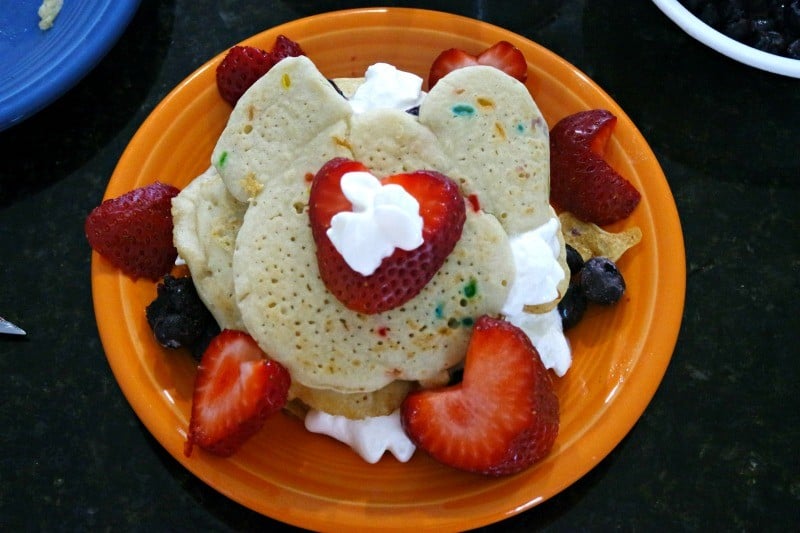 A final dollop of whipped cream, a few birthday candles, and voila!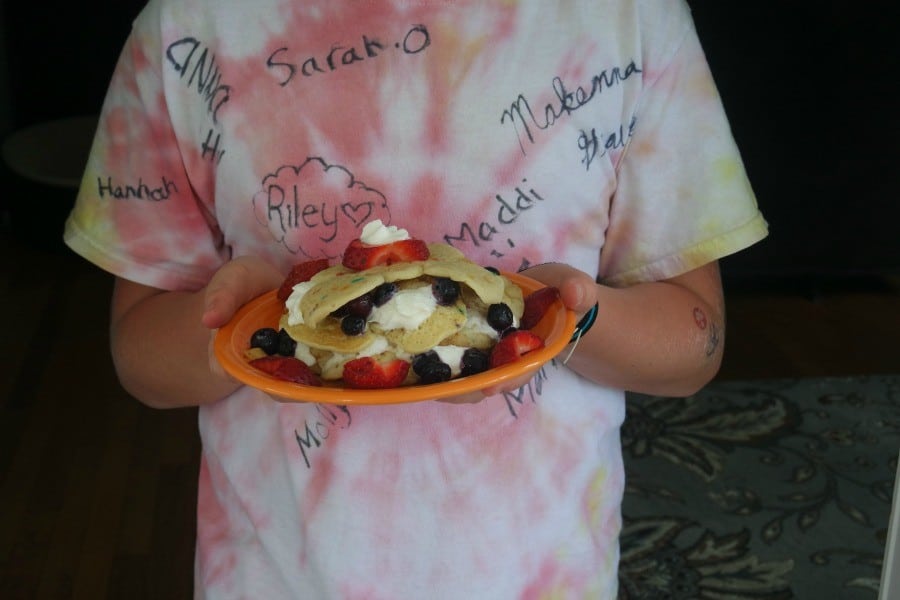 One Birthday Pancake Cake for a special someone's birthday. (In this case, a special newly turned 7 year old's birthday)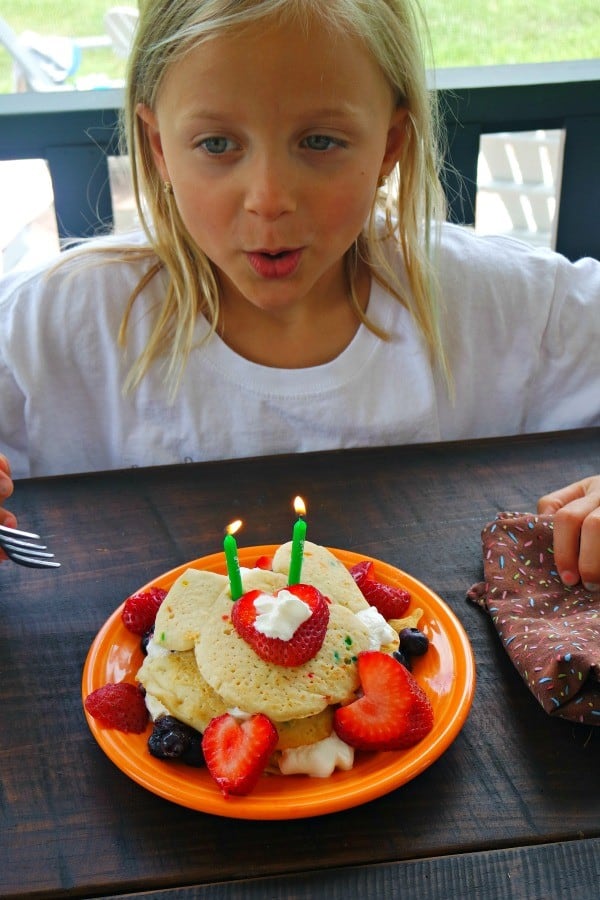 Don't forget to sing!
We love using Hungry Jack Pancake & Waffle mixes because they taste GREAT, are super simple to use, and kids of all ages can be successful when they are cooking with them. The Funfetti makes an otherwise "regular old breakfast" morning a whole lot more fun! There are 6 varieties of the Hungry Jack Complete Mixes for you to choose from, as well as 7 different varieties of Hungry Jack Microwaveable Syrup (butter pecan will be in my home soon, I NEED to try it!)- so you can top that stack of golden pancakes or waffles with a nice warm syrup.
Heading out camping or away for the weekend? Hungry Jack Easy Pack Pancake Mixes are the perfect thing to put on the menu- no muss, no fuss! Three great flavors to choose from and the same great taste!
Have you ever made a pancake cake?