Patriotic Popcorn Crunch
I can't believe it's Memorial Day weekend so soon!  Summer is HERE, and it's time for parades, picnics and…popcorn!!  It'll be Fourth of July before we blink an eye.  I couldn't let a festive and fun holiday celebrating America go by without trying to make a fun and festive recipe that's easy to make and just about everyone loves….and without further ado…This is super simple. Can't get enough of the red, white and blue recipes? Try these red, white & blue pudding pops, or maybe some Red, White & Blue Cake Batter Dip… or our Fourth of July Red, White & Blue Mocktail… or even patriotic brownies?!

Patriotic Popcorn Crunch
Ingredients
2 bags white popcorn, popped (or just use kernels)
1 bag Wilton candy melts (I used the Brilliant Brights, because it was a white color with red and blue flecks of color- perfect for Patriotic themed stuff!)
Patriotic colored/themed Sprinkles/shots/jimmies
2 cups pretzels, broken into pieces
Red, white and blue M&Ms. (You'll note the lack of white M&Ms in my photo- I can't find the patriotic ones around here and for about 4 seconds today, I thought I might drive 40 minutes and buy them at $15/pound. I then came to my senses and picked blue and red out of a normal bag…you can do what you like, of course.  You want about 1 cup of the M&Ms.
Parchment paper
Directions
Pop that popcorn.  Make sure you take a few  minutes to go through and get all unpopped kernels from the bowl.  That's not fun to bite into!
Break up pretzel pieces, mix in with popcorn.
Melt candy melts slowly in a double boiler (or at 30 second intervals in microwave- it's never taken me longer than 90 seconds in my microwave), stirring every 30 seconds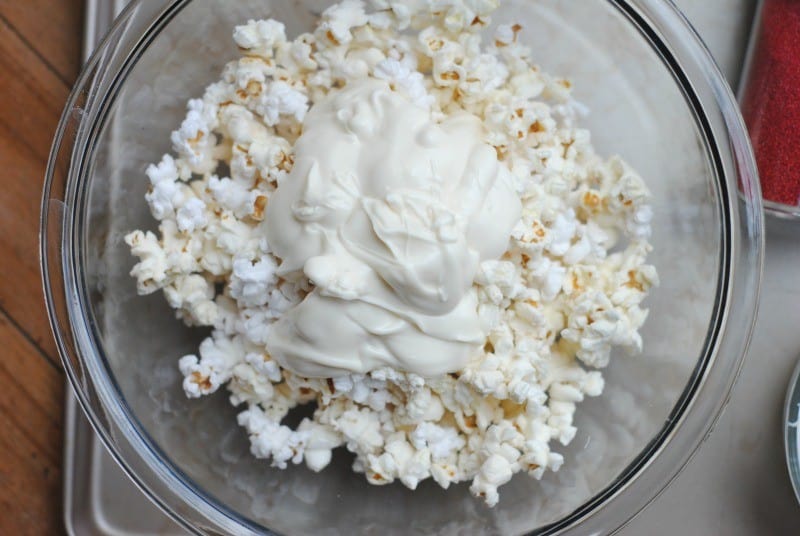 Pour melted candies over popcorn and mix to coat.  (I use two large rubber spatulas to evenly coat).
Spread mixture out on parchment paper and sprinkle M&Ms and your festive sprinkles on top (I call them shots, but my friend Kathy tells me I'm crazy)– Toss a bit more to coat and let dry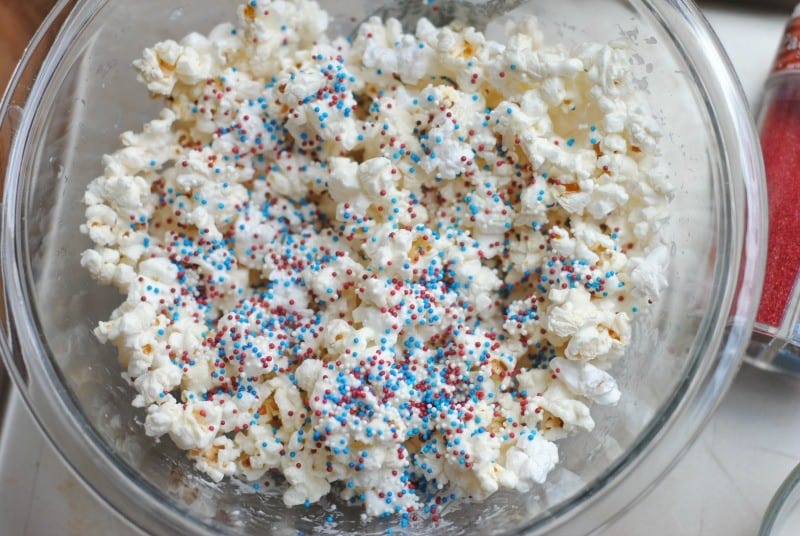 Once the candy is dried and not sticky, put your Patriotic Popcorn Crunch into an airtight container- it'll store well for up to 3-4 days.  The whole process is maybe 25 minutes.  Very kid friendly.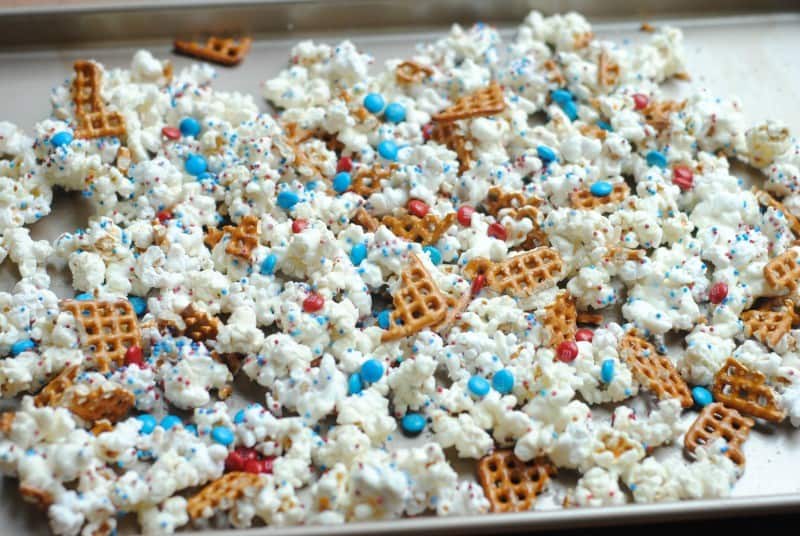 You could, of course, just set a bowl out and enjoy.  I mean, if you wanted to.  Or whatever.  If you want to see how this recipe looks for Valentine's Day, St. Patrick's Day or Easter, head over and check things out!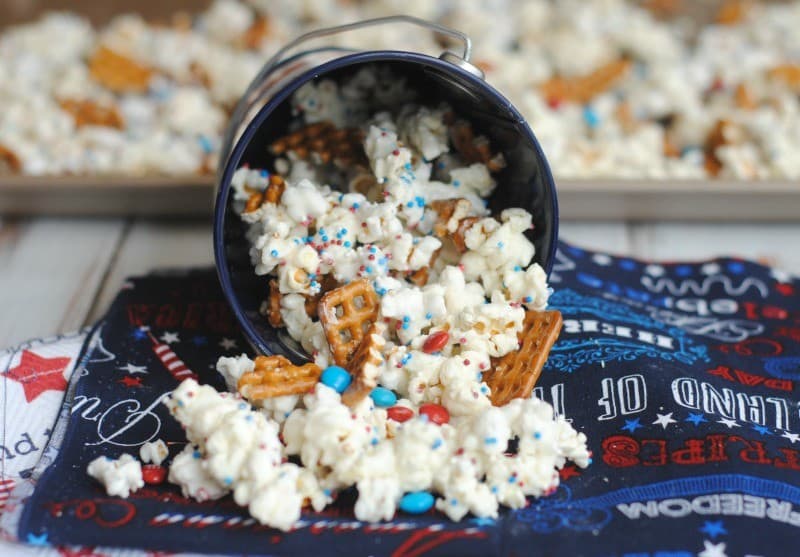 Want to make this a NUT FREE recipe? Use the Vermont Nut-Free Chocolate's "Skippers" as an M&M alternative. Be sure your pretzels are nut-free as well, and voila! Nut free treat!
[mpprecipe-recipe:2243]