PBS Kids has a whole new show and it's full of girl power (and kitty) that they've asked me to share with you.  Peg + Cat premieres on Monday, October 7 and with adventures, jokes and songs, the characters solve problems using foundational math skills and concepts. It's a pretty sneaky way to get kids learning some really good math basics that will stay with them throughout their schooling- but the educational stuff is so masked with fun and silly games and songs that kids won't know (or care) that they are learning about shapes, numbers, counting and more.  Peg's cute and sweet with enough spunk that parents will love her too, and it's hard not to love a cat who bears the name "Cat."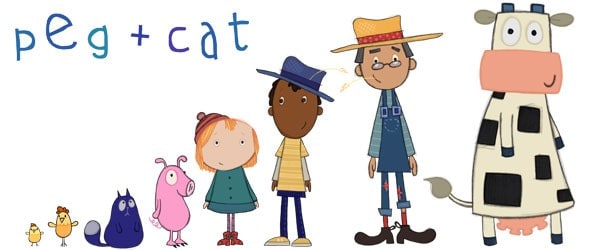 Here are the top three reasons to tune in:
(1)Why the math focus?  National assessments show that 60 percent of students are performing below proficient levels in math by the 4th grade, and this learning gap is more pronounced in children from low-income families. PBS KIDS wanted to address this need through a series that helps all kids build a strong foundation in math as early as possible so they can reach their full potential in school—and in life.
(2) Each episode features a story in which Peg and Cat encounter a problem that requires them to use math and problem-solving skills to move forward. Each  storyline also teaches cooperation, perseverance, and resiliency – traits that are important both in and out of the math classroom.
(3) Learning is fun on PBS KIDS. Two 11-minute stories are in each episode of Peg + Cat, weaving jokes and songs with math concepts and problem solving.


We'll be tuning in on October 7, will you?