One of my all time favorite Disney movies is The Little Mermaid. My littlest one had a playdate with one of her little besties and since both of them adore Ariel, we decided we would make our playdate extra fun by making up an Little Mermaid inspired Under the Sea Parfait Recipe in honor of the release of the film from the Disney vault.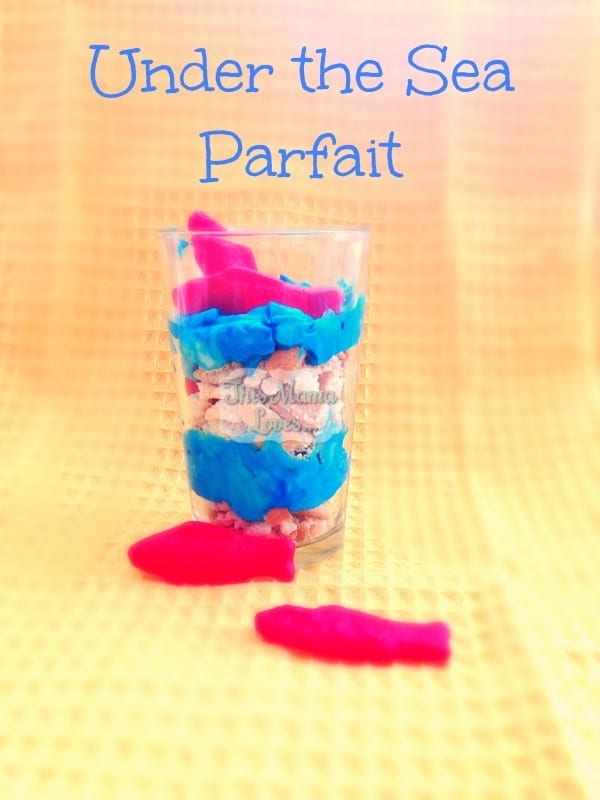 Under the Sea Parfait Recipe (The Little Mermaid Inspired)
Author:
Prep time:
Total time:
Easy and fun to make treat to go along with The Little Mermaid viewing
Ingredients
Mini Vanilla Wafers, crumbled (about 1 cup)
Vanilla Pudding (you could also use blue jello)
Blue food coloring
Swedish fish
Instructions
Add a bit of blue food coloring to your pudding
Crumble the Nilla wafers into the bottom of your bowl/cup
Layer 1/2 of the pudding on top of the cookies
Put a fish or 2 sitting on the pudding
Add another layer of crumbled cookies
Layer the rest of the pudding on top of the cookies
Add fish for decoration
Enjoy!
Notes
We used single-serve pudding cups because we happened to have some here, and with 4 year olds it was just easy to have them do the parfaits this way. You could easily use a batch of pudding and more cookies to make a large parfait- we did individual
With the The Little Mermaid Diamond Edition available, now we can all enjoy Ariel whenever we want, digitally restored and with HD sound to enhance viewing for all of us.
Ariel (voiced by Jodi Benson), is a free-spirited mermaid, who is off on the adventure of a lifetime with her best friend, the adorable Flounder (voiced by Jason Marin), and the reggae-singing Caribbean crab Sebastian (voiced by Samuel E. Wright) at her side. But it will take all of her courage and determination to make her dreams come true—and save her father's beloved kingdom from the sneaky sea witch Ursula (voiced by Pat Carroll).

Thanks to Disney for sending us the Diamond Edition for review!

We are going to be watching The Little Mermaid on Friday for our family movie night and enjoying some Under the Sea Parfaits and popcorn!  Do you do family movie night at your house?