My family loves to bake together. Cook, bake, it doesn't matter. The kids love to help in the kitchen- and I love to let them (usually). So, when I see fun new things like Pumpkin Spice M&Ms at the store, I look at them and think, OK, how can we make something fun, quick and easy with these? That's how we came up with this SUPER simple, 4 ingredient Pumpkin Spice M&Ms Chocolate Cookie Recipe.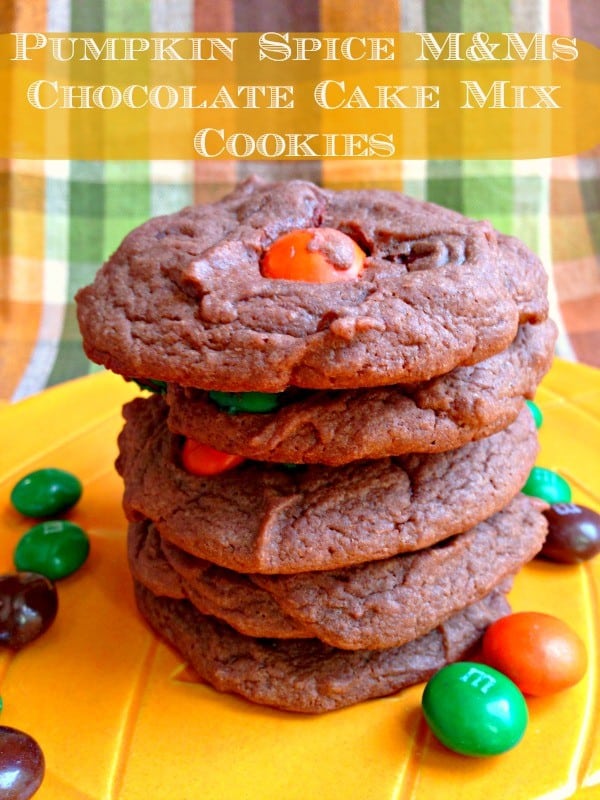 Yes, I said 4 ingredients.
Only four. You will have cookies cooked and cool enough to eat in under 25 minutes. (I don't mean TV time either, I mean real time!)
Pumpkin Spice M&Ms Chocolate Cookie Recipe
Author:
Prep time:
Cook time:
Total time:
Chocolate cake mix cookies with Pumpkin Spice M&Ms
Ingredients
1 Box Chocolate Cake Mix
1 15oz can pumpkin
1/2 cup oil (we use applesauce)
1/2 bag Pumpkin Spice M&M candies
Instructions
Mix first 3 ingredients together in bowl
Fold in M&Ms
Bake 350 for 10-12 minutes
Cool and enjoy
Notes
Egg free[br]dairy free
**I've only (so far) found these M&Ms at Target as of 9/30/13)
There's a lot of ways you could do variations on this recipe- everyone in my family thought these were great- my son wanted to know how I got M&Ms to grow bigger!!
Do you like to make fun seasonal treats like this?
Come link up YOUR recipes or visit others' sites to find some other yummy food to eat!