Do you know one thing that's just fun?  Cupcakes.  One thing that makes cupcakes so fun is the versatility.  You can do anything with a cupcake. Plain, frosted, colored, flavors, surprises, fun character and holiday themes…the possibilities are endless.  These sheep cupcakes are will make ewe smile and are great for Easter, spring, Communion, Timmy Time, Shaun the Sheep and farm theme parties.  Or maybe you just really like fun cupcakes.  I won't judge.
We are making these s-ewe-per cute b-aaaa-aaad boy sheep cupcakes for our Sunday School Bake Sale on Palm Sunday. I'm pretty sure they'll be a hit- what do you think?
Sheep Cupcakes
Cupcake Ingredients –
1/2 C. butter, softened to room temperature
1 C. sugar
2 large egg whites
2 tsp. vanilla extract
2 tsp baking powder
1 1/2 C. flour
1/2 tsp. salt
3/4 C. milk
Directions –
Preheat the oven to 375 degrees.
Combine the softened butter, sugar, egg whites and vanilla mixing
well. Slowly fold in the flour, salt and baking powder. Lastly, add
the milk continuing to stir.
Pour into greased muffin tins (or liners) and bake 20-25 minutes.
Insert a toothpick around 20 minutes and if it comes out clean the
cupcakes are done.
*Recipe is adapted from allrecipes:
http://www.allrecipes.com/recipe/simple-white-cake/
*Makes approximately 12 cupcakes
Sheep Ingredients & Directions –
1 package of mini marshmallows
White frosting, any brand
2 small packages of Wilton black fondant (I found mine at Walmart in
the bins in the Wilton aisle near the party decorations- my fave fondant is Satin Ice fondant)
Candy eyes
Toothpicks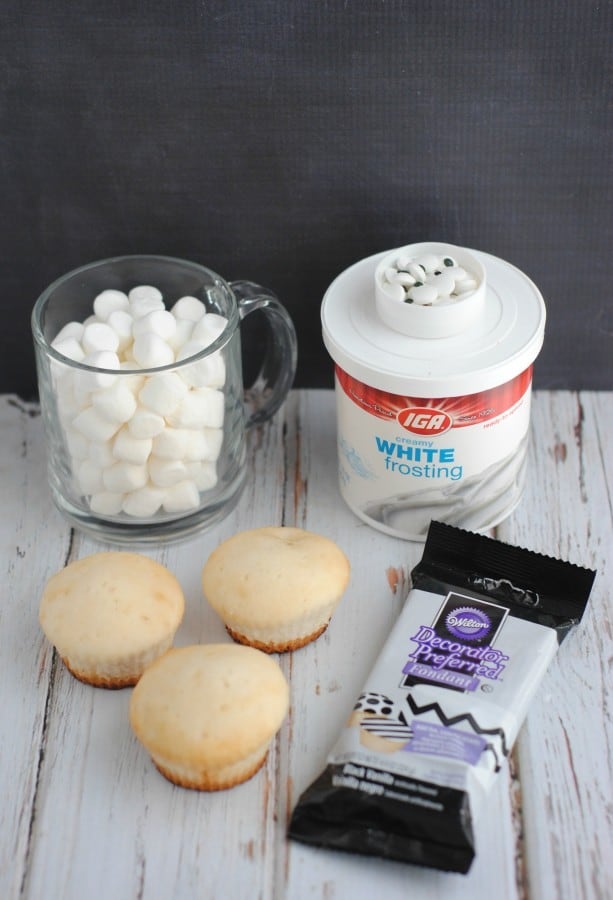 Directions –
Generously frost each cupcake with white frosting and set aside.
Cut the black fondant into 1″ squares. Mold the fondant gently pinching the top to make the sheep's ears (see photo).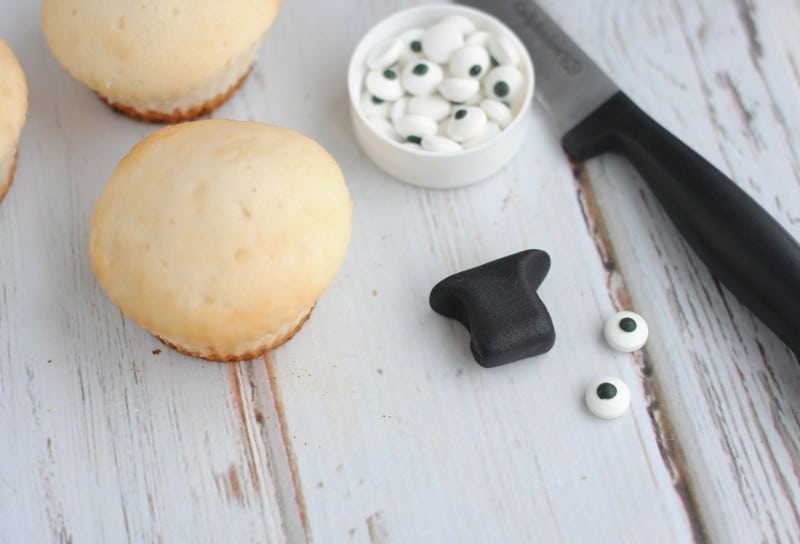 Use one of toothpicks to spread a tiny bit of frosting onto the back fondant and give you sheep 2 eyes.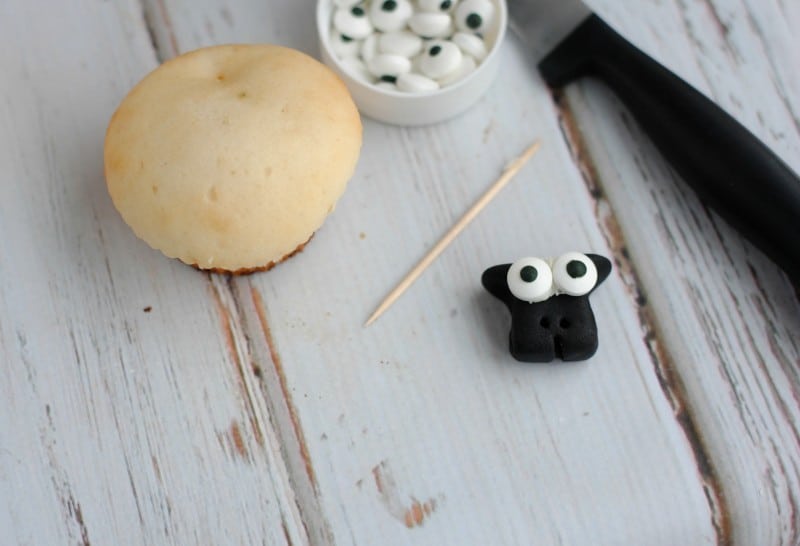 Use another toothpick to make 2 nostrils (simply press the toothpick into the fondant) and then make a mouth.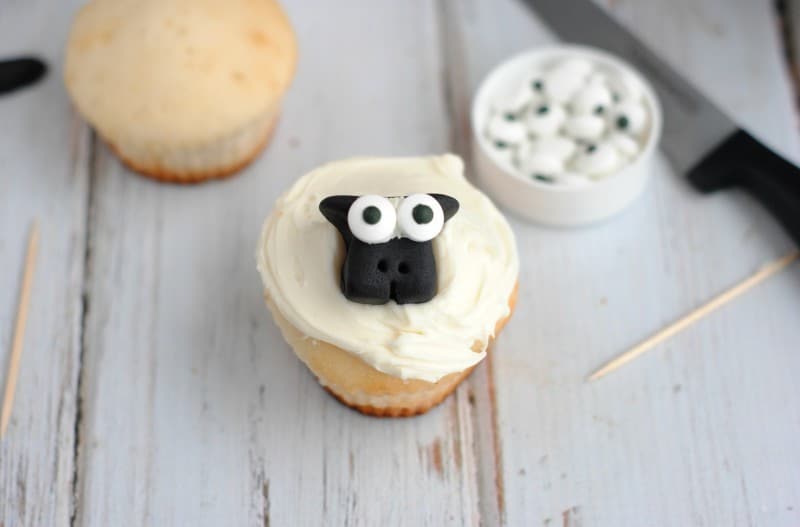 Place the Sheep's head on the cupcake and gently press the mini marshmallows into the frosting surrounding his head working your way to the outer edges of the cupcake.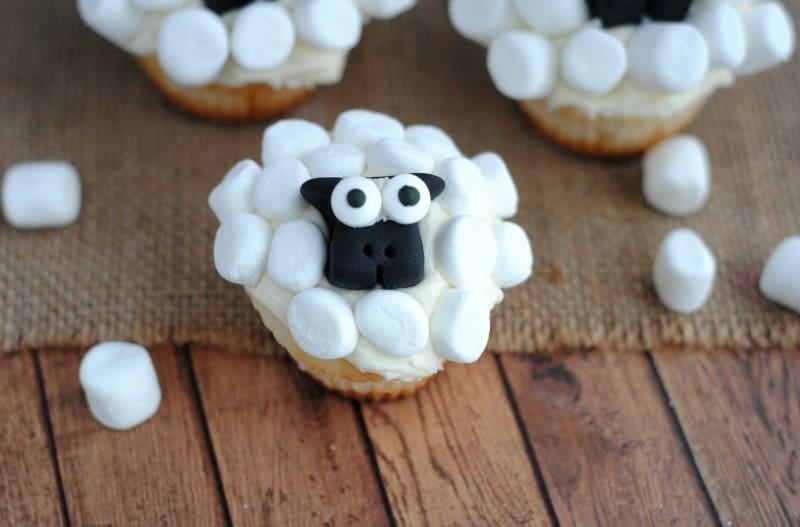 Repeat with all the cupcakes. 🙂
Love Easter fun?  Check out our Bunny Crunch and Lamb Cinnamon Rolls– or Bunny Salad!
Sheep Cupcakes (From Scratch)
Author:
Ingredients
Cupcake Ingredients –
1/2 C. butter, softened to room temperature
1 C. sugar
2 large egg whites
2 tsp. vanilla extract
2 tsp baking powder
1 1/2 C. flour
1/2 tsp. salt
3/4 C. milk
Sheep Ingredients
1 package of mini marshmallows
White frosting, any brand
2 small packages of Wilton black fondant (I found mine at Walmart in
the bins in the Wilton aisle near the party decorations- my fave fondant is Satin Ice fondant)
Candy eyes
Toothpicks
Instructions
Directions –
Preheat the oven to 375 degrees.
Combine the softened butter, sugar, egg whites and vanilla mixing
well. Slowly fold in the flour, salt and baking powder. Lastly, add
the milk continuing to stir.
Pour into greased muffin tins (or liners) and bake 20-25 minutes.
Insert a toothpick around 20 minutes and if it comes out clean the
cupcakes are done.
*Recipe is adapted from allrecipes:
http://www.allrecipes.com/recipe/simple-white-cake/
*Makes approximately 12 cupcakes
Sheep Directions –
Generously frost each cupcake with white frosting and set aside.
Cut the black fondant into 1″ squares. Mold the fondant gently
pinching the top to make the sheep's ears (see photo).
Use one of toothpicks to spread a tiny bit of frosting onto the back
fondant and give you sheep 2 eyes.
Use another toothpick to make 2 nostrils (simply press the toothpick
into the fondant) and then make a mouth.
Place the Sheep's head on the cupcake and gently press the mini
marshmallows into the frosting surrounding his head working your way
to the outer edges of the cupcake.
Repeat with all the cupcakes. 🙂