Date Night– So important, so hard to actually carry out. At least for us-with two that are only 7 and 4 getting time to ourselves is almost nonexistent. There is the arranging a sitter, making plans, and then getting out the door. It can also cost an arm and a leg to finance after you pay your sitter and have dinner and a movie out. We have tried to cut costs, time, and frustrations by enjoying many of our date nights at home. I found that even after a long day of work Bertolli Meals for 2 make for a delicious and easy dinner, pair that with a few other items you can pick up at the grocery store and you have the makings for a great date night. I have been selected by Find Your Influence to be a spokesperson for Bertolli. While I have been compensated for my time, my opinions are my own.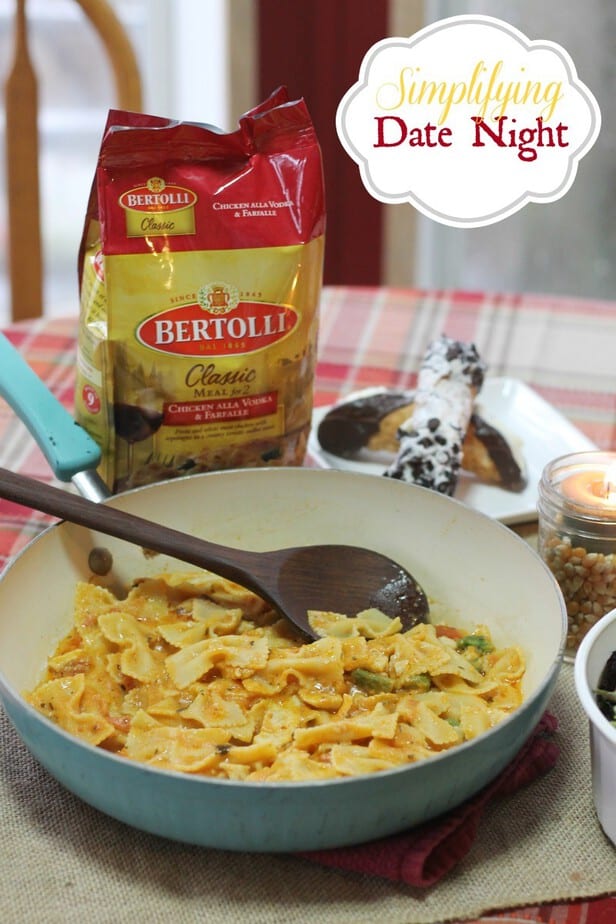 Date nights CAN be fun and simple! I was already running behind on our last date night and knew I needed to get a special dinner on the table in record time. I grabbed a bag of Bertolli Frozen Meals for two, I chose my favorite-Chicken Alla Vodka & Farfalle. What else could I grab that required little work but brought that "Mangia!" moment to the table?  A bag salad with cherry tomatoes, a loaf of crusty garlic bread, and of course cannoli for dessert ( a quick stop by the bakery made that happen for me!). Once I got home I poured my Bertolli Meal into a covered saucepan over medium. Then I set to work creating a mood – Ithrew a pretty fall table cloth on the table to dress it up a bit.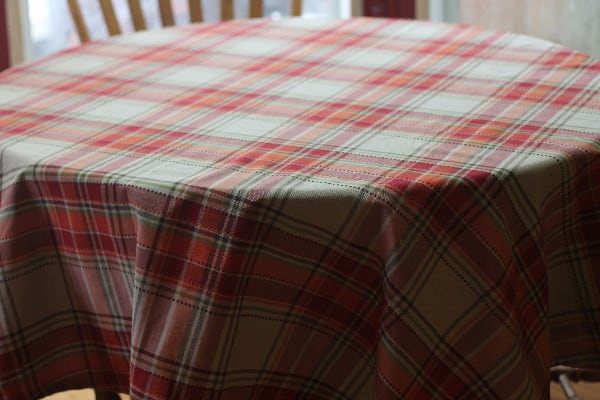 I added a burlap runner for texture,and  I also grabbed a scented votive candle right at the grocery store that needed to be a little more special than just plopped on the table.  I filled a small jar halfway with corn kernels and set my candle down inside- perfect.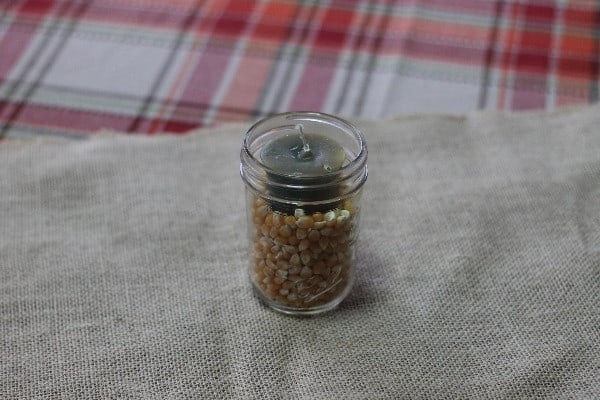 Poured bag salad into a bowl, set dessert on a pretty plate (definitely take it out of the plastic for date night!) , and wrap up place settings. If you don't have fancy napkins, no worries- I wrapped mine in white paper towels.
Guess what? While I threw together this quick tablescape dinner was cooking, so I did all this in about 15 minutes, just the giving the pan a few stirs while I was doing table setup. Done- just in time for him to walk through the door to this…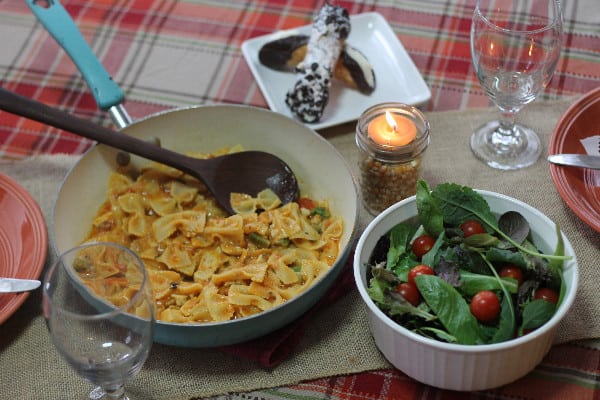 I was pretty happy with how easy it all came together with the help of Bertolli Frozen Meals for 2. Since I did not have to fret and worry over cooking a full meal, the pressure was off and I was relaxed. We steered MOSTLY away from talk of the kids and bills while enjoying a delicious and romantic meal.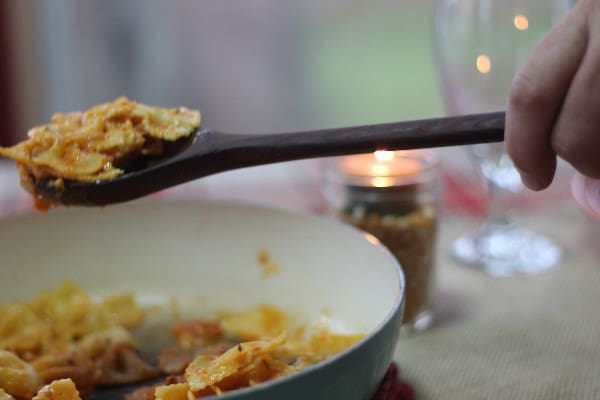 Date night was a success!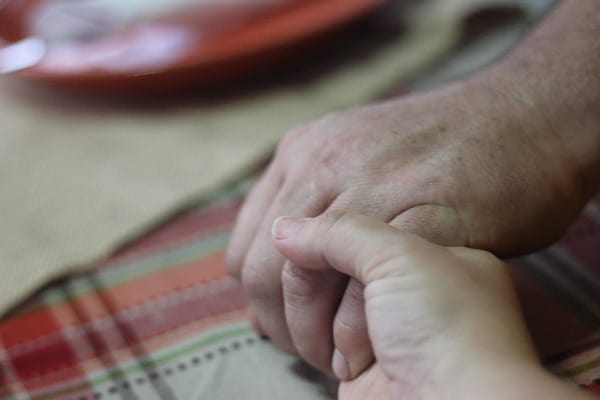 Submit your Mangia Moment sharing how you dine like an Italian uploading a photo of your experience with the hashtags #MangiaMoment and #Sweepstakes via Twitter or Instagram.
For complete rules and regulations visit Bertolli Manga Moment.
Join us for #MangiaMoment Twitter Party hosted by @tammileetips, @momsreview4you, & @Bertolli on Friday November 20th at 3 PM EST / 12 PM PST! Tell us about your Mangia Moment for a chance to win great prizes including a trip to Wine Country, CA in Spring 2016.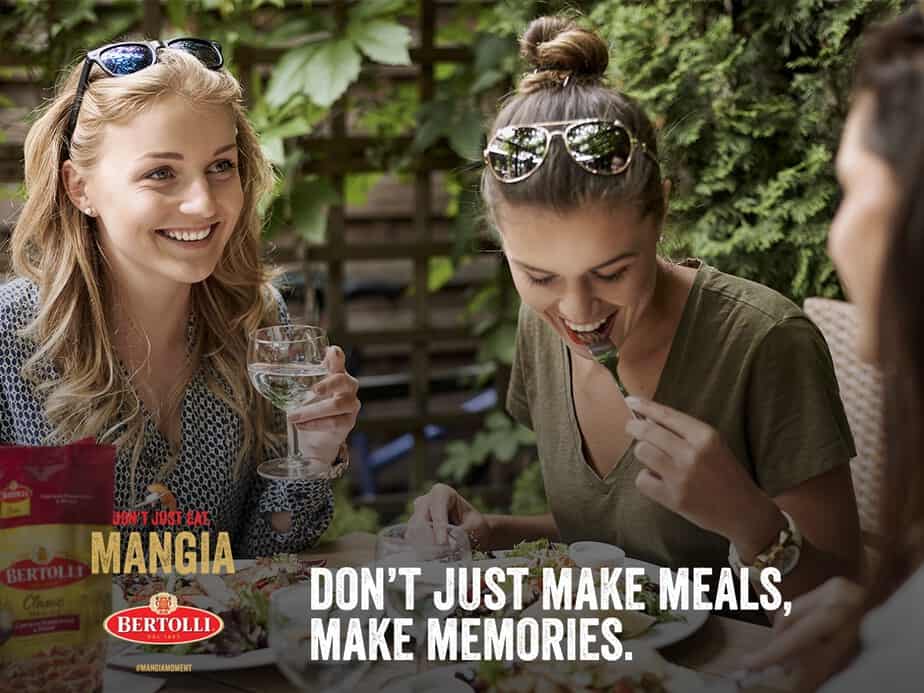 Enter to win one of 5 #MangiaMoments Prize Packs on the widget below!