I like having ingredients on hand that make dinner quick and easy- for example:  Ingredients and recipes with 3 simple steps, simple ingredients and about 15 minutes, and you have dinner on the table. With schedules like ours, this makes my life a lot easier. A family favorite in our house is stuffed peppers… but it can take a while to cook if we don't have leftover rice and/or ground beef. These Sloppy Joes Stuffed Peppers pair two of our family favorites in one dish!
Sweet & Smoky Sloppy Joes Skillet Sauce can be made into Sloppy Joes the traditional way, with sandwich buns.  With 1 lb of ground beef (or turkey if you prefer, even meatless crumbles for the vegetarian in your family), and the buns, you can have Sloppy Joes on the table in about 15 minutes.  Maybe a few less.  Brown the meat, drain it, add Skillet Sauce, boil 1 minute and voila! Serve it on the bun.  Add some veggies on the side and you've got dinner.
You can also do a variation of the Sloppy Joes, which I did- my family LOVES stuffed peppers.We also love Sloppy Joes.  With a few minutes extra of cook time, I was able to make Stuffed Peppers from the Sloppy Joes.
Sloppy Joes Stuffed Peppers Easy Dinner Recipe
Sloppy Joes Stuffed Peppers
Ingredients
1 lb ground beef
1 McCormick® Sweet & Smoky Sloppy Joes Skillet Sauce (or use any Sloppy Joe mix)
4 Peppers
3 TBSP water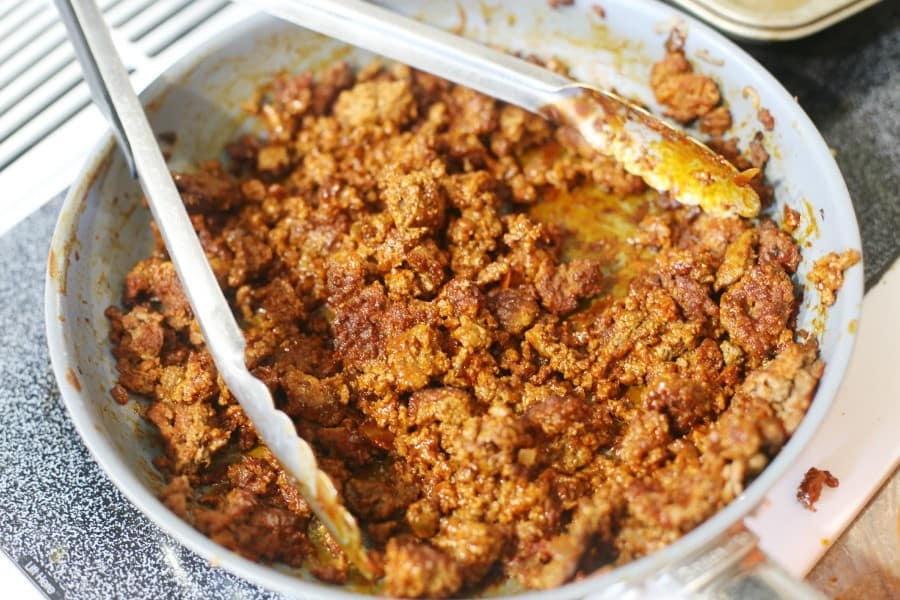 Directions
Preheat oven to 350
Cut tops off peppers, pull out seeds, etc.
Put peppers into a glass baking dish with 3 TBSP water, place into oven while it's preheating
Brown meat in skillet, drain
Return meat to skillet, add Skillet Sauce
Bring meat and sauce mixture to a boil for 1 minute
While sauce is cooking with meat, remove peppers from the oven (it's likely been about 10 minutes) and set aside
After meat and sauce mixture has boiled for 1 minute, scoop into peppers
Put stuffed peppers into oven for 10-15 minutes (until peppers start to look softer)
Serve and enjoy!

 How do you like your Sloppy Joes?
Want other quick and easy recipe ideas? Check out our Tater Tot Casserole and our Kale and Ham Galette! I also want to try this Slow Cooker Sloppy Joe Tater Tot Dinner soon as well.
1