Foolproof Sour Cream and Onion Tater Tot Casserole
A fresh twist on an old family favorite that even the kids will gobble up.  Out of desperation from having the same old dish week after week I set about creating a new flavor profile for my standby dinner-Tater Tot casserole.  Going heavy on onions and including Hood sour cream makes this dish creamy and delicious, perfect for a hectic weeknight or leisurely weekend dinner. This post is brought to you as part of my partnership with Hood on the Hood Meal Makeover Campaign.  Opinions are my own.
Can't get enough of casseroles? Try some of these! Game Changing Ham and Cheese Tater Tot Casserole, Southwestern Shepherd's Pie Recipe, Mini Breakfast Casserole and Vanilla Maple French Toast Casserole.
Sour Cream and Onion Tater Tot Casserole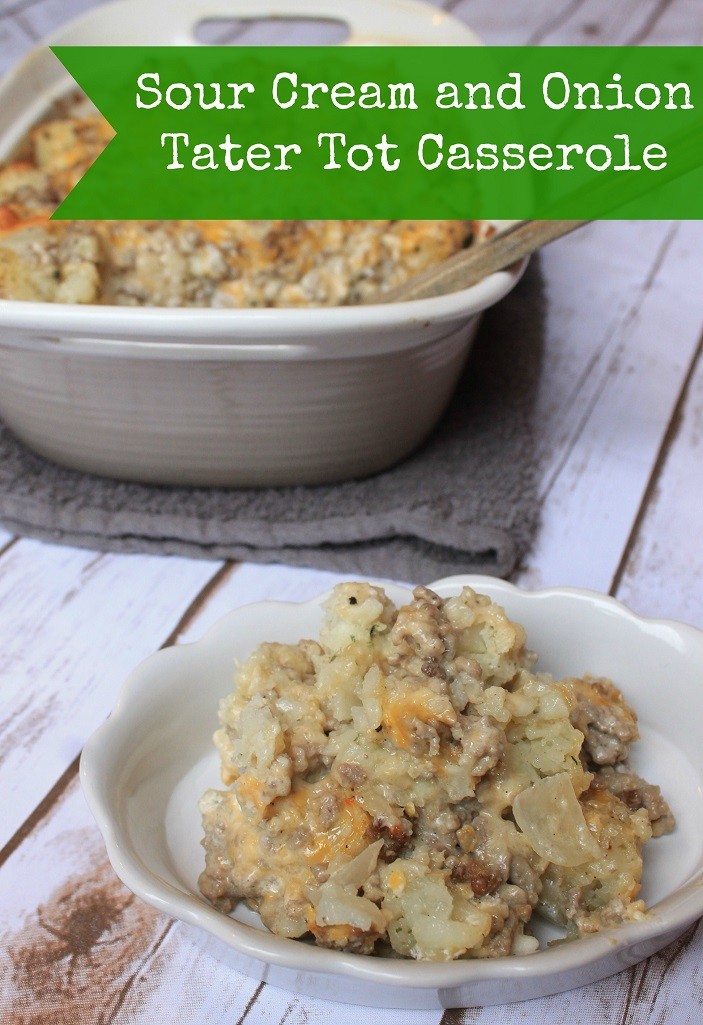 Ingredients:
1 lb. ground beef (ground turkey would also work well here- you can also do ground Veggie crumbles to make it Vegetarian)
1  32 oz. package Tater Tots
¾  cup Hood sour cream (use light for less calories)
¼  cup milk (use low fat or skim for less calories)
½ cup chicken broth
1 ½ cup shredded Colby Jack cheese
1 ½ tsp garlic salt
1 medium onion
2-3 tsps. oil mix (90% veg oil, 10% olive oil)
salt and pepper to taste
Directions:
Thaw tater tots.
Dice onion finely. (I have been known to mince mine- same flavor, but if your kids don't enjoy the texture of onions, the smaller they are, the less likely they are to notice them in the dish)
Grease a 9×13 baking pan.
Preheat oven to 350
1. Saute onions in oil mix  until they begin to become translucent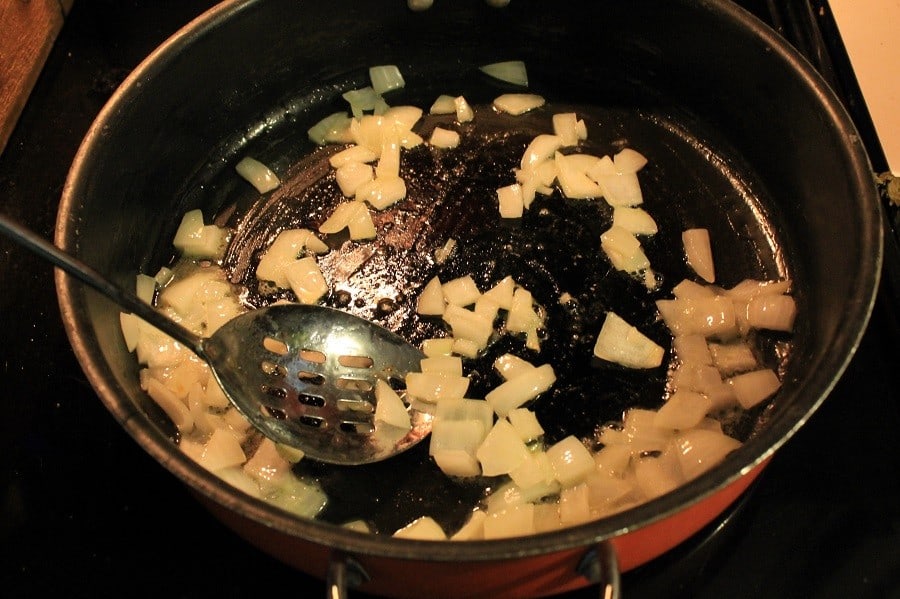 2. Add ground beef to pan and cook until done.
3. Drain excess liquid if needed.
4. In a large bowl combine tater tots, ground beef, sour cream , milk, chicken broth, shredded cheese, garlic salt, and onion- stir to combine all ingredients well.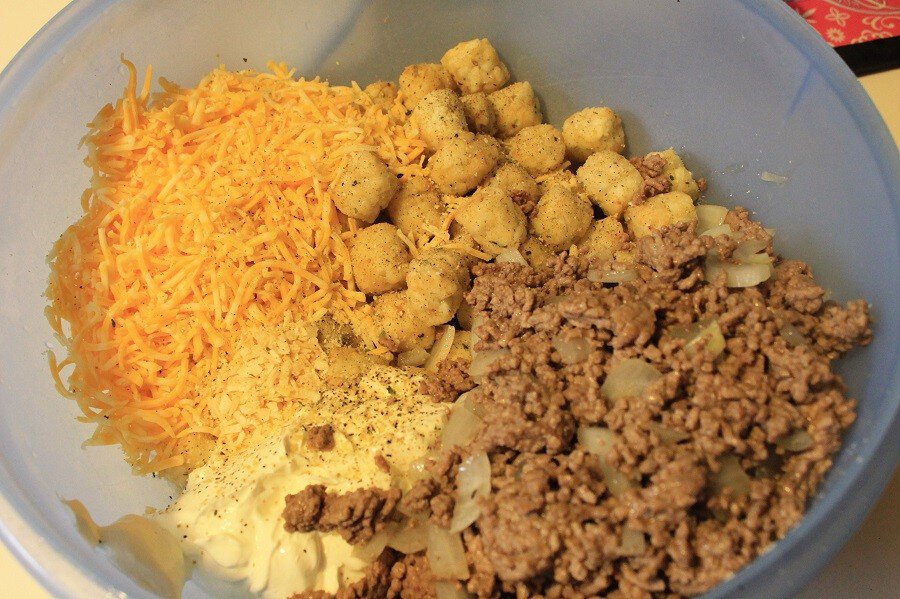 5. Pour into prepared baking pan.
6.Sprinkle with additional cheese if desired.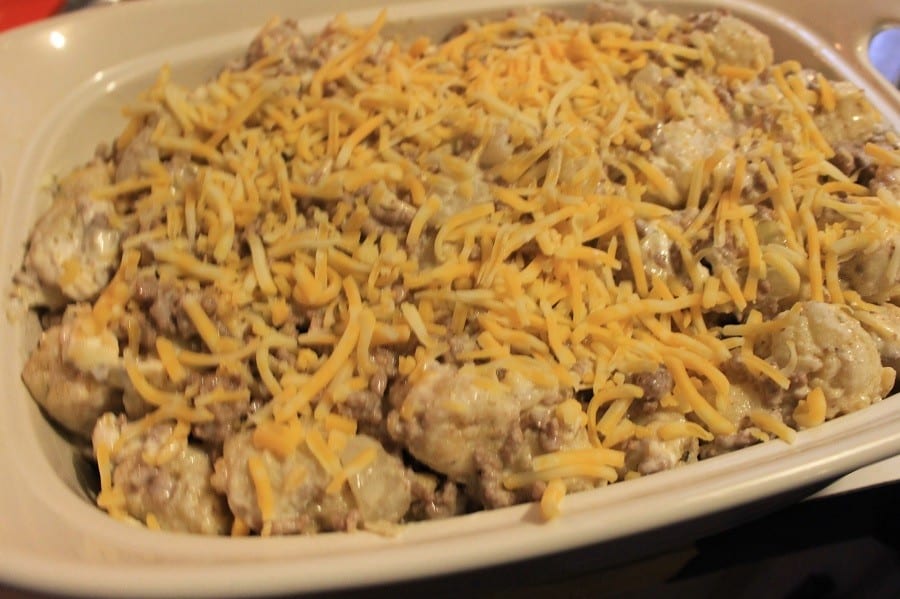 7. Bake for 30 minutes until top is golden brown and bubbling.
8. Allow to sit for 10 minutes before serving.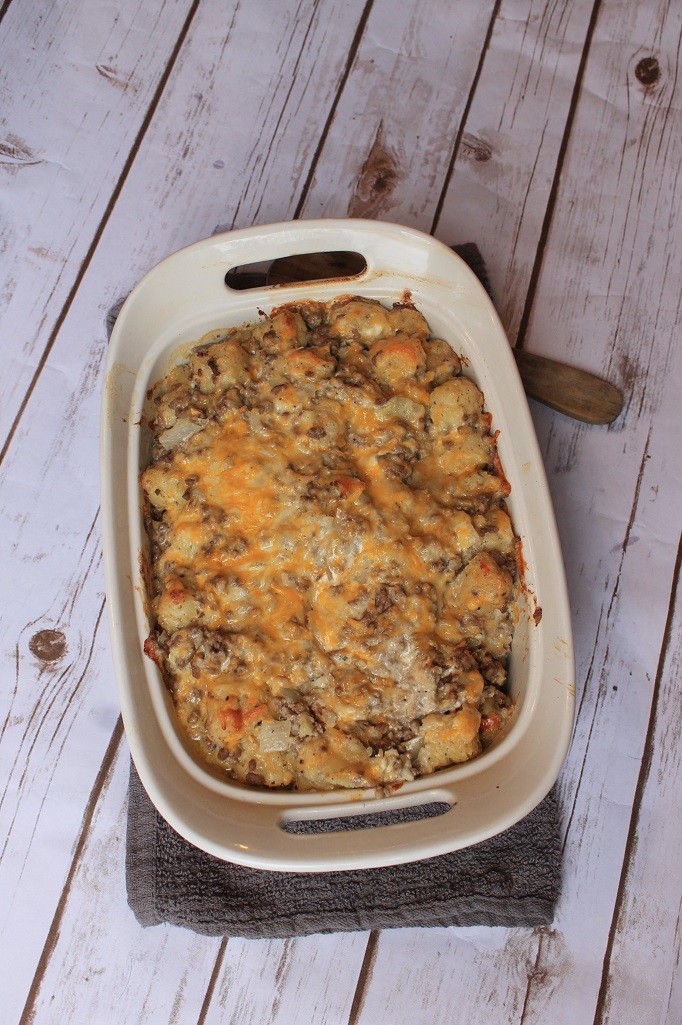 Chef Alison Milwe Grace, owner of AMG Catering in Wilton, CT, and Olivia Savarese, her Event Coordinator, hosted a group of Connecticut (and one Rhode Island) bloggers last week to learn about using Hood Sour Cream as an ingredient in main dishes, not just as a condiment. The ladies guided us through three recipes: Pork Chops with Sage & Sour Cream Sauce, Portobello mushroom & Kale Stroganoff,and Tarragon Mustard Chicken with Sour Cream. (Thank you to Julie from Happy Strong Home for the pics from the event, I had a fully charged battery in my camera and no memory card! Be sure to check out her Creamy Pumpkin Soup Recipe!)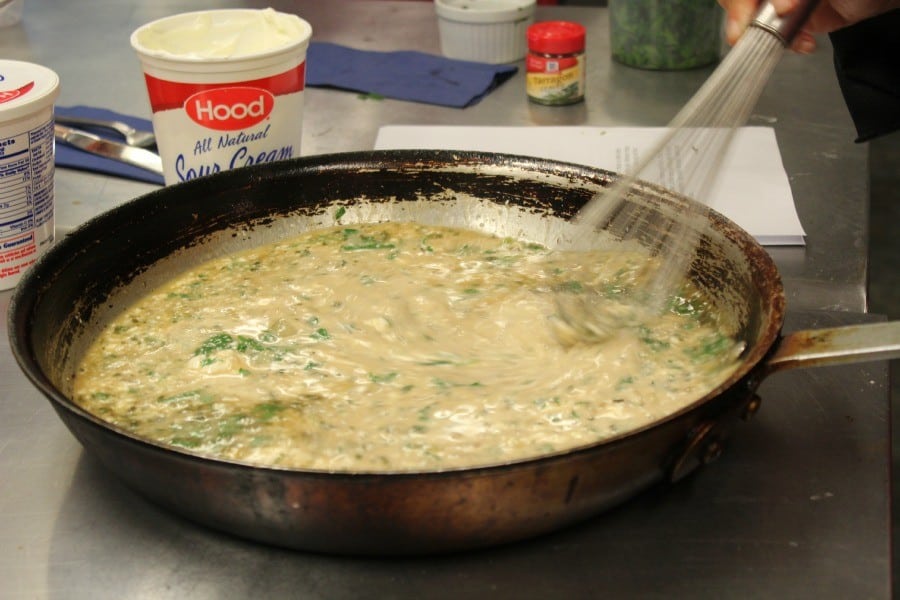 Not only did they guide us through preparing these recipes, but they also shared with us several great tips in the kitchen- which I'm always looking for. AMG Catering does cooking classes for adults and children and if you are near the area, RUN to sign up. If it wasn't almost 2 hours from home, I'd be going regularly. They had me laughing steadily and also, feeling like maybe cooking isn't so daunting.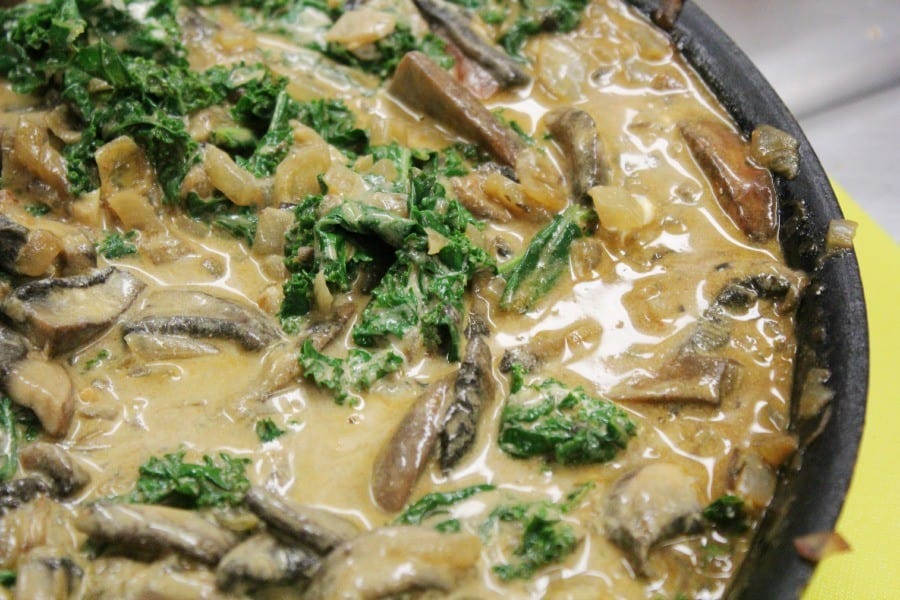 Some of the tricks shared by the fabulous ladies of AMG Catering:
Make your own oil blend – Olive Oil burns quickly.  Unless a dish absolutely requires the flavor of olive oil while cooking, use a 90/10 ratio of something like a vegetable oil to 10% olive oil. It'll save you money and you'll have more success in your pan.
Buy peeled garlic.  There's no need to reinvent the wheel.  If it's already peeled you will save a lot of time! Whatever you do, don't buy minced garlic in a jar.  It's not really garlic at that point and won't give you much benefit or flavor when cooking.
Use Wondra flour to dredge your meats.  You'll get a nice thin coating and your meats will have a nice golden color to them when cooked.

Check out some of the other Hood Meal Makover Bloggers' Recipes Below!