The kids and I love TruMoo any way we can get it, and you can almost always find a carton in the  fridge, but we get really excited when the special seasonal flavors come out. I am always experimenting and trying to find new ways to enjoy that delicious flavor, right now Limited Edition Chocolate Marshmallow is in the dairy section and ready for fun recipes! If you need another reason to try it besides the fact that it is delicious- TruMoo has no artificial growth hormones, no high fructose corn syrup, and is fresh from your local dairy.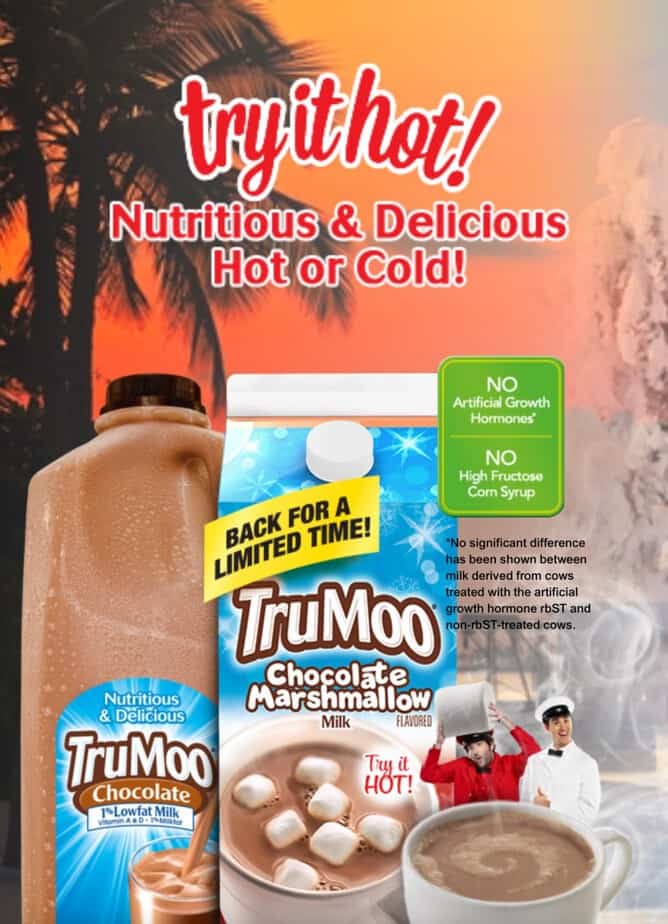 Whether you enjoy it hot or cold, straight up or in a recipe you can feel good serving it to your family.  This time I was inspired to create a tasty Smores Milkshake that the kids loved (mom and dad enjoyed it a lot too!) with just a few extra ingredients that are usually on hand in the pantry. It is a great treat for an after school snack or as a fun treat when you come inside from snowman building! We love to snuggle up by the fire and get cozy warm…with hot AND cold beverages! You'll notice there's no ice cream in this shake recipe one- you don't need it!!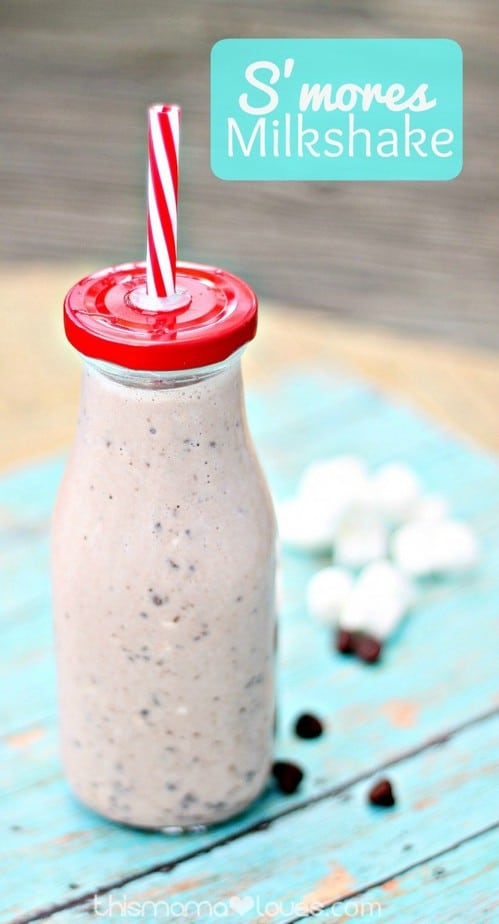 Smores Milkshake
Ingredients:
6 TruMoo Chocolate Marshmallow ice cubes (you'll want to make these ahead)
1/4 cup TruMoo Chocolate Marshmallow flavor milk
1 T. chocolate chips
3 T. mini marshmallows
1 whole graham cracker, broken up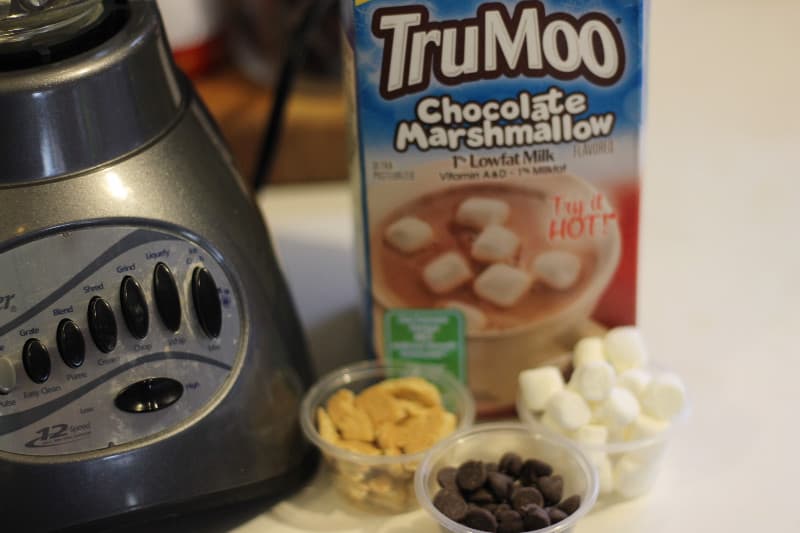 Directions:
To make Chocolate Marshmallow ice cubes I just poured it into ice cube trays and froze overnight, you are going to want to keep these on hand to make this often! I used 6 cubes per shake.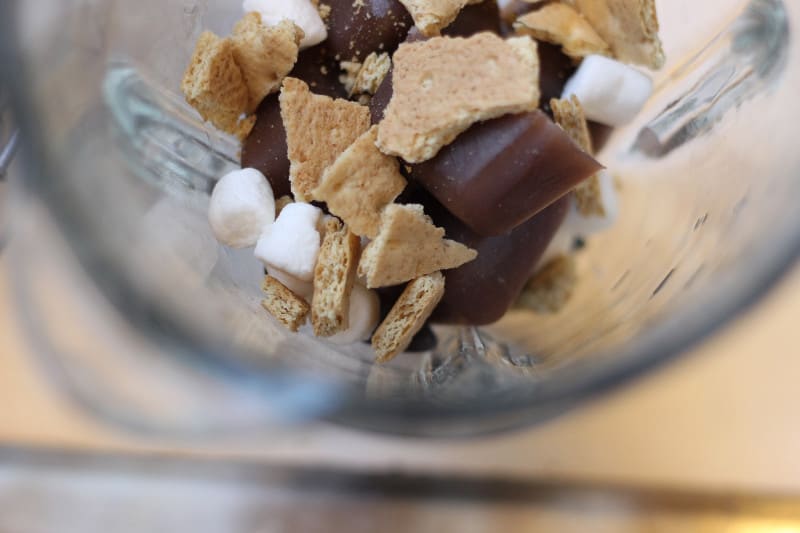 For each shake you want to serve place all the above ingredients in your blender and mix until well combined- you want your chocolate chips pretty small so this will go through the straw.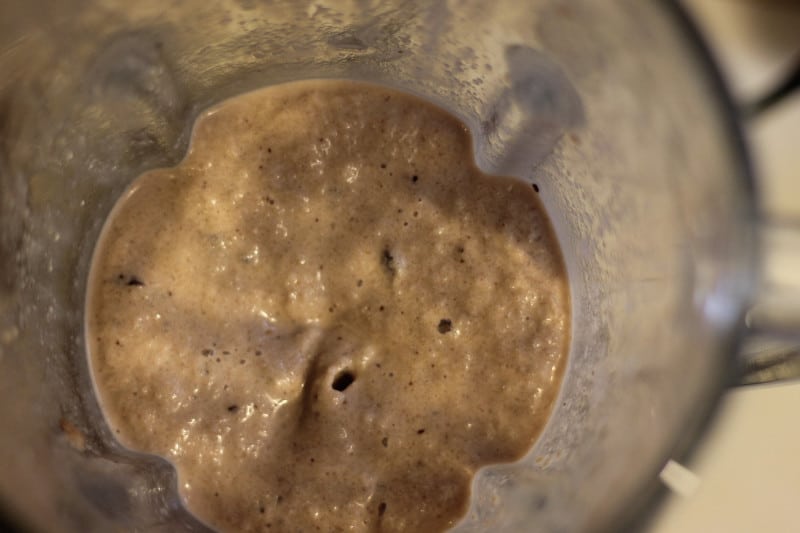 Can't you almost taste the yummy S'mores flavors?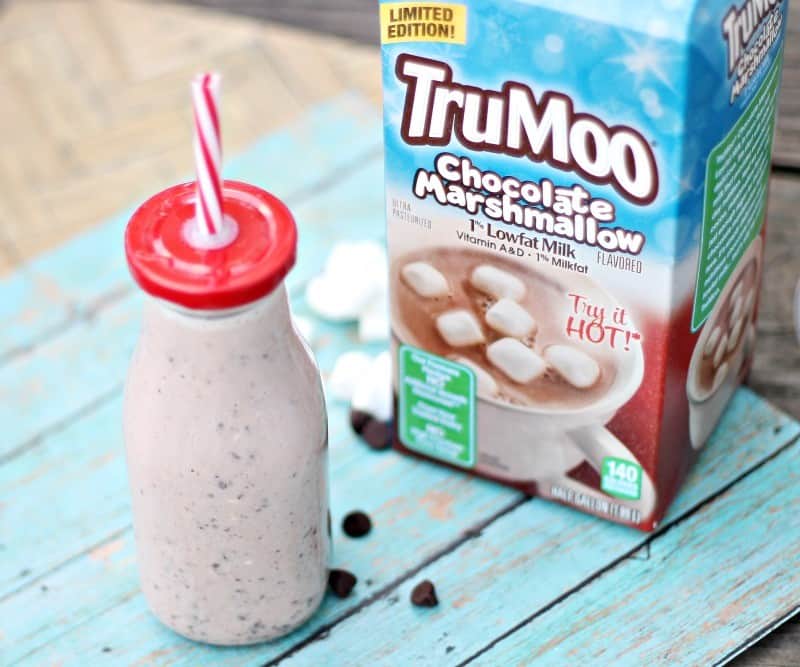 Follow TruMoo on social media to find other great recipes, coupons and fun!
How do you enjoy your TruMoo? Straight up? In shakes? Cakes? Pudding? Over oatmeal?
[mpprecipe-recipe:1763]
Thanks to TruMoo for sponsoring today's Smores Milkshake recipe.