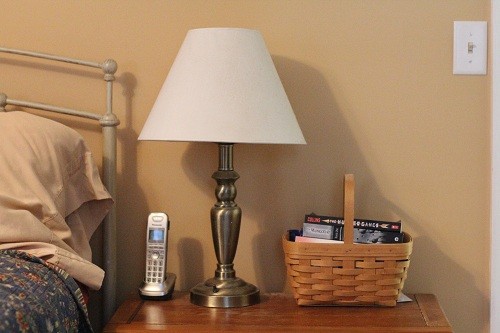 I had this ugly lamp in my bedroom, on my bedside table.  Given that the phone lives there, and a basket with my must-read books, and whatever assorted items kids bring in, I realized recently, the lamp has to go.  I wasn't turning it on, I hated it, it was too big for the space, and…well, it was a free lamp that I hated.  I decided to let my guilt go, donate the lamp (another man's trash, right?) and set out to find an adorable SMALL lamp I could use for middle of the night wakings, etc….or reading.  Whichever, or both.  Of course, I was supposed to be shopping for GE Lighting, so I went over to check out their new light bulbs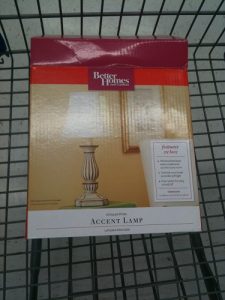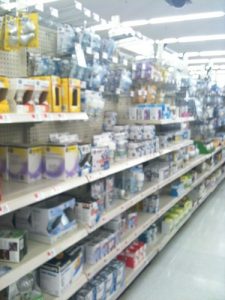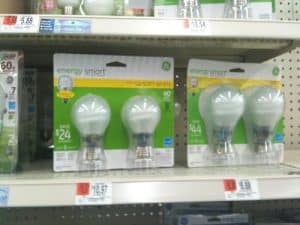 I went to Walmart last and actually found an adorable little lamp, but it was kind of…boring.  It needed something.  I decided to bring the lamp home and take a few days to think about what I'd do with it.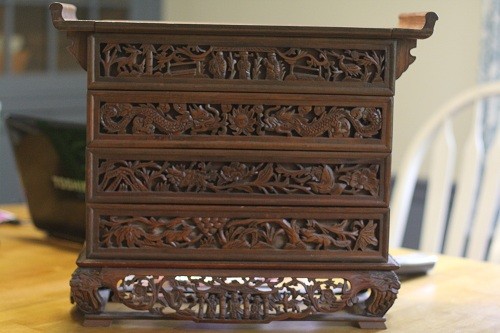 Over the weekend, my husband surprised me with a belated birthday gift.  The jewelry chest my mom had, for oh, forever?  (It's at least 45 years old, she got it when she was stationed in Japan during her Air Force years) The chest that had a bottom drawer that didn't close for as long as I could remember.  My dad gave this chest to me, right when mom died, and I still to this day haven't been ready to go through the box.  But this weekend, when my husband took me to the basement to show me he'd fixed it, to surprise me, I was able to open a drawer or two.  I'm definitely still not ready to go through it all, but I did find, in the second drawer I opened, some costume jewelry that just seemed…well, made for my lamp.
So I took that jewelry out, shed some tears, hugged my husband, and said, "I need my glue gun.  Right now."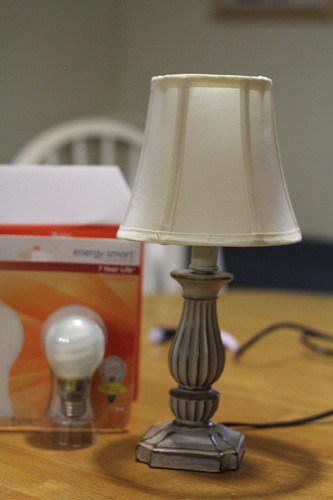 Bewildered, he grabbed it for me (we store it up high) and shook his head as I ran up the stairs to assemble supplies.  Cute, boring lamp: Check.  Glue gun: check.  Costume jewelry: Check. Scissors: Check.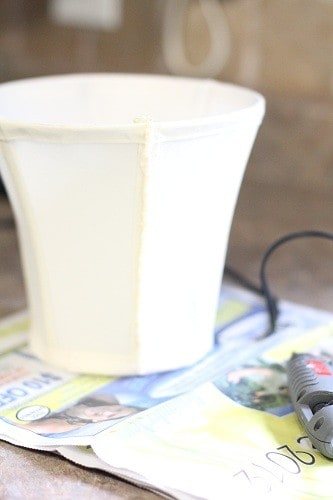 My mom's old costume jewelry has made my mom's lamp far more personal, less boring, and keeps her close for just a little bit longer.
Isn't it funny how sometimes, the strange things in life happen just when you need them to?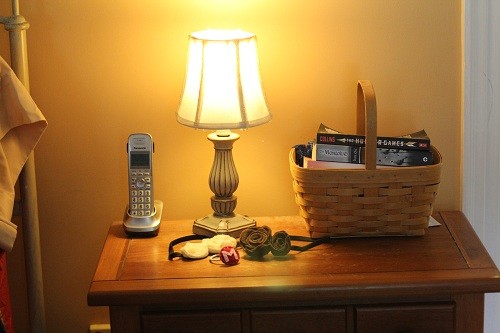 In honor of my mom's lifelong love of protecting our earth, I of course had to use a "green" lightbulb – which I found tons of at Walmart (and don't be sad, you can see ALL of my shopping photos in my Google Plus album) and am trying to change all of our bulbs in the house to greener ones.
What do you think of my boring lamp now? I love it! I also like knowing the bulb I put in there will last several years, if not longer- so I paid a bit more up front, but will have less cost in replacements (don't have to) and less harm to our earth. Win, win.

I could be saving $177.24 a year just by changing all of our bulbs in the house to energy efficient ones. What would your savings be? http://www.gelighting.com/na/home_lighting/products/pop_lighting_calc.htm
 I am a member of the Collective Bias™ Social Fabric® Community. This content has been compensated as part of a social shopper insights study for Collective Bias™ and GE Lighting. #CBias #SocialFabric"