This is a Sponsored post written by me on behalf of VTechKids for SocialSpark. All opinions are 100% mine.
My son loves transforming things.  He'll spend hours each day making "creations" with building blocks, tape, crackers, his toys, his cars, his dinosaurs- it doesn't matter.  He's got a vivid imagination and a master plan for most of his play and loves to execute.  When I heard about the new Vtech Kids Switch & Go Dinos, I was immediately intrigued.  A dinosaur, a vehicle, a robot, in a sense….this promised to be a hit in my house.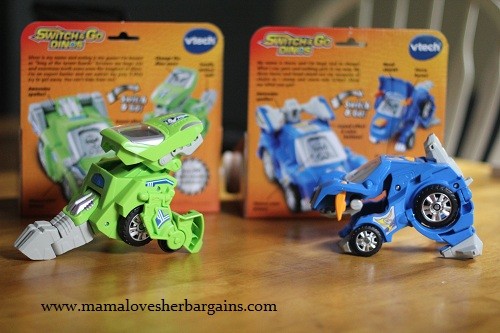 I was right.  My son had one of his best friends over the day that Silver the T-Rex and Horns the Triceratops arrived, and the exclamations of "Whoaaaaa!" "Cool!" "Can I play with one too?" assured me that we'd have a busy afternoon of Switch & Go Dino play.  The kids have never eaten their lunches so fast and that was the last I saw of them for quite some time.  Instant hit.  The kids adore them.  They did take some time to don some superhero capes, have a snack, etc. but those Switch & Go Dinos were never far from their hands.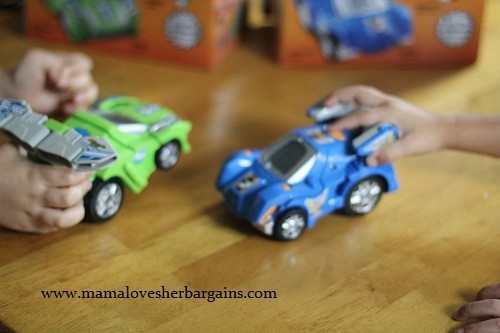 What I like about these toys is that yes, they are cool and so much fun for kids, but there are educational compenents that help my child to learn and discover while playing.  Lots of cool facts about dinosaurs are programmed into the toys- over 50 of them, so kids won't get bored quickly.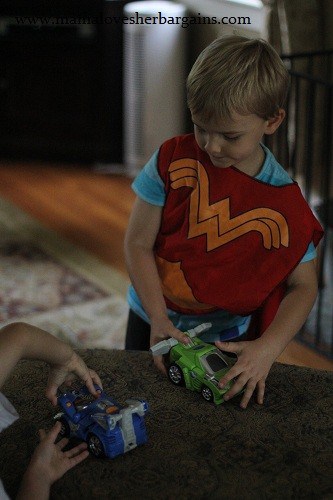 The transformation is easy to do by a 5 year old- I have seen other toys that promise transformation for this age group and they are either super baby-ish or far too challenging and cause frustration.  I have to give kudos to VtechKids on this one- they did a great job.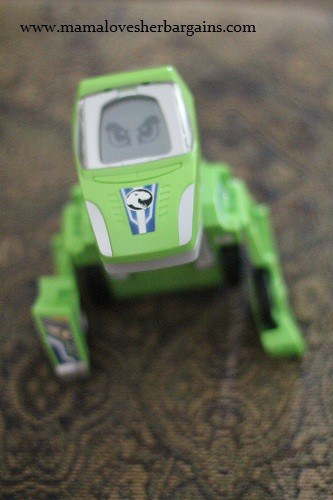 I love the eyelashes on Silver the T-Rex.  I don't know why, but I they kind of make me giggle. The LCD screen has a different "face" depending if you have them in car or dinosaur mode. So cool, and oh so much fun.  (I have to note here that both of my daughters are enjoying these dinos as well).
So what do we think?  I LOVE this product.  Its fun, it's engaging, it's not too loud (this drives me nuts when toys are super loud, maybe it's just me….the super loud toys tend to vanish in my house when people are sleeping…) and the price point is marvelous.  This is a GREAT gift for a holiday, birthday, or just because and won't break the bank.  I'm actually looking more forward to my son's birthday in early September because I'm hoping the new Switch & Go Dinos products will be out and I can surprise him…he'll love it!!  I have some Amazon gift cards saved up and have every intention of grabbing a few of these to put in the gift closet- I think its a wonderful gift for any little guy who has the slightest interest in cars, or dinosaurs, or both.
What my son thinks: Cool.  He's not put these down, he's brought them up to his room and set them in his secret cubby on his bed each night.  They went into school with him for his sharing day (what we called show and tell…) on Wednesday.  He LOVES them.
 The four Starter Dinos: Sliver the T-Rex, T-Don the Pteranodon, Tonn the Stegosaurus and Horns the Triceratops will be on-sale beginning May 21 exclusively at Amazon.com for a suggested retail price of $15.99. Buy today on Amazon
Beginning June 18, each fo the four starter dinos will be be on sale at VTechKids.com for a suggested retail price of $15.99!  Which will you choose to start?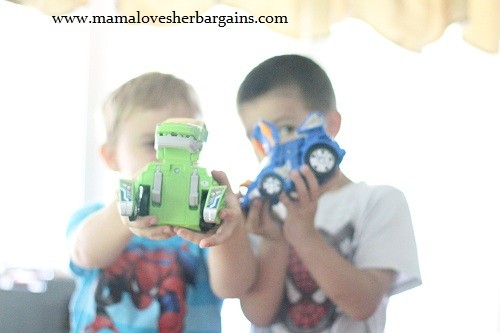 ● VTech's new Switch & Go Dinos combines two of boys' favorites to create the ultimate toy for boys – dinosaurs uniquely morph into vehicles and back again to provide an interactive 2-in-1 play experience.
● Each Switch & Go Dino features electronic elements that bring the dinosaur and vehicles to life creating an innovative play experience.
● Each toy features an LCD screen for customizable animation. Kids personalize the toy by selecting animated dinosaur eyes when in dinosaur form, and driver faces when in vehicle form.
● Dramatic dinosaur and vehicle sound effects bring the toys to life, creating an immersive play experience.
● In dinosaur mode, action buttons trigger interesting facts about each dinosaur as they come to life, exclaiming up to 30 expressions.
● Parents can purchase two dynamic toys boys love for the price of one with

VTech's new Switch & Go Dinos.
– Easy transformation keeps attention with no frustration.
– Both forms feature high quality electronics and engaging mechanical features, packing in a lot of play time for the price of one toy.
– All Switch & Go Dinos will be on-shelf at major retailers beginning in Fall 2012, including the four Starter Dinos, as well as Attila the Ankylosaurus (SRP: $24.99), Span the Spinosaurus (SRP: $29.99), Brok the Brachiosaurus (SRP: $49.99)
Which is your favorite: Horns the Triceratops  or Silver the T-Rex?  Which would you choose for a little guy in your life?