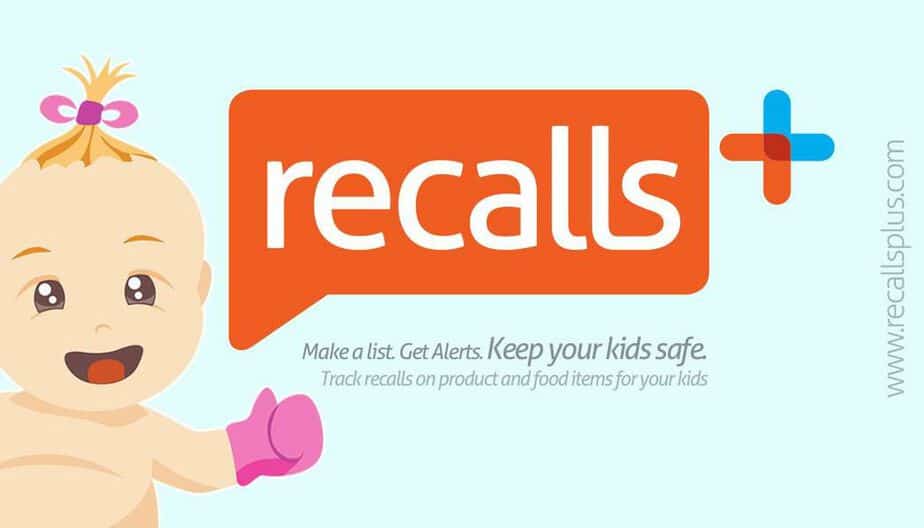 I am willing to wager a bet that most of you, like me, have bought presents- toys, specifically,  to give to children this holiday season. But what a lot of us don't stop to think about is safety- or possible recall. I know that I truly didn't even think about recalls when purchasing gifts until just yesterday- and now I sit here scratching my head wondering why it never occurred to me before.  I get email alerts daily with any recall notifications- but I kind of always thought of those as "stuff you already have" recalls, not things I'm purchasing now, you know? But now it's in my head and I'm so happy I have a smartphone, because now I have Recalls Plus on it and I can get alerts any time there's a recall- and not just on toys.  (You can use Recalls Plus with Facebook if you don't have a smartphone or tablet).
When my oldest was 18 months, we gave her a little doctor set from a very well known brand for Christmas.  She was delighted and played with that set for hours each day.  I had enough checkups between Christmas and New Year's to keep me healthy until 2076- until the day I realized that a piece of the stethoscope was gone, poof, vanished, and nowhere to be found.  A perfect choking sized piece.  Thankfully, my daughter hadn't ingested it (or if she did, we never "caught" it), but I called the company immediately once I determined she was ok.  I won't ever know if it was my call that set the wheels in motion, or if mine was the first (or last) of many, but I do know that same doctor kit was recalled not long afterward.  I was quite impressed with how the company handled things- they sent me a prepaid shipping box so that they could inspect they toy pieces.  They also sent a very generous gift certificate so that we could replace our daughter's beloved toy.  I was very impressed with how seriously they took my phone call, and how quick they were to do right by us, but also to look into it further.
Recalls Plus helps us get alerted instantly when there are recalls.  It's been designed by parents of young children FOR parents of young children, and you are able to select an age range appropriate for your family or for those you are purchasing for, so that you are notified of the recalls that will affect you most directly.  You can also track recalls on items you have, or are thinking of purchasing.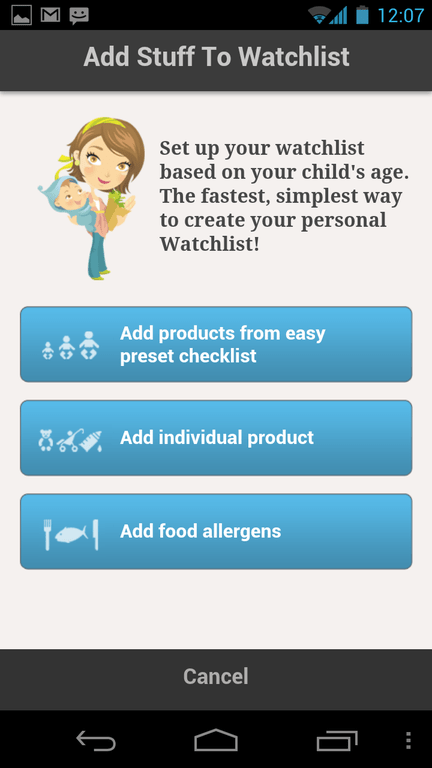 The other "big" thing that Recalls Plus monitors is 8 FDA-mandated food allergy recalls.  This is HUGE in these times of anaphylactic allergies- now you can know before you hit the store that that salad dressing you've been wanting to try has a dairy product in it but it isn't labelled.  Food allergies are a scary thing for so many families, and it's my opinion that you can't be too safe when allergies are life threatening.  Apps like this will be a huge help to parents and caregivers- and even to the kids with allergies as they get older. The app will alert you or you can search through a nationwide list of recalls reported.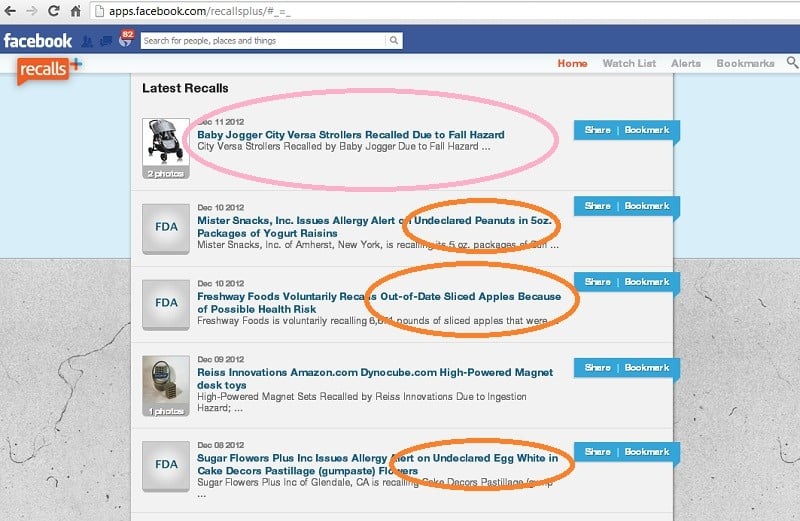 Some recent recalls shared on Recalls Plus:

1. Dream on Me Ultra 2 in 1 Infant Tub, Toddler, Niagra, Baby Bath Seats

Hazard: The bath seats can tip over, posing a risk of drowning to babies.

2. Sportspower Sports Authority Parkside Trampolines
Hazard: The trampoline's metal legs can move out of position and puncture the jumping area, posing a risk of injury.

3. Step2 X-Rider Car Children's Riding Toys
Hazard: Children who lean too far forward on the seat can go over the handle bar and hit the ground.

4. JoAnn Fabric and Craft Foam Pumpkin Turkey Craft Kit
Hazard: Magnets holding the pumpkin shell pieces together can become loose, posing an ingestion hazard.

5. Boden Children's Pajamas
Hazard; The pajamas fail to meet federal flammability standards for children's sleepwear, posing a risk of burn injuries to children.

**All products listed above where listed on Recalls Plus within the past two months. Product recalls were identified by the appropriate government agency. Please go the Recalls Plus App for more information about the above recalls
Download Recalls Plus: Apple Store
Download Recalls Plus: Google play
Get the Recalls Plus App for Facebook
I've downloaded this free app, will you?
 Thanks to Recalls Plus for sponsoring today's discussion