This holiday season, Aflac reminds us to be thankful for our health, our loved ones, and to give back. Aflac's Duckprints program is an ongoing celebration of the unsung heroes in the fight against childhood cancer, and continues their mission to help eradicate the disease through raising donations and awareness. Chances are, you know someone or have heard of someone who has a child that is/was/has been diagnosed with cancer in childhood.  I know we do.
My friend Kelly lost her daughter Jamie at 5 1/2 months. Jamie was almost exactly 2 weeks older than my youngest daughter. Both were bald with blonde fuzz and blue eyes. Kelly was a moms club friend, and watching her parent an infant with cancer and being her friend was an experience that changed me. It changed everyone around us. We always give and support Jamie's Run in Jamie's memory, but also in memory of so many other kids (including one we've written about, Abby, who has also left a mark on my heart).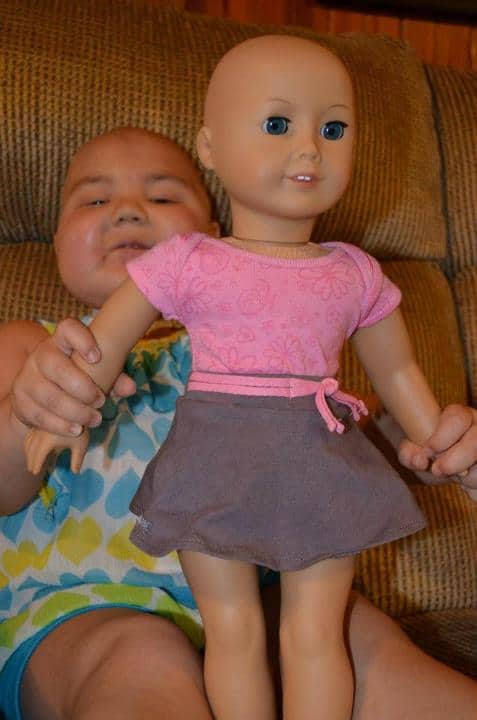 In 2014, it is estimated that 15,780 children and adolescents ages 0 to 19 years will be diagnosed with cancer. That's a huge number. Too high. Aflac is committed to the fight against childhood cancer, and has raised more than $93 million with the goal of reaching $100 million by the end of 2015.  Aflac is also giving their Duckprints award to those who've left their mark on fighting childhood cancer, by helping at events, fundraisers, on social media, etc.  The idea is to generate interest and excitement that will hopefully result in more donations and more awareness to help fight childhood cancer.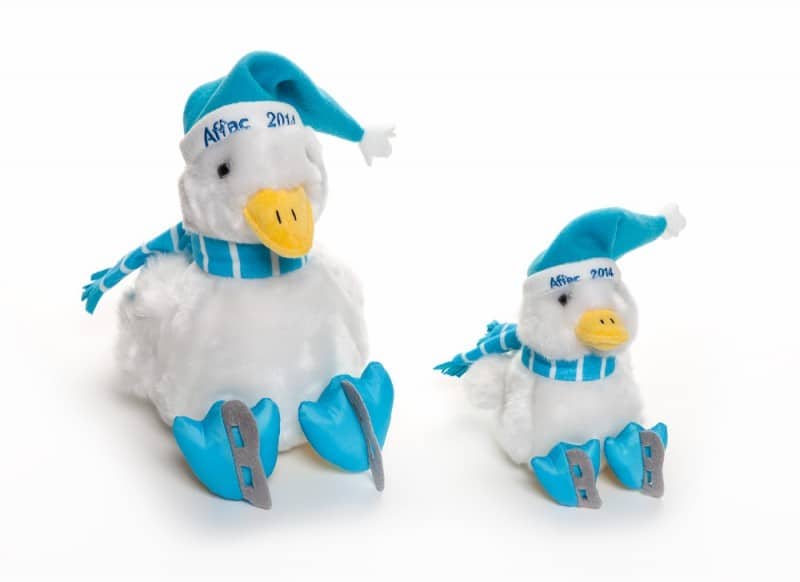 All of the net proceeds from Duckprints merchandise – like the annual Holiday Duck, which is available at participating Macy's or at aflacduckprints.com – go to hospitals treating childhood cancer in the U.S.  Aflac will also give an additional $2 to the Aflac Cancer Center for every post, share, tweet, or re-tweet that uses the #Duckprints hashtag on Instagram, Twitter or Facebook. (You can click on the link below to retweet and support the cause yourself!)
.@AflacDuck will give $2 to Aflac #Cancer Center for every social media post w/ #Duckprints http://t.co/i9gFLAgXAN ad pic.twitter.com/ciHcLFCFT5

— Brett Martin (@brettbmartin) December 15, 2014
Follow the Aflac Duck on Facebook, Twitter and Instagram! (@AflacDuck)
Why #Duckprints, why Aflac, why should you support?
About Aflac Cancer Center
The Aflac Cancer Center and Blood Disorders Center of Children's Healthcare of Atlanta is one of the largest childhood cancer centers in the country.
The Aflac Cancer Center is committed to providing childhood cancer patients a brighter future through advanced medical treatment, family-centered care, a child-friendly environment and innovative research.
About Aflac
When a policyholder gets sick or hurt, Aflac pays cash benefits fast. For nearly six decades, Aflac insurance policies have given policyholders the opportunity to focus on recovery, not financial stress. In the United States, Aflac is the leading provider of voluntary insurance at the worksite. Aflac individual and group insurance products help provide protection to more than 50 million people worldwide.
Aflac pays cash benefits quickly, usually in 4 days, and directly to you to help with daily expenses that often occur when you're sick or hurt.
Austin Freeman Bio
Austin Freeman was born on April 20, 2003. Shortly after his tenth birthday he hurt his back and went to the doctor with persistent pain. The doctor took x-rays and thought it was likely a bruise from a fall he had taken. Austin then told the doctor that he had been experiencing pain in his groin area as well. The doctor initially attributed it to the fall and Austin started to head home with his mom.. Before leaving the parking lot, the cell phone rang. It was the nurse, saying the doctor didn't feel comfortable not giving a full examination of the groin area. They went back in, did x-rays and discovered the mass, which unfortunately was diagnosed as Ewing Sarcoma, a form of bone cancer.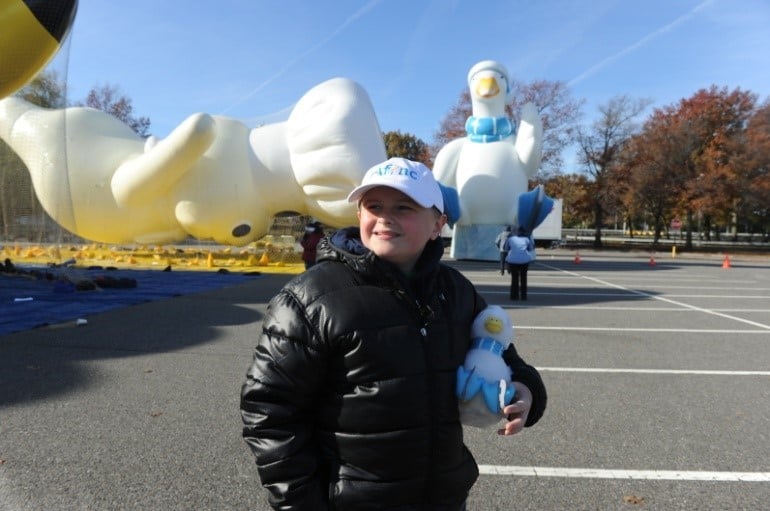 Austin was treated at the Aflac Cancer Center in Atlanta Georgia, where he received numerous doses of chemotherapy and radiation. Thankfully, after a very difficult year, Austin has been cancer free since March of 2014.
We need more stories like Austin's.  More happy endings, more successes.  In order to do that, we have to continue to fight childhood cancer, and also to spread the word to bring awareness- and financial support to the research. It's not just Austin, nor Jamie, nor Abby. It's all the kids who've fought, who are fighting, and those who will begin their battle down the road.
Won't you join the fight and use the #Duckprints hashtag on social media? Or make a purchase of one of the adorable and quirky Aflac holiday ducks? 
I was selected for this opportunity as a member of Clever Girls and the content and opinions expressed here are all my own.