Spring is FINALLY here in full swing and with it, softball, tball, yoga classes and soccer.  That, and we've got some major projects going on outside in our yard. (In case you were wondering, 24 large tree stumps make a LOT of wood chips).  With so much work outside, and so many hectic weeknights, I'm finding that I'm looking for more and more quick and easy dishes that will fill hungry bellies and put smiles on everyone's faces.   Velveeta asked me if I could come up with a fun entree, soup or other recipe using their Liquid Gold (also known as their loaf) and I had the inspiration to make a taco pizza.  I decided since this was a time saving, busy weeknight meal that I would use store-bought pizza crust, but when we make pizza normally I do make the dough from scratch (the kids love to help and I adore the smell of dough in the house).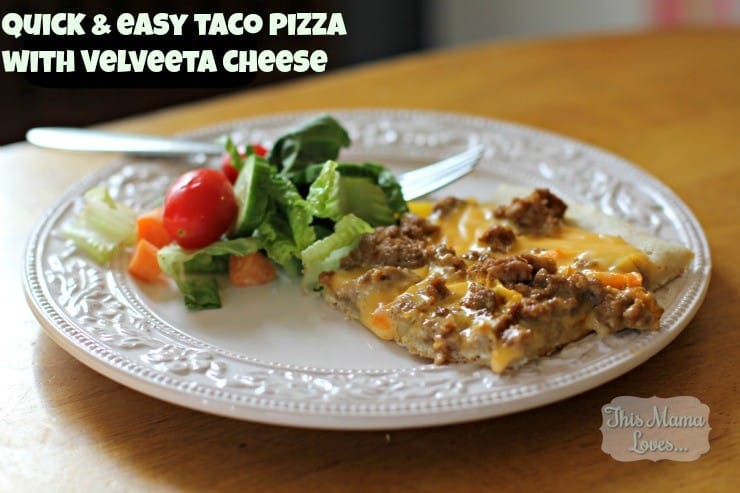 Quick & Easy Taco Pizza with Velveeta Cheese Recipe:
Ingredients:
1lb ground meat (I use ground turkey)
taco seasoning to taste
1 orange pepper, sliced
1 small red onion, sliced
1 can pizza crust
1 small Velveeta loaf (I used 1/3 loaf for 1 pizza)
Directions:
Preheat oven to 400
Prepare pizza crust as directed (or use your own) — mine had to bake for 5 minutes at 400 before toppings went on.
While oven is preheating, brown the meat and add taco seasoning as directed.  Slice onion and pepper thinly (you can saute them while the meat browns if you want)
Top pizza crust with the cooked meat and veggies.  Thinly slice the Velveeta loaf and place on top of pizza.  Bake 8-10 minutes.
Serve with salad.
It's that easy.  20-25 minutes and dinner is on the table.
To my delight, my family ALL loved this pizza.  MOM! Why haven't you made this before?  MOM!!  Can I bring some for lunch tomorrow?  My husband wanted to bring some too! (If that's not a bonus, I don't know what is.  Lunches are ALREADY made!!) Next time I make this, I'm making 2 pizzas.  Leftovers, anyone?  Liquid gold, indeed!

Velveeta asked me if I knew any Liquid Gold Diggers. I'll know more soon once they taste these dishes! Why? Because Liquid Gold Diggers love the Liquid Gold of Velveeta.
Disclosure: Compensation was provided by Velveeta via Glam Media.  The opinions expressed herein are those of the author and are not indicative of the opinions or positions of Velveeta.