When you think about all the things you need or want to teach your kids, where does money fall for you? At what age do you think it is best to teach your kids about money? While your elementary school-age child may not understand about balancing a checkbook or paying bills, he or she is old enough to learn about savings and spending money. It may seem daunting at first, but once you start the conversation about money, the rest will flow pretty naturally. If you pay your child an allowance, it is the perfect time to begin teaching them about money.  I have been asked by T. Rowe Price and Scholastic Parent & Child magazine to discuss teaching kids about money in this post.  Opinions are my own.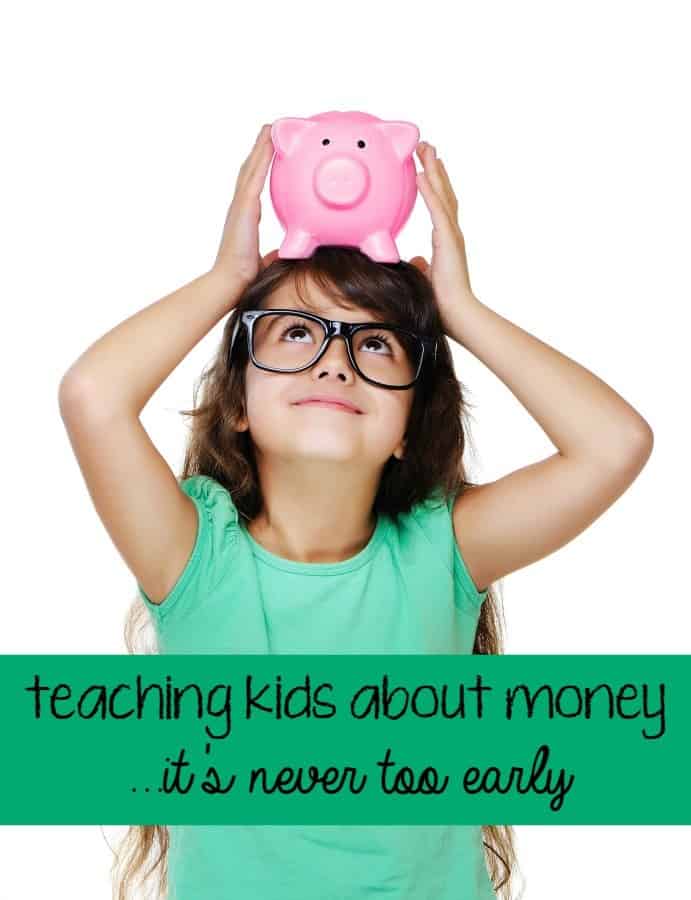 The earlier you can begin that financial conversation with your kids, the more likely you are to have children who grow up to be financially responsible adults. If you have small conversations about money throughout the week, it will make it easier for the kids to digest and for you to talk about it. If you need some help on getting started teaching kids about money, here are a few conversation starters from T. Rowe Price:
Everyday Money Moments: When you are at the grocery store, the ATM, the bank, or planning your next family vacation, tell the kids what you are doing. Explain how you deposit money in the bank, how the ATM works, and how you save money for the things you want, like that vacation.
Be a Good Example: Lead by example and be a financially responsible parent. When you walk the walk instead of talking the talk, the kids will take their cues from you.
Saving Money: Help your child set short- and long-term money-saving goals. This can be for a toy or game they want or a special place they would like to go. Again, if your kids are getting an allowance, they should be taught how to save it as well.
Be Open About the Subject: Do not make talking about money a taboo subject. You do not need to tell the kids all your financial details, but sharing the basics with them will make talking about money much easier for everyone.
Make It Fun: Depending on the age, you can make the subject of money fun for the kids. We all know the more fun kids have learning about something, the more likely they are to retain that information.
In the T. Rowe Price 2015 Parents, Kids and Money survey, it was shown that although 69% parents are concerned with setting a good financial example for their kids, there actions might make it more difficult for kids to learn about money. 58% of parents allow their children to make bad decisions themselves as a way of teaching them about money and shockingly, 52% of parents believe that their child should have their own credit card in order to learn about money, and 61% think their child should take out student loans as a way of teaching them about debt and financial responsibility. And—talk about leading by example—a frightening 53% of parents have not made plans for retirement. No wonder 61% of our kids think or know their parents worry about money. So lead by a good example and open the lines of communication about money with your kids early and often. This will pave the path to a bright and responsible financial future for your children.
Be sure to join in the April 15 Twitter Chat at 8 p.m. ET to talk to Scholastic Parent & Child editors and a certified financial planner who specializes in education.