Teenage Mutant Ninja Turtles Gift Ideas

Dress up, dress up, dress up. I've long since lost count of how many times my kids have gone out dressed up as one character or another- and at $12?  GREAT price for imaginative play inspiration!
LEGO is always a great gift option and if your child loves the Heroes in a Half Shell, they'll probably love to create their own Stealth Shell at home!  
Role play, imaginative play- and, the cool shell backpack stores all of the role play stuff inside it, so you won't be finding Donny, Mikey, Leo and Raph's masks all over your house.  Maybe.  
Blast their friends with water from their own half shell…
This is a HOT HOT HOT toy right now and if you find it online anywhere, grab it. It retails for about $99 and has been on sale at Walmart.com for about $76 so check often. Really, if you see it, grab it.  It's like the ultimate way to play with your Turtles! (You will, of course, want some bad guys to go with.  Fish Face is a must-have for us but there are many to choose from)
ERFECT stocking stuffer at $6.99!! Four movies for that price
We can't wait to play this on a snowed in day. Lots of fun and lots of action– get them off the couch and moving!
Who doesn't love fun underwear?  Grab a set of these for a stocking stuffer- it's a fun gift sure to get some smiles
For the younger TMNT fans- their fave characters come in a bowling set

Teenage Mutant Ninja Turtles Pal Pillow, Raphael $35 I can't even explain how CUTE these are. Or, um….COOL I guess. Grab their favorite TMNT hero for their bed!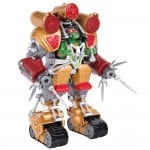 Robotic hands, motorized walking…this is your fave Turtle with a whole new level of fun!