So last month, right before Thanksgiving, I discovered the delightful taste of Marie Callender's Dutch Apple Pie. Well, not one to stop at one variety, this past week, we grabbed one of the Peppermint Pie from the grocery store.   This pie is divine.  You can see the marks of a 3 year old on the left side of the below photo.  Poor thing, how could she resist the pretty pie?  It's not her fault. The whipped frosting with chocolate shavings sits there, hinting at what's below…a creamy, delightful peppermint filling, and then…the bottom…a thick chocolate crunchy crust.  Marvelous.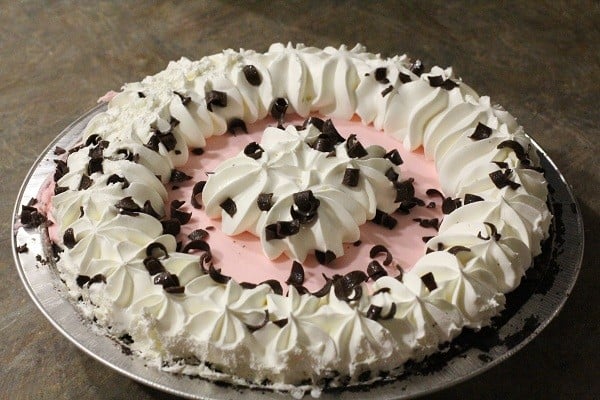 And then we ate it.
And ate it.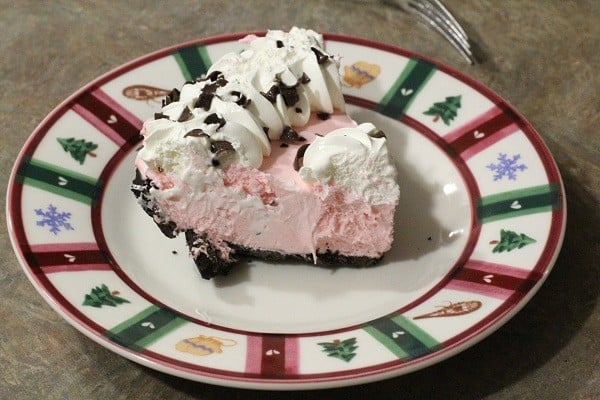 And it was gone.
And we were sad.
I'd been worried the peppermint might be a bit much.  A bit much to expect leftovers?
But after it was gone and we sat on the couch like blobs on a log….I realized, this is the perfect, most easiest dessert.  Like, ever.  It's sweet and it's festive and it has chocolate and it looks Christmas-y so that makes it extra festive and you don't have to actually DO anything except for pay for it, and take it out of the box (AND if you print this coupon, you'll pay even less. You are welcome.  But HURRY- it's only available until December 18th.  Go!) That means you have time, time and more time to chill and hang out with your family, and that's what the holidays are supposed to be about!
If you really want to get all fancy pants, you could totally sneak this out of the pie tin it comes in and put it onto a more festive plate or pie plate.  And I supposed if you really wanted to be all dazzling, you could also do some red and green something or other.  But you don't have to. I think it's pretty festive and special all by itself.
This was the very first time in 38 1/2 years that THIS mama had a Peppermint Pie.
It won't be my last.
Maybe it already wasn't.
This is a sponsored post with The Motherhood.  Opinions are my own.