Peanut butter is a staple in this house.  Many days it is incorporated into breakfast, lunch and a possible snack.  The other day my husband was wanting something different for breakfast so we decided to whip up a Peanut Butter Smoothie.  Luckily we already had a couple frozen bananas in the freezer.  Whenever our bananas get very ripe we put them in the freezer for smoothies or banana "ice cream".  The following recipe makes 2 servings.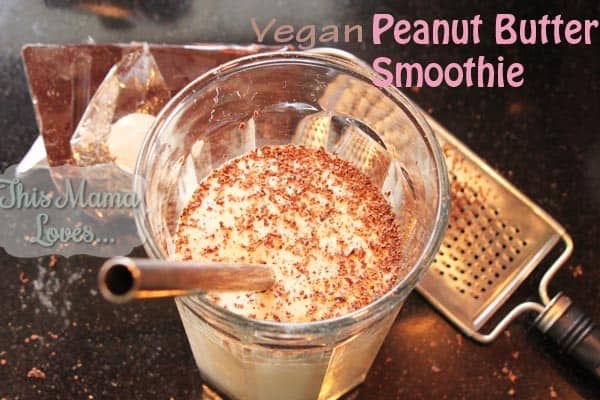 What You Need
2 Frozen Bananas, sliced
1 cup Quick Oats
1 1/2 cup non-dairy milk
3 to 4 Tablespoons of Peanut Butter
1 cup of ice
Dark Chocolate for garnish
Place the oats and milk in a blender.  Let the oats soak for 2 minutes.  Add the remaining ingredients and blend until smooth.  Pour in to your favorite glass.  Add some dark chocolate chips or grate chocolate on top for garnish.
This smoothie is
delicious and filling.
What is your favorite smoothie combination?