Remember a few weeks ago, I shared about the new bike we have for my husband, so that we are able to go on family bike rides?  Well, in keeping with the family bike theme, we realized that we need a bike hitch rack – while my van may be big enough for one adult bike and a kid bike, it definitely will not fit 2 adult bikes plus kid bikes, and 3 children in the back.  We turned to Thule, a name known for quality bike racks. Gayle also checked out one of Thule's roof racks for her car- check out how she likes it!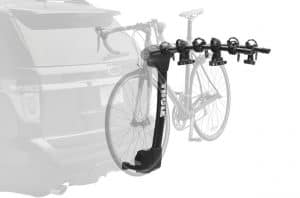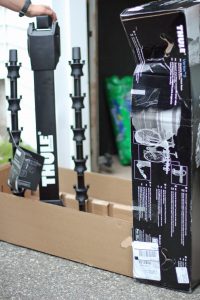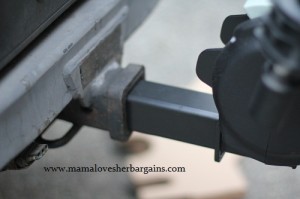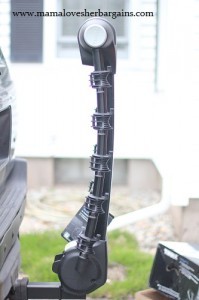 We received the Thule Vertex 5-Bike Hitch Rack, which is one of the a new Vertex series from Thule with an arc design and hold fast cradles to protect your bikes on the road.  This is our first bike rack we've owned (ever) and we found the rack itself very simple to install and use.  The rack itself has a sleek looking design, with an arc shape that's meant to make it easier to carry more bikes, and the levers to pull up to release the rack's position so you can move it up and down are very, very easy to maneuver.  It's definitely heavy duty and made to hold a lot of weight.  We found it to hold each of our bikes securely that we put on it.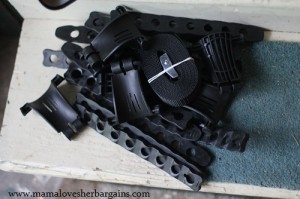 The straps that come with the rack to secure each bicycle are made of a very strong rubber that really stretches over the bike- so you know that your investment is protected.  From opening the box to having this rack ready to use took all of 10 minutes, and that's with kids helping.  Very simple instructions, very easy to use.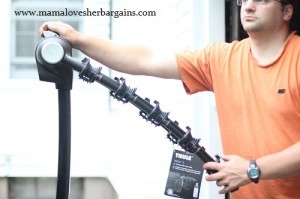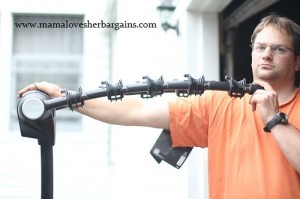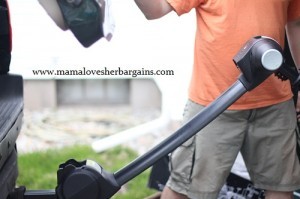 This new hitch rack's unique arc design makes it easier to load and unload, provides better ground clearance and gives you greater distance between your bikes for easy transport
Features

The bold new hitch rack with unique arc design for easier bike loading and carrying performance
Increased mast height for improved ground clearance
New Hold Fast Cradles™ cushion bike and provide maximum bike security
Our largest carrying assortment available: 2 bike (9028), 4 bike (9029) and 5 bike (9030) hitch racks
Anti-Sway Cages prevent bike-to-bike and bike-to-vehicle contact
New and improved Hitch Switch™ folds arms down when not in use and tilts carrier away from vehicle for trunk, hatch or tailgate access
Integrated handle for easy carrying and handling
Snug-Tite™ receiver lock (STL2, sold separately) virtually eliminates hitch rack movement in receiver and locks the hitch rack to the vehicle
Secure your bikes to the hitch rack with Thule's 6 ft. Braided Steel Cable (#538XT, sold seperately)
2 bike (9028), 4 bike (9029) fits 1¼" and 2″ receivers, 5 bike (9030) fits 2″ receivers only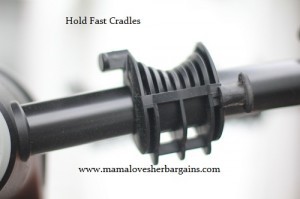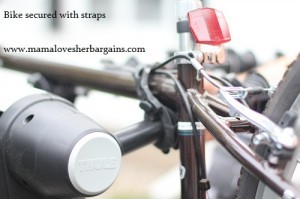 You can see how well the Hold Fast Cradles hold your bike in place with the straps- no worry that your bike will slip off.
As you can see below, the antisway feature really has a great design to hold your bike steady.  We can drive without worry that the bikes will sway into the back of the van.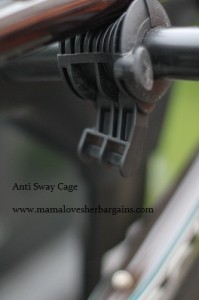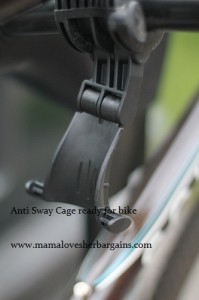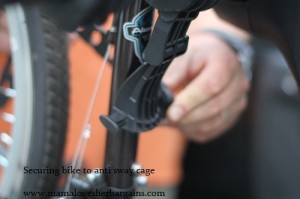 If you have a woman's bike or child's bike you may very well need a Frame Adaptor for it to fit properly onto the frame.  These cost about $99 but definitely make a big difference.
We've already used our new rack to go on some local family bike rides- I wonder where else our travels will take us along with the Vertex 5?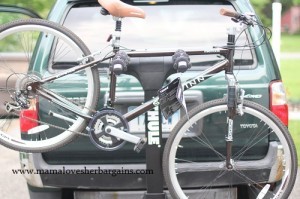 The Thule Vertex 5-Bike Hitch Rack retails for about $309.00.  If your family enjoys bike rides, this is definitely a great rack to consider for your vehicle- especially since it holds 5 bikes!
I received a sample of this product to facilitate my review. Opinions are my own.