With 7 kiddos between us, you'd think that my husband and I would be pros at finding and sharing tip for Helping Baby Sleep All Night and while we've got a lot of it figured out the truth is that all babies are different so sometimes it means trying different things with different babies.  Some of our babies were great sleepers and slept through the night right away and some left us pretty sleep deprived and wondering if they were going to be adults themselves before they decided to sleep all night.  One thing we have found that helped all our babies sleep better is keeping them comfortable and dry through the night and Huggies OverNites Diapers are designed to rid parents of nighttime changes and keep baby dry.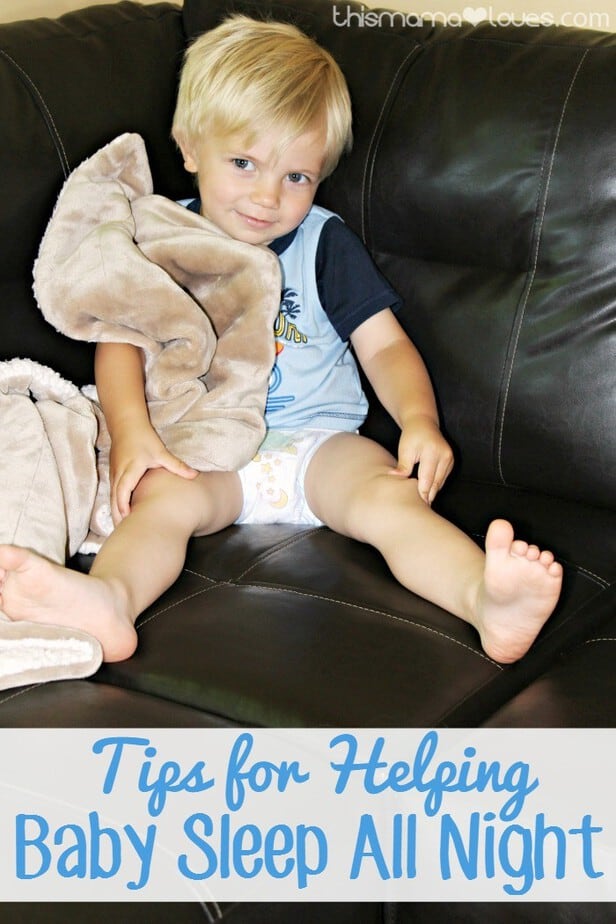 Tips for Helping Baby Sleep All Night
With summer here our routine is changing like most families.  We have a lot of camping on our schedule, ball games, beach days, and just busy days.  We are all exhausted by the end of the day.  Who am I kidding, some days we are exhausted by the middle of the day.  With the three little boys who seem to have deprived us of sleep for what seems like the majority of the last 4 years there are many days I think my husband or I wake up exhausted!  There are some Tips for Helping Baby Sleep All Night, or in our case, our not so little baby, that will hopefully get us all a little more rest!
Set a Bedtime Routine
Even when baby is young, routine is important.  Our littles count on routine and it has always helped to make bedtime easier.  It also helps them with falling asleep faster and staying asleep all night.  Whether the routine includes bath, reading a story, brushing teeth, and a little snuggling or putting them down in their bed with their favorite music playing softly if your child knows what to expect they will feel confident and comfortable at bedtime.  Bedtime routine should always consist of quiet and calm behaviors that prepare your child for sleep and should limit screen time or getting them too excited or active.
In our house our routine consists of bath and pajamas followed by snuggling together on the couch with a few of the boys favorite stories and their favorite blanket.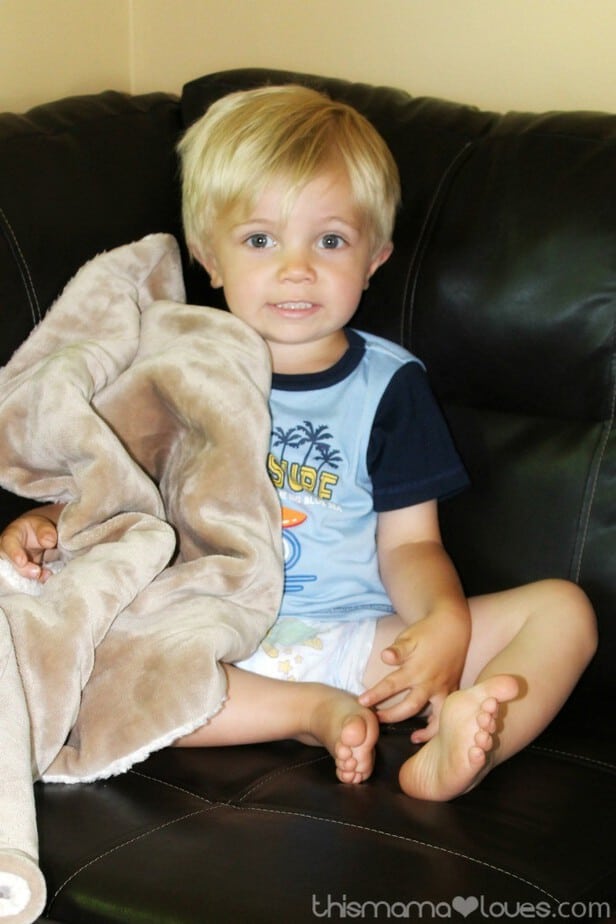 Provide a Good Sleeping Environment
It's hard for mom or dad to sleep when it's loud, too warm or cold, or the lights are too bright and the same is true for baby too.  Make sure that baby's room is conducive to sleeping.  Whether your baby is newborn or older, make sure the room is comfortable.  If your baby is too hot or too cold, it will be difficult to sleep through the night.  The same is true if the bright morning sun begins shining through the curtains at the first sign of dawn or the room is not quite dark when you put them to bed at night.  Our boys like to tell us they can't go to bed yet "because the sun is still up".  Room darkening shades can help darken the room early in the evening and keep it dark later in the morning as well as keep it cool.  Playing a CD of white noise in baby's room to cover other noise in the house may help baby to not notice the other happenings that are still going on.  We also run a diffuser with lavender oil at night for an added calming effect in our boys' room.
Keep Baby Dry Overnight
If baby is waking up in a diaper that has leaked, then nobody is happy.  We've had our share of this, especially as our boys got older and their bladders got bigger.  Waking up in the night to change a diaper is bad enough but having to change pajamas and sheets too is horrible.  By choosing the right diaper for nighttime we all get more sleep.
Nighttime diapers are designed to be more absorbent to keep baby dry and comfy all night long.  Huggies OverNites Diapers are the #1 selling nighttime diaper and are scientifically designed to support baby's sleep at night.  The wick away layer acts to keep baby's skin dry and healthy and the SnugFit Waistband keeps the diaper in place as baby moves throughout the night for maximum protection.  Look for OverNites at grocery stores and mass retailers.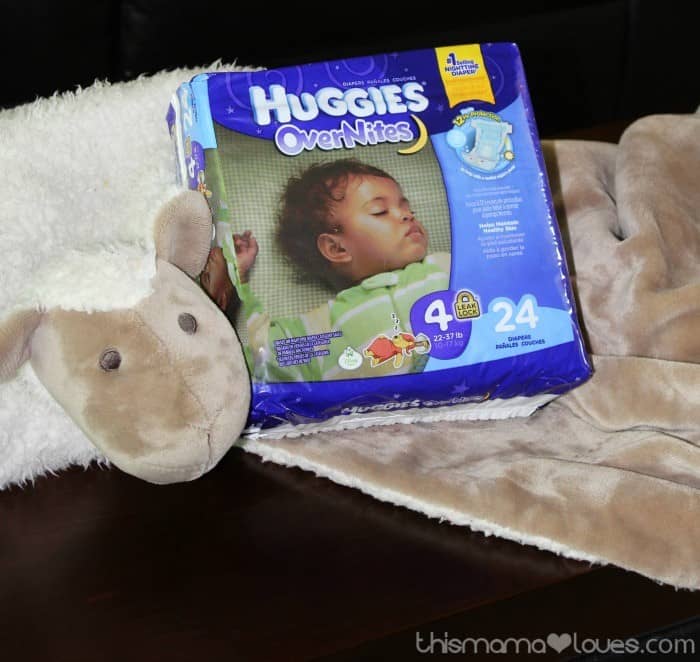 Vary Your Nighttime Response
Some parents are all about letting baby cry it out, some are up and running at the first whimper, some let baby sleep with them until they are toddlers.  What's right for one parent and baby relationship is likely totally wrong for the next, even the same parent with the next baby.  How you respond when baby wakes in the night will tell baby what they are supposed to do next – stay awake or go back to sleep.  You want to let them know that nighttime is for calm, resting, and sleep so when you respond to them your goal is to settle them as quickly as possible and to stay calm yourself.  You may have to try several different things with your baby and toddler before you find what works best for getting your child back to sleep if they wake in the night.  You may also find that what works when they are a baby might not work when they are older so varying your response will be necessary.  Don't give up and don't get frustrated because your baby will pick up on that and it will only be more difficult for both of you to get back to sleep in the end.
If you're a parent, you know what it's like to be exhausted so you'll certainly be able to relate to these parents.  Womensforum and Huggies OverNites Diapers invited new moms and dads to confess their sleep-deprived stories.  The result is a comedy routine only Mother Nature can write.
Enter to win a 2 month supply of Huggies OverNites diapers below!
Thanks to Huggies for sponsoring today's tips for helping baby sleep all night!