Patriotic Red White & Blue Cake Mix Cookies
These patriotic cookies are so simple but so festive! A simple cake mix and some food coloring and you can get your festive on – without a lot of time or effort   These cake mix cookies are a great recipe for the kids to help out in the kitchen!
These cookies will delight your friends and family- definitely a festive addition to your holiday barbecue or cookout! If you want to go even further, grab some red, white and blue candies to place atop the cookies – or some simple sprinkles in festive shapes   The beauty of this recipe is that you can easily alter it for a holiday, team, school or party theme with just a swap of food color!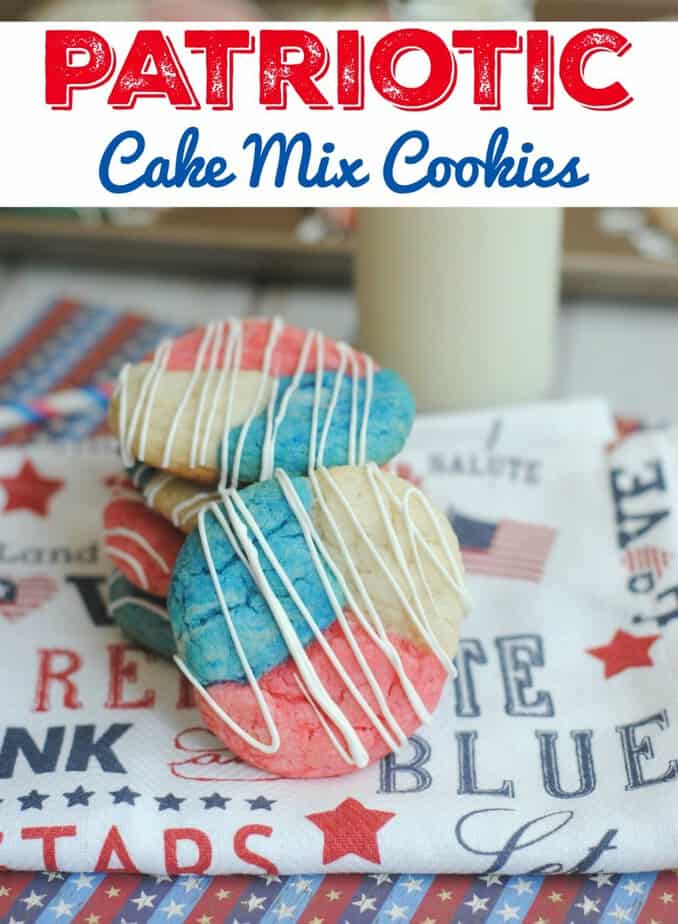 Ingredients
1 box of Pillsbury white cake mix
3 egg whites
1/2 C. vegetable oil
1/2 C. Wilton bright white candy melts
red food coloring
Blue gel food coloring
Directions
Preheat your oven to 350 degrees.
Combine the pillsbury cake mix, 3 egg whites and 1/2 cup of vegetable oil.
Divide the cookie dough into 3 equal parts.
Squeeze a few drops of red food coloring into 1 part of the cookie dough you divided and mix well. Add more red drops if needed to reach the desired shade of red. Set aside.
Squeeze a few blue food coloring drops into a second section of cookie dough you divided and mix well. Add more drops if needed.
Roll each section of colored cookie dough into 1″ balls using your hands.
Take one small dough ball of each color and gently press together. Place on a baking sheet about 2″ apart.
Bake 9-11 minutes.
*Makes approximately 1 dozen cookies

Have you made cake mix cookies? What's your favorite cake mix cookie recipe?
Happy Fourth of July everyone!
Check out our Key Lime Cheesecake Cookies or our Patriotic Popcorn Crunch! [mpprecipe-recipe:2162]