My dear friend Jenni's Turkey Meatballs with Red Pepper Sauce Recipe is (as always) a pretty easy to follow recipe.  I like to make a double or triple batch and freeze the extras for a later date.  (I love to cook once, eat thrice!)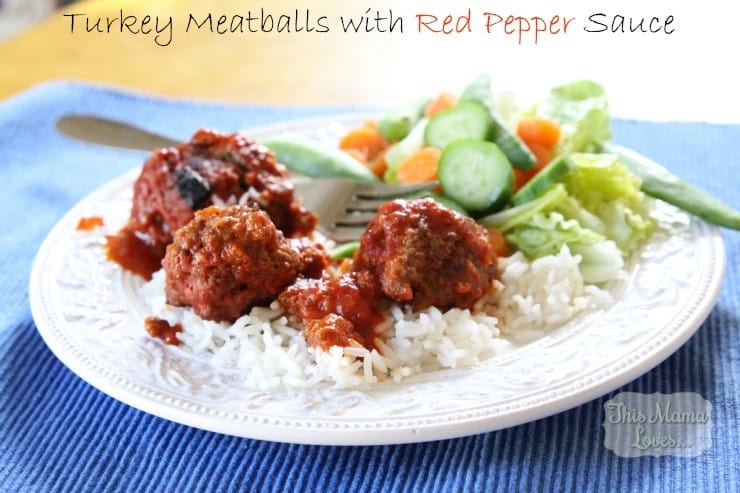 Turkey Meatballs:
1 lb ground turkey
1 finely chopped onion (small)
1 small apple, peeled & grated
3T bread crumbs (I sometimes use stuffing)
1 egg, lightly beaten
2T chopped fresh Sage or Thyme
Salt & pepper to taste
*flour for coating shaped meatballs
*2T vegetable oil for browning
Mix together all ingredients except flour and veg. oil.  Form into meatballs.  Coat in flour.  Saute meatballs in oil in skillet until golden brown.
Red Pepper Sauce:
1 1/2 T veg. oil
2 shallots, finely chopped
1 1/2 red peppers, seeded & chopped
1tsp Tomato Paste
3 T chopped basil
2C veg. stock
Salt & Pepper to taste
Heat oil in skillet.  Add shallots and red peppers.  Saute until soft.  Stir in remaining ingredients and season to taste.  Bring to boil and simmer 15-20 minutes.  Blend until smooth (I use my immersion blender)
Transfer meatballs into a casserole, cover with sauce and cook about 20 minutes in 350 oven.
Serve over rice.
A few things about this recipe:
#1 I bake my meatballs with the sauce in a cast iron skillet- it's one of my favorite pans but it also helps add more iron into our diets.
#2 If you are really pressed for time, buy frozen meatballs and a jar of roasted red peppers.  You'll be eating in about 20 minutes.
#3 More sauce is never a bad thing.
#4 You can use meatloaf mix, or ground beef  or chicken for this in place of the turkey.
My kids devour this meal when I make it.  And to think I owe it all to Jenni who brought me this dinner when my littlest one was born!