This post talking about Updating Your Home's Floors is brought to you as part of our new #HouseExperts partnership with Sears. Opinions are my own.
We love our furniture.  We have a nice, big sectional in the living room that our whole family can snuggle up on.  It's pretty, practical, and it's comfortable yet somehow most of the time it seems the majority of the family is gathered on the floor.  The FLOOR!  The floor is actually where so many of our memories are made.  It's where the babies learned to roll over, learned to crawl, where we sat with them encouraging those first steps.  It's where we spend hours together playing with toys, watching movies, or gathered around a board game for our family game nights.  The FLOOR, where the biggest memories are made and sometimes the biggest messes!  #HouseExperts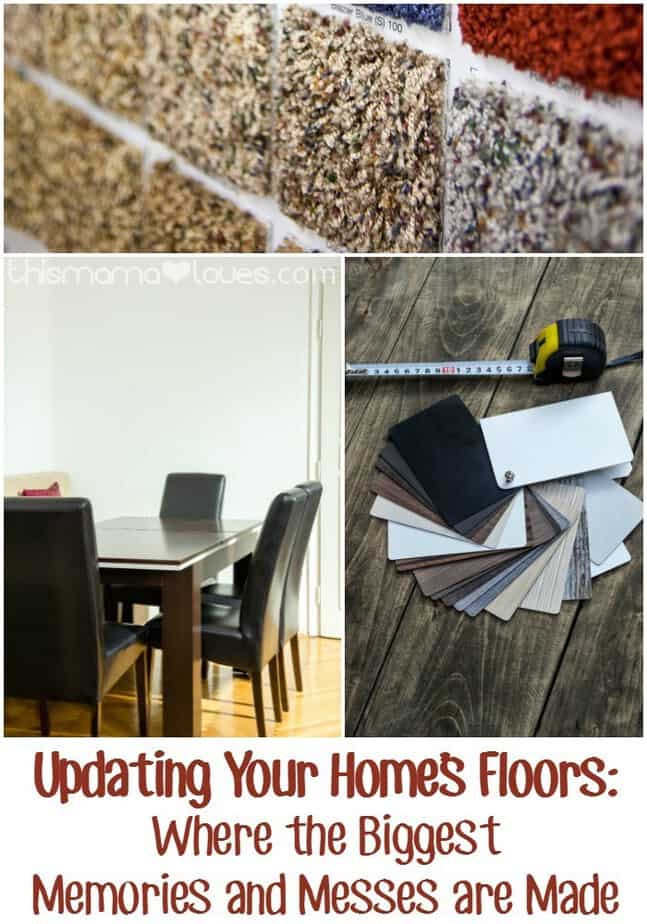 Updating Your Home's Floors: Where the Biggest Memories and Messes are Made
Let's face it, those memories and messes take a toll on our floors.  When we moved into our home 3 years ago with a baby on the way, a toddler and a baby, and two young kids we knew right away that a carpeted dining room was not going to be a good thing.  As an interior designer, I knew this anyway but with young kids, it's even more so the case.  The kitchen floors were outdated vinyl, the bathroom floor was poorly installed vinyl and in bad shape.  The mudroom floor was indoor/outdoor carpet.  GAG!  The laundry room had yet a different type of vinyl flooring.  The basement was concrete that had been painted with that garage floor type paint that you sprinkle the flecks of stuff in.  The main area had newer carpeting and so did the two bedrooms on the main floor and that was great.  Did I mention though that they carpeted the dining room?!?!
In the last 3 years we have updated the flooring in our kitchen, the laundry room, the mudroom, and most recently in the main floor bathroom.  We also had new flooring put in through the whole basement including the lower level living area and dry bar, the bathroom, and the two bedrooms that are down there.  The new flooring has made such a big difference in how our home looks.  Here is a photo of our kitchen after we updated our flooring.  I'm here to tell you, we are making lots of memories and messes in this room!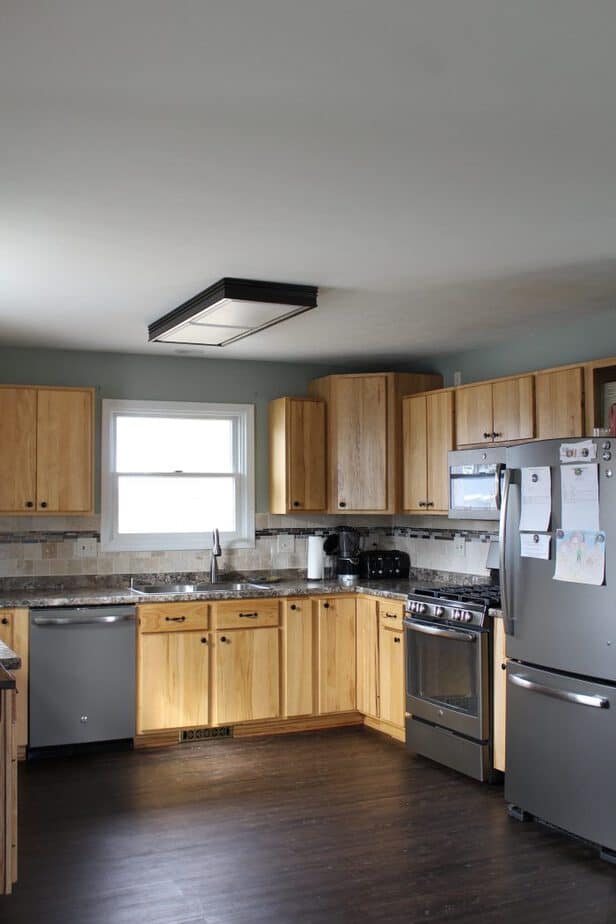 That leaves the rest of the main floor.  The area that had new carpet when we moved in…including the dining room.  Thanks to making big memories and big messes, the carpet has gone from okay to bad fast.  It's now reached a point where it's time to call Sears Home Services.  Sears offers a variety of flooring materials including tile, carpet, laminate, resilient and luxury vinyl, each with their own set of shades and patterns.
Now through January 31st, 2017 Sears is offering up to 12 months Special Financing on installed Flooring Purchases over $1500.  This offer is not valid on prior sales or in combination with any other offer.  Purchase requirement before taxes and after other discounts must be made in a single transaction.
Deciding what to put down for new flooring in my living room, dining room, and bedrooms has been a harder decision for me.  I love the idea of carpeting in the living room and bedrooms for warmth and comfort but I don't like the idea of spills and stains.  Let's face it.  With little (and big) kids, messes happen and I don't want to have to worry about spot cleaning all the time.  Our home has a fairly open layout so it is more difficult to change flooring materials between the living room and dining room.  It's really hard for me to decide what to do.  That wasn't the case when we updated the bathroom and kitchen.  Those were easy choices for me and with the help of Sears, they can be for you too.  Check out their Bathroom Flooring Options: 4 Things to Consider and their Ultimate Kitchen Design Tips before you decide what flooring is right for your home.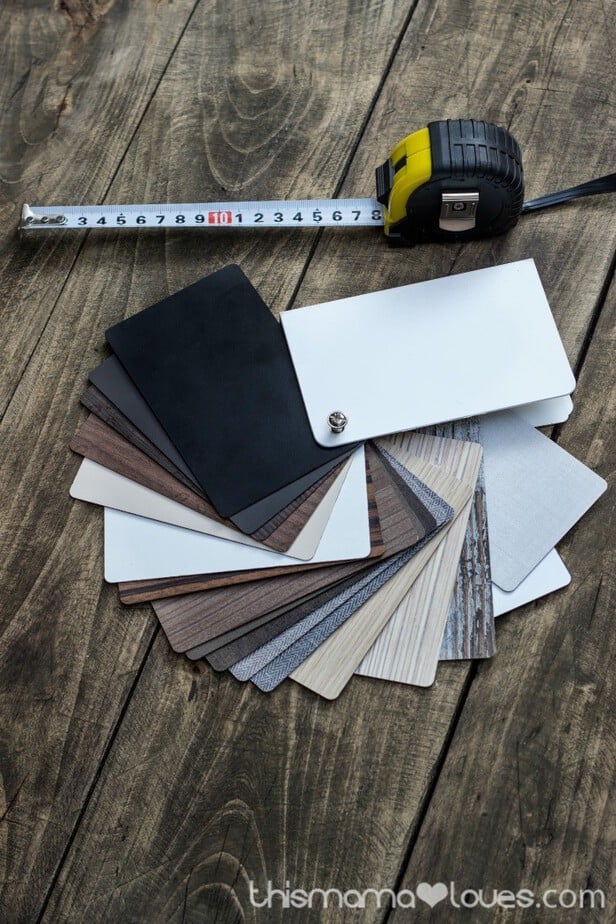 With many top brands to choose from and free in-home design consultation, Sears can guide you through all the choices and take you through to installation when their highly skilled team is on site to make sure the job is done to your satisfaction.  Whether you are looking to change flooring out in one room of your home or the whole house, scheduling a consultation with a Sears expert can make your project easier for you.
Are you planning to put new flooring in an area of your home?